Horse Rooster Compatibility
Horse Rooster compatibility would find balance in their love affair. This is because there are both similarities and differences that they find in their relationship. This type of a relationship could go either way. If Horse Rooster in love are compromising to allow their relationship to thrive, they could make their love affair thrive. Nevertheless, if horse's ego goes above this here, they could be taking different directions in this match.
Any relationship that involves couples willing to go the extra mile would certainly make their union a success. There are certain advantages that the Horse Rooster relationship would enjoy. Similarly, there are times when they would have to get into conflict with each other. Both sides of the coin in Horse Rooster compatibility are taken in turns below.
Horse Rooster Compatibility: Positive Traits
Horse Rooster compatibility would be on the same page in that they would appreciate the manner in which they take up opportunities in their lives. The horse lover is always irritated with lovers that move at a slower pace than them. fortunately, they are at the same wavelength when paired with the rooster lover. The best part is that the rooster lover would not only seize opportunities but they would be extra careful to make sure that everything is done according to plan.
[adsforwp id="18080"]
Right from the beginning, Horse dating Rooster is attracted to the witty nature of the rooster. This is a lover that keeps time in everything that they do. In addition to this, they believe in their abilities to the extent that other Chinese animal signs consider them as perfectionists. The horse lover would not have any problem with this as long as they can have fun with the rooster lover in sexually. This perfectionism would be helpful to the horse as they would guarantee that their impulsive nature is well controlled in Horse Rooster love compatibility.
Horse Rooster couple will find themselves trusting each other. This is for the reasons that they uphold honesty above anything else in their love match. When paired with other animal signs, they would consider them as brutally honest lovers. This is an added advantage to Horse Rooster friendship as they understand the importance of honesty in their relationship. This means that they would find it easy to trust each other. Trust is one of the most important aspect that determines the success or failure of any relationship. If both of you can trust each other, then there is hope that the future could be bright for Horse Rooster sexuality.
The social aspect of Horse Rooster love compatibility would favor these lovebirds in a relationship. Well, the horse is more gregarious than the rooster but they find themselves complementing each other. Just like the horse, the rooster also loves to be at the spotlight. The only difference is that the rooster would want to be admired mostly from their looks and not their social skills.
This is one of the attributes that makes the horse to stick to this partner. This nature of the rooster lover would have an impact on the home that they would be creating together. There is a great chance that their home would be kept neat at all times. This gives them a good and comfortable place where they can host their guests.
The personalities of Horse Rooster soulmates would also go a long way in complementing Horse Rooster marriage even in other sectors of their love match. For example, the horse's exciting way of life would be helpful in ensuring that the rooster lives a happy and an exhilarating life. On the other hand, the rooster lover would be at forefront of making sure that their business activities run smoothly. If they decide to take up the role of a homely woman, rest assured that they would keep your home perfect no matter what.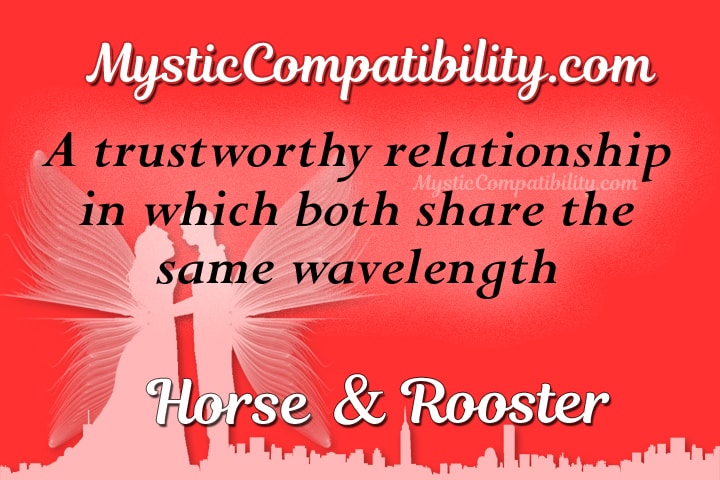 Horse Rooster Compatibility: Negative Traits
When Horse and Rooster couple move in together, there is a possibility that they would not get along together. The rooster lover is a perfectionist. They would want to ensure that everything is kept at its rightful place. Keeping time when coming home is something that the rooster would be strict on. From the horse's perspective, they could consider the rooster to be behaving like a parent rather than their lover. This is an aspect that would irritate them in this match. Consequently, if they are not patient, they would be escaping from this strict partner resulting in a Horse Rooster break up.
The sombre nature of the rooster lover would also not work with the impulsive attribute of the horse. This lover always rushes to make decisions without careful considerations about its implications. The rooster partner might not be patient long enough to wait for the horse lover to change their impulsive natures. This infers that this relationship would face constant hurdles over the poor way of making decisions in this Horse Rooster compatibility match.
For Horse Rooster compatibility to thrive, they would have to understand each other's way of life before they can take their love affair to the next step. Truly, it is from this understanding that they would find love in each other. The rooster would in the end get to know the highs and the lows of the horse lover. This helps them avoid the lows as they could lead to more conflicts in their relationship. This is the same feeling that the horse would have.
Horse Rooster love compatibility would come across problems as a result of the clashing personal attributes. On one end, the rooster is a perfectionist. On the other end, the horse lover has a huge ego in them. This implies that they might not want to follow whatever the rooster wants. This would only lead to more conflicts in their union. They would have to compromise for their relationship to thrive.
Horse Rooster sexually will have to meet in the middle and appreciate the fact that there are certain differences between them. This gives time for both lovers to learn to accommodate the other in their union. When this happens, this love affair would have less time to fight each other while maximizing the good times Horse Rooster have together in bed. Test your sex compatibility.
Horse Rooster Compatibility: Conclusion
People meet for all sorts of reasons. There are those that decide to stay together since they make up a great business team. Some would only want to spend the rest of their lives with individuals that are richer than them. Well, if love is what is bringing the two of you together, there is a possibility that your love could thrive. All you need to embark on is to accommodate each other in spite of the flaws that you can point out in each other. This is what love is all about. It is based on the manner in which you adjust into each other's lives without considering the worst things you see in each other.
Horse Rooster compatibility is a match that might sound tricky in the eyes of other people. But, who cares? When both of you are truly in love, there is nothing that should stop you from succeeding in your relationship. What you should focus on is what your heart says and not what the public would have to say. True love exists between the two of you in Horse Rooster marriage compatibility.
Corresponding Zodiac Match:
Horse Rat Compatibility
Horse Ox Compatibility
Horse Tiger Compatibility
Horse Rabbit Compatibility
Horse Dragon Compatibility
Horse Snake Compatibility
Horse Horse Compatibility
Horse Sheep Compatibility
Horse Monkey Compatibility
Horse Rooster Compatibility
Horse Dog Compatibility
Horse Pig Compatibility