Pisces Love and Relationship 2020: Introduction
This is the friendliest of the bunch in the Zodiac signs. Also, the Pisces are a social bunch as they can get along with almost anybody. Moreover, their sign makes the Pisces selfless people who are always willing to lend a helping hand. The Zodiac sign Pisces is one of the Water signs of the horoscope. Therefore, it bears upon the need for empathy that will go a long way in any relationship. In their own right, they have Neptune as the ruling Planet, and this makes them one of the most intuitive people. Find out more in the Pisces love horoscope 2020.
The Pisces star sign is also not short of generosity, faithfulness and even compassion. They are also the most romantic of the Zodiac signs. So, in their relationships, they will always be loyal, mild and generous to their lovers. Some say that they are people that thrive on the real connection in their love life. So, if you are one that is looking for a short term connection, then you are out luck. You should try your luck with other Zodiac. Read more about dating a Pisces.
[adsforwp id="18080"]
Pisces Love Horoscope 2020 Predictions
Pisces love horoscope 2020 foretells that your love life in the previous year was going through temptations and many tests. Consequently, the year 2020 will go through the same tests thrown in your love life. In some truth, you may have a divorce in your life or a breakup. However, you might not have to break up at all. The tests are just there to show you that your love life should be healthy. Therefore, you should work hard towards that same goal.
Consequently, if you can manage to go through the tests by the end of the year, then you should stay in that marriage. Also, unlike some of the other Zodiac signs, the singles are bound to have it tough in this year. Moreover, love affairs will be unstable in the year 2020. This is because your love planet the Moon will get eclipsed four times.
2020 Marriage Forecast
Pisces love horoscope 2020 forecasts that just like in the previous years, your marriage is bound to get tested. Moreover, you will need personal freedom that doesn't blend well with marriage. Therefore, you will end up divorcing or separating from your spouse. These feelings do not matter how long you have been in a marriage. You will always see these discrepancies. The cosmos might be against marriage this year.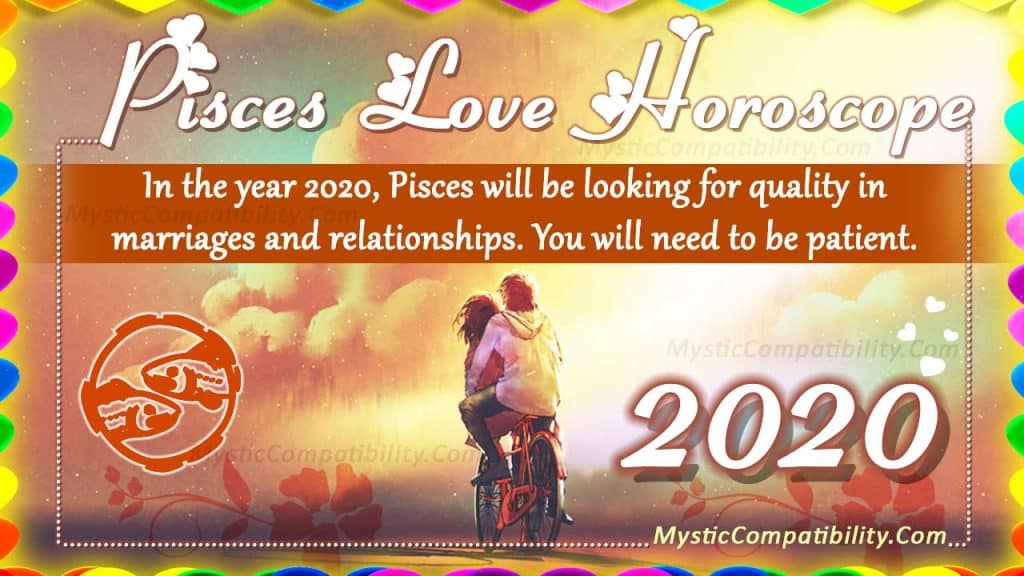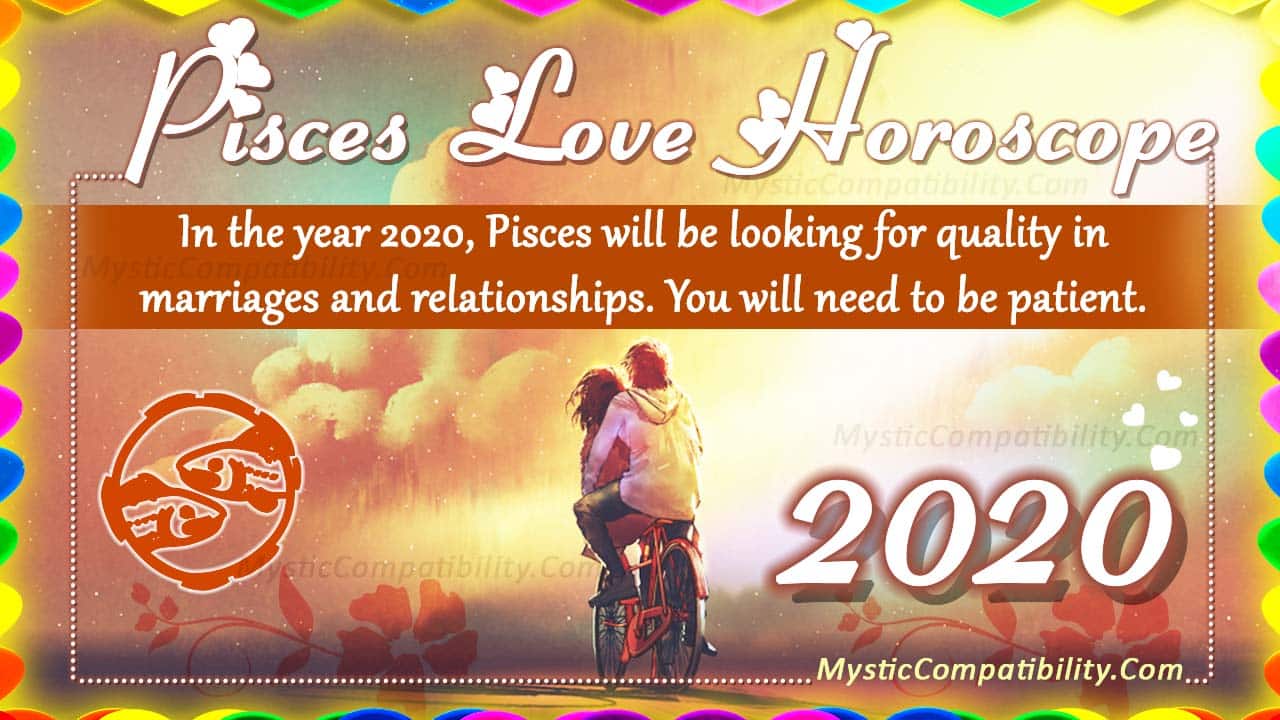 There will be few Pisces who will be on their way to their second marriage. However, they might not have many thrilling moments. The cosmos will want them to have a status quo in the year 2020. The Pisces on their third marriages will have a good year. They are most likely to be the ones to marry this year. Also, the people that are having their fourth marriage will go through the many tests.
2020 Relationship Predictions
Pisces love horoscope 2020 forecasts that the planet Uranus will be moving through Pisces in 2020. Therefore, it will be not the best time to have a long term relationship. Moreover, you will be going through a period of needing your own space and freedom. These two are not the best kind of combination for a proper relationship.
In this year you will be looking at the quality of relationships rather than just the link itself. Moreover, your relationship will be going through some tests. Therefore, it will reveal to you the need for responsibilities that you owe your relationship.
2020 Astrology Love Forecast: Positive Sides
This is a year for freedom for the members of the Pisces. They will be using it to learn a lot in their love life. Also, there will be a few chances of marriage for the people that are trying out 3rd marriages. Also, the Pisces in love will be looking more in the relationship than just happiness. Therefore, in the year 2020, you will be looking for quality in marriages and relationships.
2020 Astrology Love Forecast: Negative Sides
Pisces love horoscope 2020 foretells that it might be a hard year for the Pisceans. They will experience no joy in matters concerning love. Moreover, there will be more breakups and divorces that will occur in the year 2020. Also, single people are most likely not to get married in the year 2020. Moreover, the singles of the Pisces family will only marry for convenience. This means that there will be no love in marriages.
Pisces Love Horoscope 2020: SUMMARY
This year 2020 might not a good year for the members of the Pisces family in love and romance. You are most likely to have a painful break up with your lovers. Or, you will lose your relationship to the many tests that are going to barrage you in the year. Saturn moves through your 7th House, in the year 2020. If you have a healthy marriage, then you stay on track, and you will have a happy marriage.
Moreover, the need for a healthy relationship for the members of the Pisces will take over in the year 2020. Therefore, you will need to forge a strong bond and look for the right kind of values in love. Pisces love horoscope 2020 foretells that if you cannot find those kinds of benefits, then it will be meaningless to even fall in love in the first place. This will make you be in a relationship just for the sake of it.
CHECKOUT>>

Pisces Love Horoscope 2020