Virgo Love and Relationship 2020: Introduction
The Virgos are members of the astronomical Zodiac sign Virgo. Among all the Horoscope signs, the Virgos are some of the keenest bunch. This means that they are always attentive to even the slightest of details. Thereby, they never leave anything to chance and will still make sure that they cover their base. Most of the signs have the norm of misunderstanding the Virgo in love. This is because they are slow in showing their emotions to other people. Especially, since they such tender hearts. Some believe that Virgo does not know how to explain their feelings. Let us know more in the Virgo love horoscope 2020.
On the other hand, a member of the Virgo zodiac sign is one that will need all the love from their partners. That is when they can ever feel safe enough around to open up about themselves. Rarely do they speak of matters of love. But they can be the best lovers if you get to know them. As per the predictions of the Virgo love horoscope 2020, they are the best matchmakers for a stable marriage. They are the kind of people that will rely heavily on the charm and external communications to win over their lovers.
[adsforwp id="18080"]
Virgo Love Horoscope 2020 Predictions
The Virgo have had their fun with love affairs in the previous year and are now looking forward to new things. However, this may be a year for the status quo for most of the people. Therefore, the Virgins that are in love will tend to stay in love. While those that are single are most likely to end up that way too if they don't heed the signs of their sign Virgo. Moreover, in the past, you have had serial love affairs that were fun. In the process, you have had the chance to learn a lot about love.
So, in the year 2020, you are ready for real and genuine love. Also, this is the year that will make sure that Jupiter and your love planet Neptune journey together. Therefore, there will be a lot of opportunities for the Virgo to fall in love. Your best chance of finding someone to fall in love with will be in multiple venues. Some of these may include, social gatherings like family gatherings, funerals, educational and religious gatherings.
2020 Marriage Forecast
The year 2020 is the one that would see most members of the Virgo sign marry. Moreover, in the past years, the Virgo have been having problems with their love life. This is because of strains that would appear now and again in the relationship. However, in the year 2020, you will have something new. There will be a radical change in your life, and you stand a chance at a happy marriage. In retrospect, the relationship may develop with some work.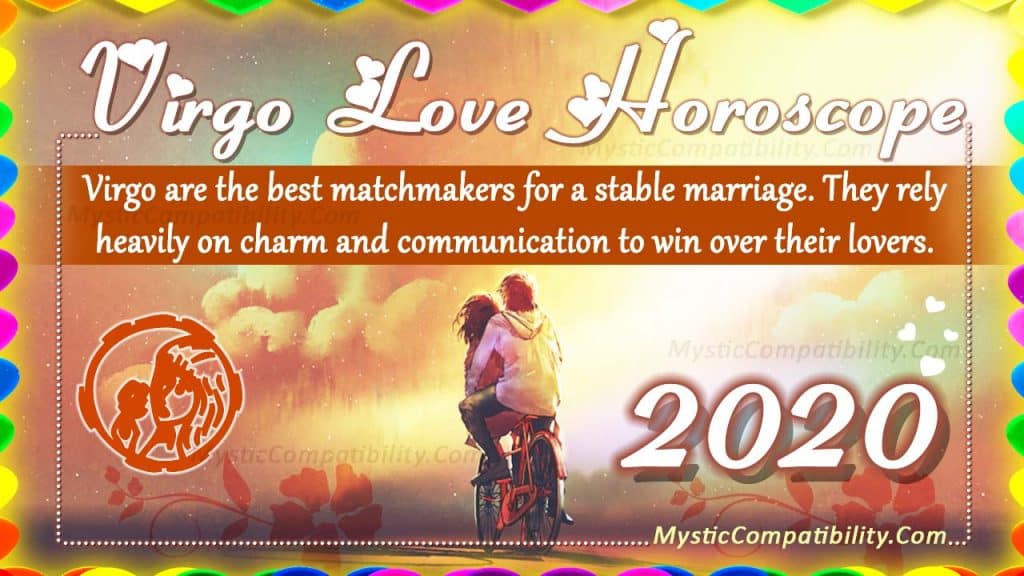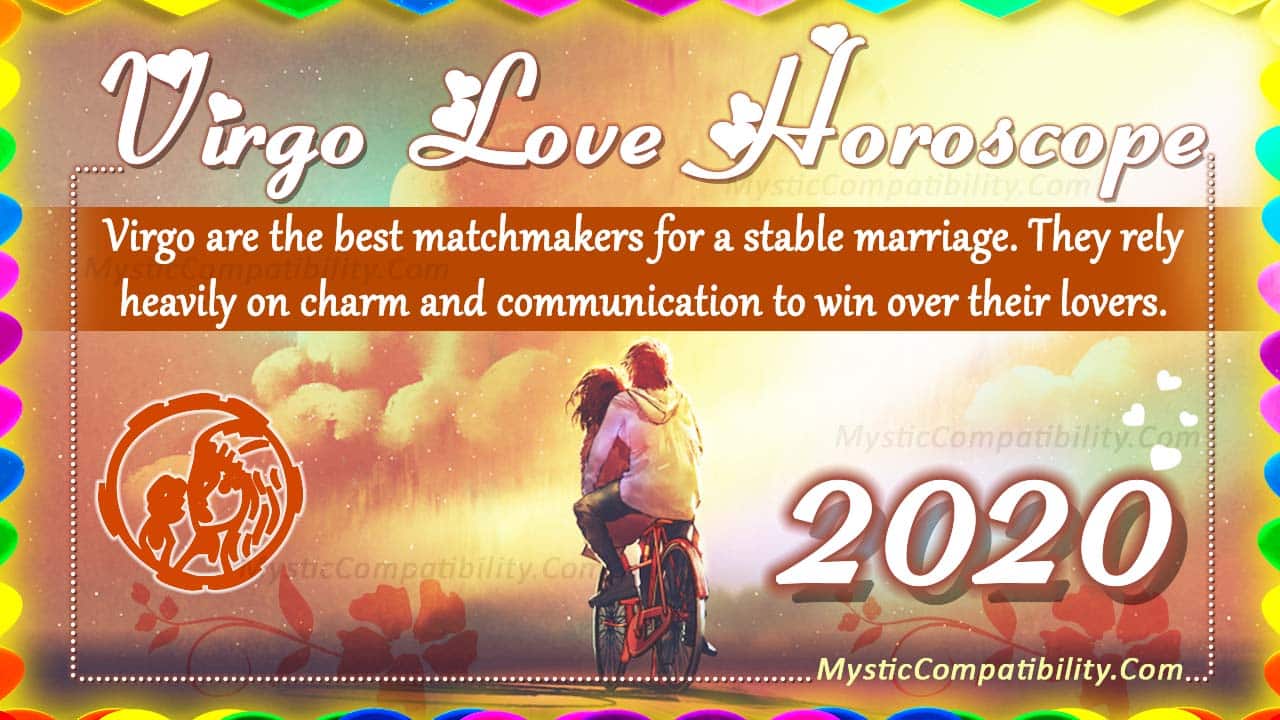 This is because you have been involved in an office romance previously. However, that does not disqualify them from being the best kind of lover. They are the one for you, and you want a healthy relationship that may lead to marriage. Moreover, you no longer want the aspect of love affairs. Therefore, you are ready to get married and settle down. Also, there will be a chance for those that are working on their marriages. On the other hand, those that are in their second marriages will have a challenge at getting married. So will be the people on their 3rd marriage.
2020 Relationship Predictions
Virgo love horoscope 2020 predicts that this is the year for you to get your Mr. or Mrs. Right and have a healthy relationship. Also, you are most likely to fall be in contact with some who are highly educated. The cosmos will ensure that you get someone that has strong familial values. Also, they will have to be someone that is idealistic and spiritual. So, the year 2020 is one of the good ones for the members of the Virgo. So, you should take your time and heed the signs of your symbol Virgin.
On the other hand, the person in question (partner) is someone that you are most plausible to meet at work. Also, you may reach them at other venues like at the doctors, gym or yoga studio.
2020 Astrology Love Forecast: Positive Sides
It is a good year for the members for the Virgo sign in 2020. They will have a chance to break from a long string of insignificant full relationships. So, they will have a shot at having something meaningful with someone they have had in their lives for some time. This means that there are chances of hearing a lot of wedding bells for the people that want to get married for the first time.
2020 Astrology Love Forecast: Negative Sides
On the other hand, there are also a lot of hiccups for the Virgo zodiac sign. There will be hard chances for the people that are trying to work on their 2nd and 3rd marriages. They are not about to enjoy any wedding bells. Somehow, they will have a good time with their lovers, but it is not going to lead to marriage in 2020.
Virgo Love Horoscope 2020: SUMMARY
The Virgo will have a quiet time transitioning to strong relationships in the year 2020. Therefore, they will have a chance to meet and fall in love with strong independent people. Also, the people that they may fall in love with will be ready to settle down and get married.
Virgo love horoscope 2020 predicts that this year is one for the wedding bells. Also, most of the people that will be in your life in the year 2020 are most like to be exciting and unique. They will bring a lot of delight in your life throughout the year. So, you need to be ready for all the social excitement that the year 2020 may grace you.
CHECKOUT>>

Virgo Love Horoscope 2020