Dragon Sheep Compatibility
Critics might be against the Dragon Sheep relationship simply because the dragon lover might be too rough for the humble sheep lover. Despite this, it is important to understand that this relationship easily thrives due to the differences that they find in each other's personalities. Their love story would be one that people would find it as a love story that best describes why opposites attract. Without a shred of doubt, the sheep would always see something they lack in the dragon lover. Similarly, the dragon lover appreciates the loving and caring environment that they are surrounded with. Nonetheless, there is a gloomy side of Dragon Sheep compatibility that both partners would want to escape from.
Dragon Sheep Compatibility: Positive Traits
The complementary aspect of the Dragon Sheep love compatibility is what makes other people admire the way in which they make love thrive for them. Others might perceive their differences as a means of contention but for Dragon sheep in love, their differences brings them closer to each other. The sheep lover is an introvert whereas the dragon lover is an extrovert. Well, this does not necessarily mean that Dragon dating Sheep would be fighting each other on a daily basis.
[adsforwp id="18080"]
Surprisingly, they connect with each other at great depths. The sheep would be happy staying at home protecting the empire that the dragon has created for them. From the dragon's perspective, they would be motivated to go out and find more ways of making their lives comfortable. Thus, there is a mutual benefit that is gained by Dragon Sheep friendship.
Dragon and Sheep couple finds each other as the partner that would be fulfilling the dreams that they have been mulling over. For example, the sheep desires to be loved and appreciated. In addition to this, they seek for protection from other Chinese animal signs. Therefore falling in love with the dragon lover could be the best thing that ever happened to them.
The dragon would shower them with the care and protection that they lust for. They would feel completely safe under the same roof with the brave lover. Similarly, the sheep responds positively by offering unconditional love to the dragon. They are never blind to see that the dragon craves for attention and this is what they would be offering them aplenty in Dragon Sheep sexuality.
Another reason why Dragon Sheep love compatibility could thrive over the long haul is due to their shared views with regards to a family life. Dragon Sheep soulmates are inclined to appreciating and protecting those that are dear to them. While the dragon lover would physically protect them, the sheep would show warm love to their loved ones. This means that they value the homely life that they would be creating together. If the dragon lover is tolerant enough, longevity is what both of them would see when they stand together in the Dragon Sheep marriage.
Love could also blossom considering the sexual aspect of Dragon Sheep compatibility. The sheep lover is good in bed as they focus more on getting an emotional connection with their lovebirds. On the other hand, the dragon lover would complement them by offering the manly figure in their love affair. They would do whatever it takes to ensure that sex is what they enjoy even when they are angry with each other. Find your sexual compatibility.
The good news for the sheep lover is that the dragon is an adventurous partner. This means that they would be willing to go through the highs and lows during their intimacy moments. Hence, the sheep should not be worried that they might not fulfill the sexual desires of the dragon in bed.
Dragon Sheep Compatibility: Negative Traits
Bearing in mind that the sheep is an emotional lover, there is a possibility that there might be another heartbreak to handle in Dragon Sheep compatibility. In other love matches, the dragon is normally feared for being good in breaking the hearts of innocent lovers.
Perhaps the sheep lover might end up being listed here. The dragon lover is normally harsh and their ego drives them into wanting things to be done strictly according to plan. The humble nature of the sheep lover might not be able to tolerate this if at all they would be living together over the long haul. A Dragon Sheep break up will be looming ahead.
Socially, there is a likelihood that Dragon Sheep love compatibility could also get into trouble. The dragon lover would be focused in making their social circle bigger. If the dragon man spends more time with the women, rest assured that the emotional sheep will be left weeping on a regular basis. Therefore, Dragon Sheep sexually need to be careful not to go to the extremes as they might end up hurting each other. This applies mostly to the dragon lover as they are the ones that would be spending most of their time outside the house.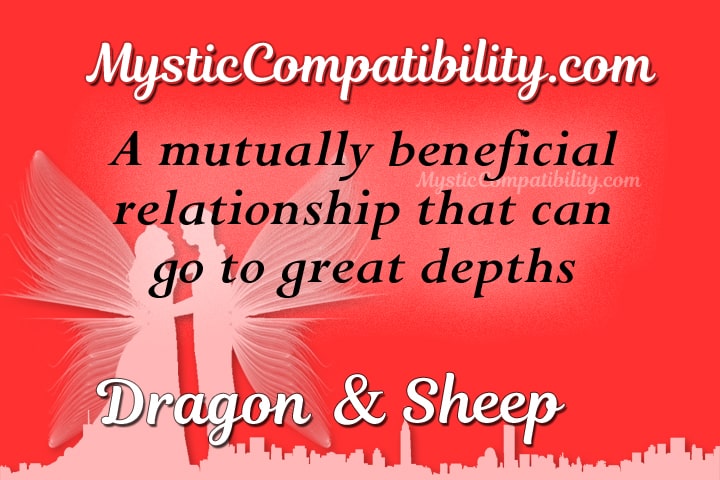 The impulsive nature of the dragon could have an adverse impact on Dragon Sheep compatibility more so with regards to their finances. They always believe in taking risks in life. As a result, they might make a mistake that both of them would live to regret. This means that this love affair could thrive if at all the dragon man or woman trusts their sheep lovers with their money. They are good in saving for a rainy day.
Hence, they would channel all their finances to the right direction. Compromise and mutual understanding is required for this to happen. The dragon lover should admit to the fact that they have a weakness somewhere. They should give the sheep lover a chance to take control of things in an area that they are not well conversant with. This is the recipe to a blissful Dragon Sheep love compatibility that they ought to understand.
Individuals in Dragon Sheep love compatibility should also find a way of prioritizing the needs of their relationship. This is the first thing that they should be thinking about before they even think about their personal goals. This means that lovers need to meet in the middle and talk about their relationship and the direction that it is heading to. The sad thing about a match involving the dragon and the sheep is that they might prioritize their personal demands first. If this happens, it leads to a scenario where lovers would have to conflict each other over decisions that are poorly made.
Without a shred of doubt, love is the key to a successful relationship. However, this would not happen if at all lovers lack certain qualities in their love affair such as trust, patience, tolerance, mutual understanding and respect. It is through the help of these qualities that lovers will open their eyes to the good things that are ahead of them. Love would blossom from this point onward if at all these qualities would be adopted in Dragon Sheep compatibility.
Dragon Sheep Compatibility: Conclusion
So, if you have been wondering whether Dragon Sheep compatibility can make things work, the answer is: it depends. Certainly, the success of this relationship is dependent on whether this couple would be able to meet in the middle and fight their challenges together. Additionally, if the dragon and sheep would be compromising, they could make things work to their favor. Above all, Dragon Sheep marriage is a match with good chances of flourishing.
See Corresponding Zodiac Match
Dragon Rat Compatibility
Dragon Ox Compatibility
Dragon Tiger Compatibility
Dragon Rabbit Compatibility
Dragon Dragon Compatibility
Dragon Snake Compatibility
Dragon Horse Compatibility
Dragon Sheep Compatibility
Dragon Monkey Compatibility
Dragon Rooster Compatibility
Dragon Dog Compatibility
Dragon Pig Compatibility