Why Dating A Physiotherapist Is Good
There is this special thing about dating a physiotherapist that I can't pinpoint. But I am good to say that physios are great people who help patients come back to their feet. I mean "they lift you when you are down." No matter how long you've been down with difficulty to walk, a good therapist will surely help you to improve your movement.
Their credentials go on and on so let's now concentrate on their relationship and marriages side. Having a physio as a partner can be a great experience. It can be a relationship full of love, caring, communication, support, and inspiration.
They are hardworking, disciplined, and passionate about what they do. Here are some reasons to date a physiotherapist.
1. They are Caring
Physios are very caring and loving. They take good care of their patients through exercising and monitoring to ensure that they are back on their feet. As love and care are important ingredients in every relationship, rest assured that you will have lots of them when you date a physiotherapist.
[adsforwp id="18080"]
2. They can Handle most of Your "physical" Health Needs
Physiotherapists are experts when it comes to your physical and structural health needs. With the current stressful nature of jobs coupled with busy schedules, bad eating habits, and posturing, the human system has become prone to several joint diseases.
Treating and preventing these joint problems wouldn't a big deal when you are dating a physiotherapist. Your partner will educate you on good sitting and standing postures to prevent a strain on your spinal cord and joints. Even if you have already contracted such a problem, he/she will help you out with early treatment.
3. Getting Free Treatment and Advice for Your Parents
The human system becomes weak as we age. This is why older people are more vulnerable to joints pains and other forms of physical diseases. So definitely, your parents may be in such a condition or are already in it.
With a physio as your partner, you wouldn't have a headache of taking your aged parents to the hospital. Your partner can diagnose them at home and prescribe the best practice. They can even get free physio sessions to improve their physical health.
4. Financially Secured
Physiotherapy is a high paying job. It could be one of the highest paying in the medical profession. So when dating a physiotherapist, you are assured of financially security for yourself and future children. But remember that this can only happen when your partner takes prudent steps with spending and save as much as they can.
5. Job Security
Physiotherapists have a secured job because they are hot cakes. Aside from working in the public health space, a physio can also run his or her center. This is not only for job security but also increases their purse.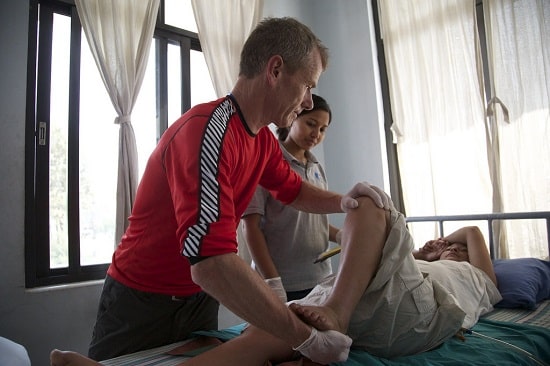 This is a great advantage because even if your partner is laid off for some reasons or retires from the public health care system, he/she still has something that can generate income.
6. They are very Patient
One of the general qualities of all physiotherapists is patience and endurance. It takes a lot of time and patience for patients undergoing physiotherapy to heal. They have been down for quite long and can't just come back to their feet within a short time.
Through this, physio's become resilient and patience. They can translate this into their personal lives. Your physiotherapist partner will be very patient with you and won't be easily irritated.
7. They are Very Good Listeners
Just like other health care practitioners, physios are great listeners. They are quick to listen to the plights of their patients and work towards it. With a great listener as a partner, they will surely have ears for your complaints and worries in the relationship. If you have a personal problem, you can also rely on your physio partner.
8. They Keep You on Your Toes
You can't be lazing about when dating a physiotherapist. They will make sure that you adhere to good practices to prevent any physical inability and joint ailment. He/she will take you through exercises when they find something going wrong with you and will make sure that you stay on track.
9. They are Very Creative
They find creative ways of prescribing effective therapy for their patients. Every patient has his/her own needs so a general treatment may not work for everybody. This is why this create customized sessions for everyone. Your partner's creativity can inspire you.
10. They are Disciplined, and Will Infect You with It
To physiotherapists, discipline is the most effective way of treatment. This is why they find it necessary to instill discipline in their patients. They know that the success of their patients is also their success.
So they prefer to work with disciplined patients. As such, they are also disciplined and will want to be with a disciplined partner.
11. They are Smart and Attractive "No Physio has a Bloated Stomach."
A physio with a bloated stomach is no physio at all. A good physio looks smart, very fit and with an athletic body. They work on their figure to be in very shape. Who doesn't want to date a hot looking person?
12. They are Logical
Physios are very logical when prescribing treatments. They won't handle a routine meant for a young guy to an old person because they have they have the same ailment. They are efficient. So when you date a physio, he/she won't make outrageous demands or give you high unattainable targets.
The next time you meet a physiotherapist, don pass by because he/she may be a great potential partner. If you are already dating one, you can comment on your experience.
See Also: