Things to Know Before Dating A Firefighter
If you plan on dating a firefighter, then by now you have been thinking of how to meet that potential partner. Your headache ends right now because I am here to give you some ideas on where and how to meet a firefighter. Also, I will tell you how to date him/her in case you successfully trap one in your love web.
How to Meet a Firefighter
1. Check these Places
Pubs and Bars: After a hard day's work, firefighters usually meet at a particular place to cool off and release stress. They usually meet at bars and pubs close to the station.
If you can, seize this opportunity to mingle with some fighters. As you spy on them and identify a potential partner, you can now map up a strategy to engage him/her in a conversation, and there you go. Then you can share contacts and take it from there.
[adsforwp id="18080"]
Attend Their Activities: Firefighters usually organize sensitization programs to educate people on how to prevent fire and ways to fight the fire as it comes. They usually organize such programs in schools, market centers, churches and in various communities. You can take advantage of such programs by attending.
As they interact with the people, you can create attention to yourself by asking questions. Top provoking and intelligent questions can attract attention, and you can leverage on that to catch the eye of that hot firefighter you've been dying to meet.
2. Help Them Out
There are various ways to extend a helping hand to the service station in your community. Through that, you can relate well with the firefighters and get your intentions through.
This is not necessarily going out for firefighting with them. No, you can't and will not be allowed to take that risk. However, you can help them in some small jobs at the station. Let's take it that the station has no permanent secretary, but you have such skills, you can volunteer to help them out. As you continue to help them out, you will identify the singles amongst them to make a choice.
3. Look Good
Physical appearance is significant especially if you want to gain attention to yourself. So as you start volunteering for them or catching up on them at places they meet, you should look excellent.
This will automatically bring the attention you need. Nonetheless, if you are a woman looking to attract a fireman, don't dress in a provocative manner. There are many ways to get a guy's attention on your special body features without exposing them. But  Such actions can be a turnoff for most decent guys looking for a responsible partner. Put on anything good and show some class.
4. Create a Conversation
The best way to create a rapport is through communication. So as you get closer to them, either through volunteering or at the pub. Try to communicate with the one you've been eyeing from afar. Keep it cool and maintain your conversation at the normal level but interesting. Don't bring in any controversial topics at the initial stage.
So it is time to get to know/her well and not miss that chance.
Dating A Firefighter – Tips And Tricks
Now that you know how to meet and relate to your potential partner let's got into how to date a firefighter.
1. Take Things Easy
There is one thing about firefighters and fire in general; no one knows when there will be a fire somewhere. Therefore, unlike the other 9 to 5ers who go to work and know exactly what to do, a firefighter's days are different. They can have a very free day sometimes and very busy at other times.
So you need to take things easy when dating a firefighter. Your partner may sometimes return home late and tired. You don't have to go ballistic during such times. You rather have to show empathy and make him feel better when there are times he/she may fail to show up at dates or will call to cancel. Sorry, an emergency may have happened, and there is nothing he can do but to help quench that fire.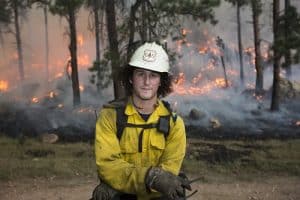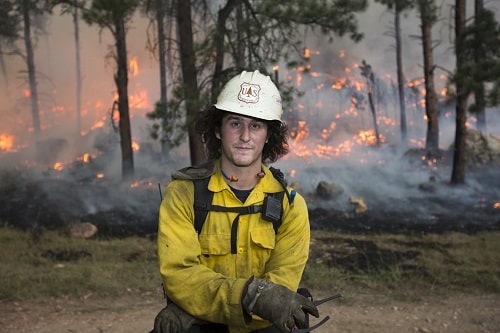 2. Be Caring if you are dating a firefighter
When your partner returns from a hard day's work, you can give him/her a nice treat to release the stress of the day. Cook for him/her and after enjoying the food, give a nice massage. This can give you some points, and you will always be in his mind.
3. Nice to their Colleagues
Firefighters see their colleagues as not only friends but also a family. This is because they rely on each other for safety when fighting a fire. You will also need to see them as such. Don't be rude when they are around or show an attitude or disdain towards them. Such things will create misunderstanding between you and your partner.
Dating a Firefighter: Summary
If you can go by the above points, you will surely attract and successfully date a firefighter. There are several other ways you can maintain the relationship which you will get to know as the relationship starts.
See Also: