Aquarius Woman Pisces Man Compatibility – Overview
When Aquarius woman meets Pisces man, it foresees a lot of changes in both of their lives. To satisfy all the needs of Aquarius, Pisces man will have to become more open. He will have to keep up with her fast-living nature and always changing the mood. Constant change is one of the fundamental necessities of Aquarius. She sometimes has trouble sharing her thoughts and feelings with anyone, but she will be able to trust Pisces man. It's not going to happen immediately, but with time she will be able to open up to him. She is a brave and fast woman, while Pisces is careful and slow. The Aquarius Woman Pisces Man compatibility combination can be beneficial for both of them.
Aquarius Woman Pisces Man Compatibility: Positive Traits
Aquarius woman is eccentric, social and open. She can talk about everything, except her emotions. Aquarius hides her emotional world and for some people see her as a cold and distant person. She is progressive and unpredictable. This is going to be something Pisces man will have to deal with. The positive aspect of the Aquarius Woman Pisces Man relationship is that Pisces man is intuitive enough to recognize and understand the emotional state of Aquarius.
[adsforwp id="18080"]
This relationship has a solid Aquarius Woman Pisces Man sexual bond. At first glance they are completely different- Aquarius is always trying to be independent and doesn't want any attachments. Pisces man is looking for the one true love. The ruler of Pisces is Neptune and Aquarius exalts this planet. Therefore they have an excellent sexual connection. Only Pisces man has to control his overbearing emotionality not to push Aquarius away. Pisces man is also a mutable sign, and he will understand Aquarius need for change. Their sex life will include a lot of creativity and excitement for both partners.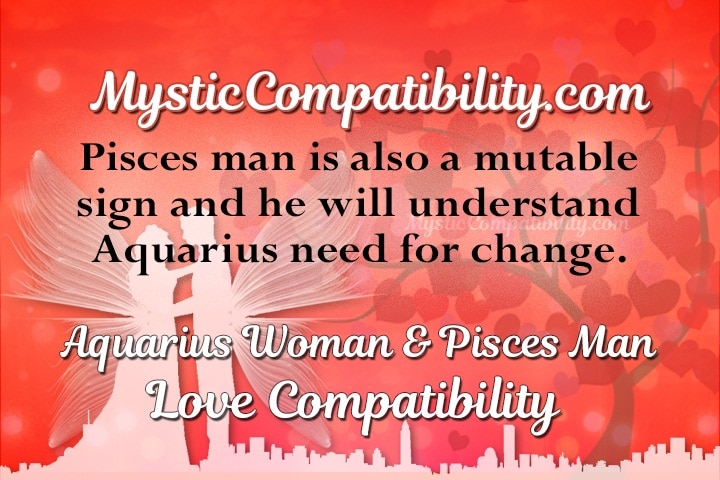 Aquarius Woman Pisces Man Compatibility: Negative Traits
Aquarius Woman Pisces Man lovers most likely come from two completely different worlds. For other people, they both might seem a bit weird. They can both have social or mentality related differences that will be hard to get over. It is possible they will never be able to get over these differences and also feel pressure from people close to them. It is better to keep this relationship to themselves until it is clear they have a future.
Trusting each other can become an issue in their Aquarius Woman Pisces Man love affair. Pisces man is very sensitive and caring. Aquarius has trouble dealing with his emotionality. She can't always express herself and can be quite harsh. Her aggressive nature will not make it easy for Pisces to trust her. He wants someone he can be candid with about all his thoughts and feelings. Aquarius can use his secrets against him in the heat of an argument. To avoid his emotionality, Aquarius can start lying. Although she doesn't like to do it, she can lie without any trouble.
The Aquarius Woman Pisces Man couple doesn't have any trouble communicating, but they are very disconnected from the reality. Both Aquarius and Pisces love to live in their dream world. They will rarely fulfill any of their dreams. There might be problems arising in this relationship causing a lot of disagreements between them. But they will not be able to find the reason for their problems. Pisces man is a bit more realistic than Aquarius. But her way of thinking is different from his; therefore Pisces man will not be able to recognize their faults.
Although they are both seeking for a deeper meaning of things, they can't do that with each other. Aquarius Woman Pisces Man sun signs will start to fight about superficial issues and divert from the original topic. This couple also tends to have a lot of financial issues. Pisces man can be very disconnected from reality. He never wants to deal with obligations. Aquarius can earn a lot, but she will also spend a lot of her money on an impulse.
There is a big difference in both of their emotional world. Pisces man is seeking for true love. He has an emotionally rich life, and he seeks that in his partner. Aquarius woman can't answer his feelings and give him the attention he needs. She needs a special kind of connection to develop feelings for someone. The nature of Pisces man will not bring out her emotionality. Rather this man will get on her nerves. She will see him as a needy and possessive person and will try to avoid it.
It is easy for Pisces to get hurt in this Aquarius Woman Pisces Man union. He needs attention more than Aquarius woman does. Aquarius woman is looking to be free and independent, while Pisces wants to be together with someone at all times. They also have a completely different idea about romance. For Pisces man, romance is candlelight and romantic dinner. Aquarius will rather go on an extreme adventure and have wild experiences. This shows that their tempers are very different and make it hard to understand each other.
When it comes to sharing their activities, it is hard for them to find common ground. This Aquarius Woman Pisces Man love match can share a few interests, but it is not enough to keep them both interested. Aquarius loves to be in social settings. She likes to meet new and different people, communicate and have new experiences. Pisces man will rather spend his time at home. He has created a place where he wants to be to relax. He can get excited to go out together with Aquarius on her adventures. But for most of the time, he will want to relax in the comfort of his home.
Aquarius woman will not always want to share her activities with Pisces man. She wants to have her independence. From time to time she might enjoy staying in with him, but it soon gets too boring for her. Both of these partners need to be by themselves from time to time. Pisces needs his alone time for self-analysis and reflection. Aquarius needs to feel she has not lost her independence.
If this couple has a conflict, it is hard for them to resolve it. There are many issues in the Aquarius Woman Pisces Man marriage affair He will want to talk about them and discuss every detail about his thoughts and emotions on the matter. Aquarius woman might listen, but she will not want to open up as much as Pisces man would want her to. Aquarius will rather keep things to herself and hide away her emotions. Pisces will complain about her attitude. Aquarius will soon want to leave this relationship.
Aquarius Woman Pisces Man Compatibility: Conclusion
The ruling planets of Aquarius and Pisces are very close to each other. These people have an attraction towards each other and excellent sexual compatibility. Pisces man will be able to compromise on matters that Aquarius simply will not want to change. Still, there are a lot of differences between them. They have an entirely different set of beliefs and values. There is a lot of fighting in this relationship because of it.
Aquarius Woman Pisces Man compatibility match lack the intellectual or emotional bond to develop more in-depth feelings. They will not be able to get to know each other that well. This couple will live with an image of who they think their partner is. Once they step back into reality, they will find out that few things are connecting them.
Aquarius Woman Aries Man | Aquarius Woman Taurus Man | Aquarius Woman Gemini Man | Aquarius Woman Cancer Man | Aquarius Woman Leo Man | Aquarius Woman Virgo Man | Aquarius Woman Libra Man | Aquarius Woman Scorpio Man | Aquarius Woman Sagittarius Man | Aquarius Woman Capricorn Man | Aquarius Woman Aquarius Man | Aquarius Woman Pisces Man |
See Also: