Sagittarius Virgo Compatibility
In Sagittarius Virgo compatibility, Sagittarius would be happy to find out that Virgo is also mutable, just like them. Undeniably, this is a good feeling in any relationship that you could enter into. It would be a fulfilling feeling to understand that your partner finds the activities that you are interested in as exciting.
This gives you a reason of trying to understand their way of life. This is the mutability aspect of Sagittarius Virgo relationship. Both of them try their best to fit in into the world of the other. This strengthens the strong Sagittarius Virgo compatibility that they already have once they decide to stay together over the long haul.
Sagittarius Virgo Compatibility: Positive Traits
The sheer fact that Sagittarius and Virgo are both mutable signs implies that they would be bringing their best in this love affair. Sagittarius Virgo couple would not be afraid to change for the better. If they find that they are going in the wrong direction, none of them would be too resistant to turn back. This is an interesting aspect that will give Sagittarius Virgo in love an ideal environment for it to bear sweet fruits in the end.
[adsforwp id="18080"]
Sagittarius dating Virgo for the first time should be in a place where both of them can enjoy the serenity of what nature can offer. Both of you love to be outside the house enjoying the natural environment. This means that it would be fairly easy for the Virgo partner to find your adventurous activities as amusing. They would want to join you as you visit the Himalayas Mountains. Sagittarius Virgo Love Compatibility is a good match where lovers find interest in each other.
The reserved nature of Virgo could have a positive impact on Sagittarius Virgo friendship. They would not be in any rush to settle down. What they want most is an assurance that they are being loved in the same manner they show their love for the other partner. This implies that they would give Sagittarius the time they need to figure out if they are in this love affair for the long run. Test your Celtic astrology compatibility.
Truly, Sagittarius is not good in commitment. As a matter of fact, they are famous for being a celibacy kind of a partner. The good news is that, once they fall in deep love with their counterparts, they show the caring and loving side that no one gets to see easily. Virgo could be the first partner to get to this point in Sagittarius Virgo sexuality.
The Virgo lover is an admirable partner thanks to their good bookkeeping skills. This is the partner that Sagittarius needs to help them in managing finances effectively. Virgo will always save for a rainy day. They seek for stability in a relationship and having money is one of the ways of living a comfortable life.
On the bright side, Sagittarius also knows how to hustle for money. If they are the man in this relationship, they would definitely provide for the family. Blending their ambitious nature with the accountant Virgo will help in streamlining things for the benefit of the entire family. Financially, Sagittarius Virgo Love Compatibility will soon find a stable ground to stand on.
Sagittarius Virgo soulmates will also find a reason to hold each other's hands and walk side by side to the end of the tunnel. This is because they both understand the need for tolerance in Sagittarius Virgo marriage. Lovers tolerate the difference that they find as slightly irritating. For example, there are times when the Virgo lover could criticize Sagittarius. This is something that the Sagittarius lover will take lightly and make a humor out of it. Find your soul mate sign.
In the same manner, Sagittarius could bring in drama into this relationship. Virgo understands that this is normal in any love affair. These partners will be dancing to the love tunes that they create for themselves. Each lover would carry no hard feelings or grudges. This is a plus for Sagittarius Virgo Love Compatibility.
Sagittarius Virgo Compatibility: Negative Traits
Challenges will haunt this love affair to the end. It is with understanding and compromise that lovers will mutate to their different natures. First, Sagittarius is an adventurer and a passionate lover. These are some of the attributes that pull Virgo closer to them. Nonetheless, Virgo has a weakness of always being worried. They would be worried whether Sagittarius will ever find their love as a serious relationship.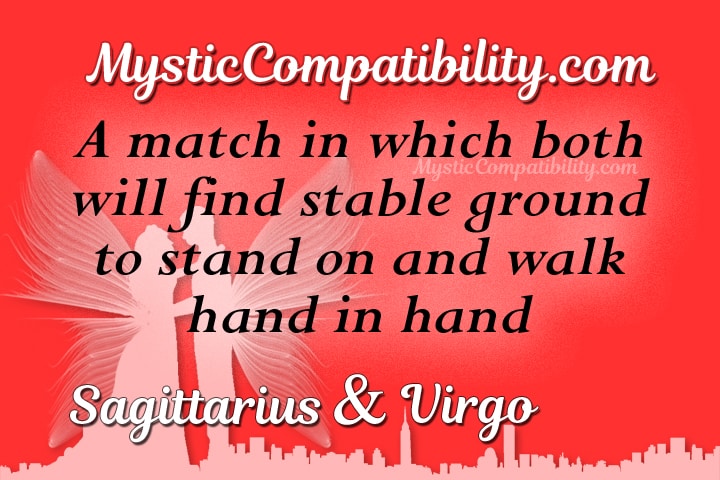 Yes, they might appreciate the tour that they would be going on from time to time. This does not necessarily mean that everything is alright on their side. Therefore, there is a danger that Virgo could find Sagittarius Virgo compatibility as lacking a sense of direction resulting in a Sagittarius Virgo break up.
Sagittarius Virgo Love Compatibility could also face the problem of deciding what time to work and play. If Virgo is the man in this love affair, they would strive to put food on the table. Additionally, they would offer a comfortable life for the entire family. Sadly, they would conclude that Sagittarius makes no effort to contribute in finding something good for the family. They are always out playing. They do not take life seriously and this is quite scary for the Virgo lover. Test your palmistry compatibility.
In addition to the above, this is a love affair involving a partner that is willing to commit themselves fully and another that simply seeks for a celibacy form of life. Meeting halfway is nothing but a challenge in Sagittarius Virgo sexuality. In spite of the fact that Sagittarius is a mutable sign, the chances of making them to commit to a relationship are quite low.
Virgo's patience would be put to test here. If at all they are not patient enough, it is quite probable that Sagittarius Virgo compatibility will not work. Sagittarius finds joy in touring the world. The best they can do is to offer their time to Virgo but not commitment.
Sagittarius and Virgo compatibility could work if they embrace the importance of compromise in a relationship. Both partners should stick to each other through thick and thin. Virgo should try and focus on the bigger picture. What would they be gaining if they opted to settle with Sagittarius? Indeed, they would earn the benefit of living an exciting life with Sagittarius Virgo in bed. Moreover, they stand a chance of getting to know the caring and loving nature of Sagittarius.
The Sagittarius lover should cherish the solidity that Virgo would bring into this love affair. They should not take this lightly bearing in mind that this is what they need to succeed. Sagittarius Virgo marriage compatibility would be great if both lovers are willing to meet halfway. This begins by appreciating each other's presence.
Sagittarius Virgo Compatibility: Conclusion
Sagittarius Virgo compatibility could take a positive turn if lovebirds see the best in each other. This is a good match that can last thanks to the many similarities that they find in each other. This means that the couple has a few things that they need to work on for their love affair to flourish. For instance, there is a dire need for tolerance on the side of the Virgo lover. This partner should give Sagittarius time to adjust and appreciate the importance of commitment. Equally, Sagittarius has a role to play. They should stand on their feet and find life as a serious journey. Their efforts would be reflected in the blissful affair they would have in the end.
Sagittarius Aries | Sagittarius Taurus | Sagittarius Gemini | Sagittarius Cancer | Sagittarius Leo | Sagittarius Virgo | Sagittarius Libra | Sagittarius Scorpio | Sagittarius Sagittarius | Sagittarius Capricorn | Sagittarius Aquarius | Sagittarius Pisces |
See Also: