Aquarius Gemini Compatibility
If you thought that your relationship will never find a way into the digital age then you better think twice. Aquarius and Gemini relationship is simply defined by the new way of doing things. This is a match that is destined to succeed thanks to the fact that both of them are two air signs. This is a clear indication Aquarius Gemini in love would exist in the air. Both zodiac signs will always be on the move trying to venture into experiences that would make their lives worthy. Expect the best and the worst to happen in Aquarius Gemini Compatibility. Pay close attention!
Aquarius Gemini Compatibility: Positive Traits
Two air signs in a relationship? What do you expect? This is a match that is definitely worth keeping. Aquarius will gain the feeling that Gemini is the partner they have always been dreaming of. The same case applies to the Gemini lover. Aquarius dating Gemini has a unique way of understanding each other in Aquarius Gemini compatibility. This is attributed to the similarity they share; both of them are air signs.
These two air signs will gain the best out of the communication that they would have. The intellectual connection that they would have is basically commendable. There is nothing that Aquarius lover would say to irritate the Gemini partner. Their mental connection simulates heated arguments that are productive to Aquarius Gemini compatibility.
[adsforwp id="18080"]
Observers might think that they are always arguing. In real sense, they are stimulating each other. This is what both of them love about each other. Meeting in the middle is not a hard task for them. The best part is that Gemini is a mutable sign. They would find it easy to adapt to some unbearable qualities of Aquarius. For instance, they can be quite stubborn at times. Find your biorhythm compatibility.
In relation to shared values, Aquarius Gemini couple will find a way of meeting halfway. This couple has a shared outlook with regards to what they value most in their lives. Simply stated, they value intellectual abilities of each lover. This is one of the aspects that they would make each other smile. Aquarius would be happy with how Gemini brings out their intellectual selves. Gemini would reciprocate by stimulating Aquarius lover with several mind games.
Romantically, Aquarius Gemini Compatibility is a match worth the talk. The mere fact that both lovers are creative implies that they would have a lot to offer in their relationship. The term boring would be a new vocabulary to Aquarius Gemini sexuality. There is no point where you would allow each other to get bored. Keep in mind that you tend to shift from one activity to the other. As a result, there is no point where you will feel as though you are into an affair that is boring.
Mutual respect for each other is yet another aspect that is evident in this pairing. Aquarius and Gemini friendship has a thing for freedom. This is linked to the airy innate natures that boil in them. The best way of living would be like a free bird in the air. The good news is that Gemini and Aquarius compatibility understands the importance of this freedom. Test your Celtic astrology compatibility.
Therefore, they offer each other the space that they need to experiment things out there. This gives partners a reason to smile about the respectful relationship that they have. When compared to other zodiac signs, they would definitely appreciate this aspect over others. The last thing that this couple needs is a lover that is always prying on their activities.
Socially, Aquarius Gemini Love match is a relationship that would be around many friends. The number of friends that they would be having will depict the kind of relationship that they have at home. Undeniably, Aquarius Gemini soulmates are best of friends.
In fact, before settling down, they can stay friends for a very long time. Once they decide to take things to the next level, they would be sure of what they need from each other. Aquarius and Gemini marriage is an admirable match even when running a particular business. This is because there is an understanding that levels the relationship in an amazing manner. Find your Manglik match.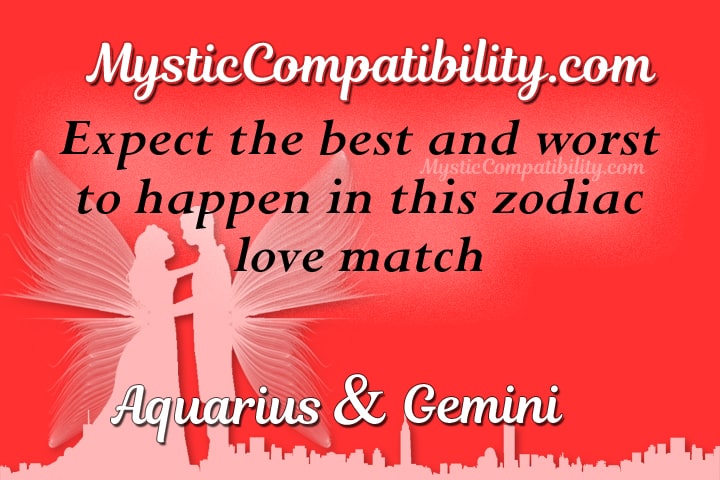 What about sex? This might sound funny but Aquarius Gemini sexuality will pretend that they are lost in a particular place with sexual reasons behind it. They would love to tour different places with the hopes of rekindling their sexual desires. The best thing about Aquarius Gemini in bed is that sex is not a matter of getting physical. This couple can stimulate each other just from the conversation they would be having. Thus, Aquarius Gemini compatibility could have a great time even when they are distant from each other. Whether they would be having phone-sex, sexting or email sex, all they crave for is to make each other happy.
When the best seems to happen to Aquarius and Gemini compatibility, this couple finds no valid reason to lie. They would not cheat on each other's backs for fear that they might end up disappointing the other. Matters of the heart are not that important for Aquarius Gemini Love Compatibility.
This implies that they would not be taking things personally whenever the other lover goes out for a while. The understanding that they have for each other gives them a sense of trust. This is a plus for this love affair. Trust is an important aspect in any relationship. This strength will keep their bond growing stronger even when things are not good.
Aquarius Gemini Compatibility: Negative Traits
There is little to be said with regards to the challenges that Aquarius and Gemini compatibility might be facing. Nonetheless, there is no perfection when it comes to relationships. The main challenge that could face this couple lies in the mood swings that could come from Gemini. Bear in mind that Aquarius is a stubborn individual. There is a likelihood that they might not be patient enough to handle these mood swings. This could make it tricky for this relationship to blossom
The other challenge lies in their airy natures. When will Aquarius find Gemini as a serious partner to settle down with? Aquarius Gemini compatibility could take up to 10 years before they realize that they need to settle down. This could be discouraging at times. Nevertheless, on the good side, it could give both of you time to adjust into each other's worlds. Hence, you need not complain when one of you demands that you remain friends.
The inflexible nature of Aquarius could also act as a stumbling block for Aquarius Gemini Love Compatibility. This is because Gemini is mutable. They would always be flexible with any direction that Aquarius would want to take them. They expect their lovers to bring the same flexibility to Aquarius Gemini marriage compatibility. This is where things could get troublesome and Aquarius Gemini break up may be impending.
Aquarius Gemini Compatibility: Conclusion
Aquarius Gemini Compatibility has a good foundation for love to flourish. This implies that they need to adopt certain qualities that would make them perfect for each other. The first thing they need to welcome in their relationship is compromise. Patience and mutual understanding would follow suit. When these qualities are part of the love affair, nothing could tear you apart. Aquarius and Gemini are lovebirds that are destined to be together.
Aquarius Aries | Aquarius Taurus | Aquarius Gemini | Aquarius Cancer | Aquarius Leo | Aquarius Virgo | Aquarius Libra | Aquarius Scorpio | Aquarius Sagittarius | Aquarius Capricorn | Aquarius Aquarius | Aquarius Pisces |
See Also: