Dating Gemini
Have you ever had a second thought that the person you are dating is two people at similar time? Don't doubt yourself at this point. No, you are not crazy but the sure answer is because you are dating Gemini zodiac sign. They are the simplest star signs but also very difficult when it comes to falling in love. That is why they are called "The Twins" for coming with two different personality traits.
It might seem like an irony but this is very normal to them. As you continue to eat your mouth with harsh words, they will continue to live their lives as usual. So, no playing hard games here. In general, Gemini are the most curious people but also very kind. They love to socialize just as much as they love versatile and active partners. They just love to be seen holding hands which symbolize their partnership nature.
Yes, they are funny beings but they also possess two distinct weak point. Talking endlessly and distracting others. I don't know if dating a Gemini is a walk in the park stratagem. Allow me to zoom more on dating Gemini.
Tips On How To Date Gemini
Let's take a look at successfully how to date Gemini. Geminis are creative, open-minded, loving and fun beings. Even if you don't possess these personality traits, just try to chip in in some of their activities. Maybe, you will like some of their new hobbies. Another thing is that you should never outsmart a Gemini. Intimidation doesn't work with them.
Above all, everyone loves dating Gemini. Reason: they are quite appealing and very attractive in everything they do. With them, you are assured that you will have the nicest and warmest place to call home.
So, Why Date A Gemini?
As spontaneous as they can be, Geminis are ideal definition of social butterflies. They just love to paint their faces with all colors. I mean they come with a strong impulsive energy that will make you to go haywire. But at the same time, they are exciting beings and you will definitely love their sense of humor.
[adsforwp id="18080"]
*It is just one of the character traits that communicate as well as making life-long partners. If you want an adventure like life, stick to dating Gemini man or dating Gemini woman.*
Beside anything else, Gemini in love are loyal and faithful beings. But when it comes to attracting the opposite sex, I'll leave you to judge them. They love to be praised and always be the center of attention. If you don't know how to compliment a person, you better learn for the sake of dating a Gemini. You know that feeling of being wanted and feeling sexy deep within. Don't get confused I am still talking about the Gemini wants and needs.
*Gemini personality allows them to have that urge of coming home and be with you and no one else. You just have to understand that they possess two personalities*
Geminis tend to be very peculiar about everything – from what they will wear and how neatly they want to be. At the end of it all, the completely know what they want. You can never compete with them when it comes to their preferences. When into you, you can be rest assured that they will meet your needs. However, they also want the same in return. Note that, they are ruled by two different personalities.
*If you want to laugh yourself out in the evening, date Gemini. They are loving and subtle when it comes to the game of love*
Pros Of Dating Gemini
Big-Minded Gemini
The Gemini likes to dream big and view life in a positive aspect. Their world revolves around brilliant people. Therefore, you should always approach them with positive aspects of life. There are no boundaries here. I mean you have to flow with their plans and nothing else.
Gemini Love Life
Geminis love surprises and more entertainment. Ask them to do any exciting thing and they will oblige with their might. Ingenuity and original personalities intrigue them. Show them that you want them more by living life to the fullest. They just don't care how much they will spend but want to have a luxurious life in the end. They are perfect when it comes to investing. Why not enjoy what you have for now? That's Gemini.
Cons Of Dating Gemini
The Fiery Twins
God has created Gemini in such a way that they can forgive you, but it can be hard for them to forget. If you break their trust, it will be in vain to get it back again. Besides, they are very curious hence wanting to find things out on their own. If you seem to hide something from them, they will be more suspicious than you can imagine. So, honesty and trust are one of the important virtues for dating Gemini man or dating Gemini woman.
The Egoistic Beings
Never try to control a twin or hold her or him back on your first date with Gemini. They love freedom just as much as they hate others dominating them. This shows that they need their own space to mature and develop. If you seem to doubt on what they really want, it won't cost much to ask them. Also, avoid petty arguments with a Gemini lover. Just try to keep things at ease and he or she will follow you like a shadow.
Impressing A Gemini On A Date
From the start, it's quite difficult dating a Gemini. You might be trying your level best and think that you are in the right path. But the secret lies on your ability to showcase just how much you love them. It can be trying to find out if you possess similar interest. Either way, you just want to find out how to impress a Gemini. Here are six things you need to grasp about Gemini compatibility.
Don't Be Too Serious
Gemini is one of the creative sun signs in the zodiac family. That is why they are defined as being creative, fashion-forward and very sarcastic. This means they want a jovial and a conversational partner. If a Gemini falls out of bed and puts up a baggy pant, understand them. Never pretend when with them. But if you happen to wear that long face, it's better to find another partner to date.
Be An Active Listener
Dating a Gemini, means they will ask you a thousand questions in a day. This may seem like an interview. Don't b boring, move with their flow and all will be well. Being a lazy listener, No! Forget about that if you really want to date a Gemini. You should be ready to listen to their debates and conversations. With this I mean you must be very strong to wake up in the middle of the night. Not for emergency, but to listen to their endless story. They hate to argue just as much as they love to sharpen-up their partners.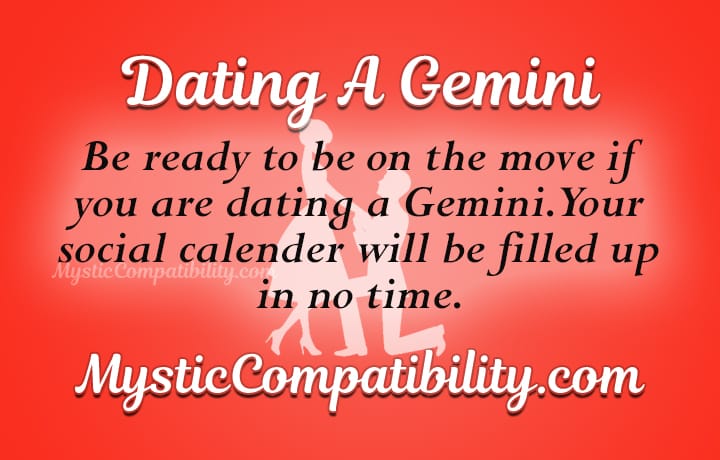 Don't Get Obsessed
Geminis love to decorate their homestead with picture-perfect decors. They love to spend more just as much as they envy to create a fun feeling. They love to be surrounded by people who love surprises. From the word go, don't get obsessed about all these. This allows them to make their dreams and ambition to be true. Instead of having a dominating attitude, I think it's better to fit in their world if you want to continue to date a Gemini.
Understand Them Emotionally
If you want a Gemini to commit, then remember they are nurturing and creative beings. But this doesn't mean that you should bog them down with everything. They aren't horoscope hippies but they can be if you try to joke with their emotional level. They are the type of people who will hide their emotional feelings but are burning inside. This doesn't mean that they are cold-hearted. They shed tears, but they hate to share with others.
Little Things Matter to Them
Not only do the Gemini like to talk a mile in a minute, but also love to look into finer details. They constantly love to plot their next move and surprise everyone. They love to have different variety of opinions and thoughts for them to arrive at one similar end. At this point, what they really want from you is your full concentration. Don't forget to bring in something new in their life and keeps things as interesting as they can be sexually too.
Never Underestimate A Gemini
Gemini is more in touch with their inner sense child unlike other sun signs. They love a partner who shares the same jokes and pranks. In this regard, don't ever think that you will once come to change them. By this I mean you should never underestimate them. Give them their freedom key and allow them to do what they want. The last word you'd ever use to describe them is: boring.
Dating Aries | Dating Taurus | Dating Gemini | Dating Cancer | Dating Leo | Dating Virgo | Dating Libra | Dating Scorpio | Dating Sagittarius | Dating Capricorn | Dating Aquarius | Dating Pisces
Check Out: