Aries Man Aries Woman Compatibility – Overview
Aries is the first sign of the zodiac and is known to be impulsive, enthusiastic and playful. When you think of Aries, you should think, young, impulsive and amorous, but at the same time domineering and selfish. Aries men and women enjoy being independent and free to express who they are in everything they do. Aries man Aries woman compatibility will be tremendously passionate and sexual. As they are fire signs, they enjoy to challenge each other, fight with passion, and then make up with even more fun. They are sporty and spontaneous, so don't be alarmed to find yourself being surprised by impulsive get away, or indulgences. Being athletic and sporty, they are active, outdoor and energetic.
Aries Man Aries Woman Compatibility: Positive Traits
Aries man Aries woman compatibility partners are like the dance steps for the tango; they seemingly constant battle to take the lead. It's not a battle for the Aries couple themselves, as they understand the impulsive actions and raging emotions that they both thoroughly enjoy. To outsiders, it may seem that this relationship is doomed to failure, and never going to work, but an Aries couple has a large propensity to forgive and move on.
[adsforwp id="18080"]
The chemistry found in Aries man Aries woman in love never gets boring. never gets boring, it is like no other sign. Their sexual desire, passion, and egotism lead them to be great romantics. What Aries couples need to be cognisant of is that the challenging relationship they may start with could very well lead to a loyal and secure long term married life. If that is what you are looking for, then this is the perfect match for you.
Your Aries partner will not only be your perfect sexual partner, but also your best friend, your soulmate. Neither will be a subordinate of the other. Should they be challenged by a person outside of their relationship, they passionately defend each other to the death.
The Aries man likes to be in charge. A good Aries woman knows how to ensure the Aries man thinks he is. Should the Aries man realize that he isn't really in charge, he will fight like mad to gain control.
If you are an Aries man Aries woman soulmates, then you are very fortunate to have the most romantic union that is possible. An Aries man will definitely never be intimidated by a strong independent Aries woman. If you are looking for a passionate relationship, then this is the one for you. The best way to keep this relationship going is to keep the passion and excitement alive.
Aries Man Aries Woman Compatibility: Negative Traits
Whatever you do, never try and hold an Aries man or woman back from reaching for the stars. They will never make a very good stay at home individuals as their ambition and drive will be suppressed. Aries man Aries woman compatibility can only end in disaster. Aries men and women also hate the mundane and routine, if you find that your relationship seems to be heading that way, try and spice things up a bit. Don't go overboard, but plan a cruise, or new adventure. Be spontaneous to ensure your relationship has changed and keeps its excitement.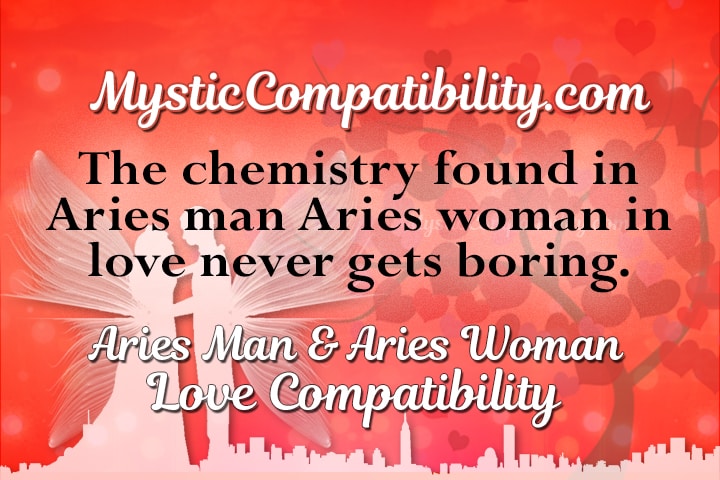 It would be the best decision you make to first get to know your Aries partner a whole lot better before getting into a serious sexual relationship with them. This is a protection for the Aries man Aries woman compatibility couple. You want to make sure that after the new relationship chemistry starts to settle, you still actually like each other.
Jealousy is one of the issues that raise its ugly head from time to time, especially when it comes to each partner's sexual freedom. Notwithstanding their own previous indiscretions, once an Aries couple agree that they are mutually exclusive, if there is any infidelity from either side, it will result in an all-out war! The Aries man Aries woman marriage will be over.
Of course, there are times when the Aries partner is totally oblivious to anyone else's issues besides their own, which very much brings to the fore the selfish side of them. They have to really work at it to ensure that they put their partner's needs above their own. This does not come very easy for Aries man Aries woman in love.
Tolerance and compromise are not attributes that the Aries man and woman are very familiar with but rather brave and courageous. Trust is not something that comes easily in an Aries man Aries woman love compatibility. It's a battle that will be waged for some time before there is the acceptance of trust.
If though you are looking for a calm relaxing domestic marriage, then this combination might not work for you. If one of the Aries partners becomes debilitated, due to loss of income or severe illness and becomes completely dependent on their Aries counterpart. This could result in your marriage falling apart.
Aries Man Aries Woman Compatibility: Conclusion
If you are an Aries man and want to get the attention of an Aries woman, you shouldn't show your tough side when you first make contact with each other. Being gracious and diplomatic in disagreements will result in her respecting you, which moves mountains. Your Aries woman should be introduced to your friends, this will impress her. If you follow through by showing her your ambition and independence, she will be all yours for life.
You need to ensure that your Aries woman knows that her plans are your priority as much as it is hers. She will feel confident that you are on board with her desires to travel and pursue the goals that she has set for herself. Indulge your lady-love, this will ensure that she knows she is your number one priority. The Aries man needs to keep in mind that the Aries woman, wants the man to be controlling, but at the same time, she wants to control him.
For an Aries woman who wants to snag an Aries man, you can't wear your heart on your sleeve, or play all your cards the first time you meet each other. You need to let him realize that you do have options, he is not number one (not yet anyway). Don't be standoffish though and flirtatious with other people, as that will be the end of it all. Give him something to keep him coming.
Show him that you do need a man so that he can be a man. He wants to be your prince charming. He doesn't want to have to work too hard, but doesn't want it given to him on a plate either. You want him to respect you, which won't happen if you don't make it clear what you need or want. You also need to be supportive of his selfish desires. If he has plans to go away with his friends, but you were not included, let him go. If you hold him too tight, you could easily lose him.
Sadly the Aries man Aries woman compatibility is about, all or nothing. There is no looking back once an Aries couple splits.
Aries Man Aries Woman | Aries Man Taurus Woman | Aries Man Gemini Woman | Aries Man Cancer Woman | Aries Man Leo Woman | Aries Man Virgo Woman | Aries Man Libra Woman | Aries Man Scorpio Woman | Aries Man Sagittarius Woman | Aries Man Capricorn Woman | Aries Man Aquarius Woman | Aries Man Pisces Woman |
See Also: