Aries Man Taurus Woman Compatibility – Overview
The Aries man Taurus woman compatibility personalities are quite charming, and complimentary. He is creative and active. This makes him a hard working person who is able to support and provide for his Taurus homemaker. Don't be mistaken, the Taurus woman is not just happy to be a little old housewife. Rather, she has intellect and interests that are attractive to the Aries man. She has a huge amount of patience and graciousness when dealing with others. This goes a long way with the Aries man is accustomed to always making the decisions.
The Taurus woman may at times be frustrated by his impulsiveness. But with her rational thinking, she is completely capable of bringing her man back to reality. She loves to cook and whatever she makes, tastes delicious in her beautiful, clean and neat home.
The Aries man Taurus woman in love are both ambitious. When they come together, they can make anything work, because of the respect and admiration they have for each other.
[adsforwp id="18080"]
Aries Man Taurus Woman Compatibility: Positive Traits
The Taurus woman loves with great resolve and is completely faithful and honest, which keeps the Aries man grounded. He, in turn, will help her escape her mundane and break out of her routine into some insane adventures. The Taurus woman, should from time to time, allow her Aries man to take her on some wild adventure. She will grow and learn new things. In turn, he will feel comfortable to sometimes slow down and spend quiet time with his Taurus love in exchange for the craziness he likes to expose her to.
His confident personality and young outlook, makes him stand out of a crowd. However, his impatience and carefreeness create their own problems. In the Aries man Taurus woman compatibility affair, the Aries man gains a sense of stability. She brings harmony into their engagement, which at times may seem boring to the Aries man.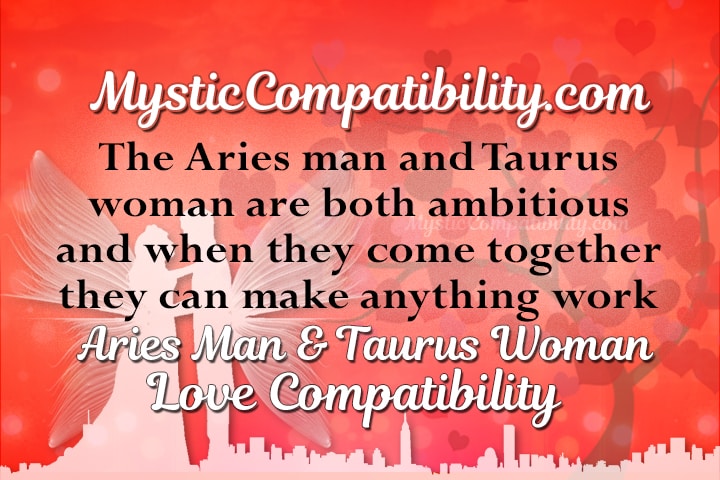 Between the flirtatious and stimulating interactions, and her charm and grace, the Aries man is compelled to want to take her and ravish her. The Taurus woman brings the enduring sensuality and the Aries man the passion, so together this couple are amazing in bed. The Aries man has a hands-on, athletic sexual outlook, and the Taurus woman enjoys being handled.
Should the Taurus woman be looking for a man who will respect her intellect and her feminine ways, then the Aries man is the one for her. He will provide a relationship full of security and passion. The Aries man and Taurus woman love compatibility couple would appreciate each other for who they are. Additionally, Aries man would be by her side in whatever challenges she faces. The Taurus woman needs to be cautious that although the Aries man will share his world with her, she should never impede his decisions. Rather, she needs to just enjoy that he is at her side and that she is the most important person in his life.
When this couple thinks of marriage, it stands a very good chance of survival. Aries man Taurus woman marriage is able to commit. Hence, marriage is of great importance to them. There is always a lot of energy surrounding the Aries man Taurus woman soulmates. So, for first-time marriages, there is the focus on all the normal marriage goals. Friendship comes hand in hand in this union. The Aries man brings in the inspiration and the Taurus woman brings in the needed support structures.
Aries Man Taurus Woman Compatibility: Negative Traits
The Aries man has an impulsive personality. He seeks instant gratification. On the contrary, the Taurus woman's slow and calm exterior makes it very difficult for this couple to stay satisfied within their relationship. Aries men are aggressive and Taurus woman doesn't like aggression. Outsiders may look at Aries man Taurus woman dating each other wonder just what these two ever saw in each other.
The Aries man doesn't stop to think about his actions before he rushes into them. The Taurus woman has a kind and gentle personality that helps the Aries man to be grounded and think more clearly. During times of trouble, the Aries man relies heavily on the Taurus woman. The Taurus woman doesn't have the room to live out her dreams. The good news is, the Aries man gives her the encouragement and ability she needs to get to her full potential. Aries man Taurus woman sexually make a fabulous team, inside and outside of the bedroom.
Something that the Aries man Taurus woman soulmates have in common is jealousy. Taurus woman can be very possessive and definitely will not sit back and let her Aries man play the field. She also has a bit of a temper. But the difference is; it takes her a much longer period of time for her to lash out. The Aries man loses his temper quite quickly. What would surely put the Taurus woman over the edge is if the Aries man was unfaithful.
The Aries man enjoys spending money, due to his confidence in his earning ability. The Taurus woman, in turn, wants to rather save and invest, to keep to her budget. This may be one of the big issues for the Aries man Taurus woman compatibility. This is because she would want to stifle some of his reckless spendings.
Another potential show stopper would be the emotional security that the Taurus woman needs. She wants to feel safe and know what is in store for her future. The Aries man, on the other hand, wants to be free and chase the next adventure when it comes. He may be frustrated by the Taurus woman's need for security, which he sees as stubbornness. Once both parties can see the other for who they are, the Aries man Taurus woman relationship can be a long and fulfilling one.
Aries Man Taurus Woman Compatibility: Conclusion
When the Aries man wants to attract a Taurus woman, he needs to be a typical romantic and strong partner. The Aries man can go all out with the romance for this entanglement. He doesn't have to talk her into being in a relationship with him, but once the chemistry between them is evident, he needs to show her how much he appreciates her. Don't be afraid to be a total romantic in all that you do for her. In the Aries man Taurus woman love match, the ram needs to keep in mind that the bull does not want to be controlled. He also needs to hold back his eagerness so that a balanced approach can be found.
When the time comes that the Taurus woman wants to attract an Aries man, she needs to show him that she will be his anchor. The Taurus woman needs to ensure that he is comfortable. She needs to show full support of his career aspirations. It would go a long way if he knew that you would frivolously spend all his money either. Aries men have an overwhelming passion which could be overbearing and he likes imagination in the bedroom, so be sure to try and offer a stronger response to his affections.
When and if the Aries man Taurus woman compatibility affair ends, the Aries man and the Taurus woman are able to be honest about how they feel and be able to move on.
Aries Man Aries Woman | Aries Man Taurus Woman | Aries Man Gemini Woman | Aries Man Cancer Woman | Aries Man Leo Woman | Aries Man Virgo Woman | Aries Man Libra Woman | Aries Man Scorpio Woman | Aries Man Sagittarius Woman | Aries Man Capricorn Woman | Aries Man Aquarius Woman | Aries Man Pisces Woman |
See Also: