Taurus Gemini Compatibility
The Taurus Gemini compatibility is the kind of relationship that one would argue out that it would not work on paper. Despite this, there are chances of the relationship working bearing in mind that humans beings are people who can change their perceptions with regard to how they feel about other people.
There are numerous differences between Taurus and Gemini and for things to work, they seriously need to put a lot of work into mending the gaps between them. A look at the pros and cons of Taurus and Gemini compatibility will reveal the strengths and weakness of this relationship.
Taurus Gemini Compatibility: Positive Traits
On a positive aspect about the Taurus Gemini love compatibility is that the individual contributions by both partners into making the relationship work could certainly make things happen. Taurus will try not to be hasty during the initial stages of the relationship. This is done to guarantee that they would be making the right decision.
Taureans are the kind of people that believe in step-by-step method of decision making. Therefore, they would in no way fall for hasty decisions. This is a good thing to the relationship as it would have a solid foundation to begin with.
[adsforwp id="18080"]
Communication is also an admirable aspect that is evident in the Taurus Gemini compatibility. This is largely contributed by the Gemini partner due to their intellectual ability and the strong belief in the power of communication. Test your cosmic love match.
This characteristic gives Gemini to control where the relationship would be heading. Right from the start, it is highly likely that the Gemini partner would have informed Taurus that their flirtatious nature is something that should not be taken seriously. This will be helpful in ensuring that no confrontations erupt due to petty issues.
The life of a Gemini partner is somewhat hectic and as a result, they would require someone to offer them with the stability that they sincerely need. Stability is just what Taurus would offer in the union. As a matter of fact, their stable nature is what would appeal to the Gemini woman during initial Taurus dating Gemini.
Gemini will also make a point of changing the lives of their Taurus counterparts. This might not be easy but they will start by taking them out for adventurous outings. The boring life of the Taureans is what Gemini would want to change for things to work for the both of them in Taurus Gemini compatibility. Test your Celtic astrology compatibility.
The Gemini lovers should feel at home with the kind of devotion that Taurus would have on the Taurus Gemini relationship that they would be having. Yes they are possessive but nurturing the love that you have would not be an issue to them. Rest assured of this. In fact, it is also worth pointing out that Taureans are not as outgoing as you might think.
They opt to have one on one discussions rather than heading out to have fun. Simply stated, they work to make certain that the Taurus Gemini friendship works by first understanding each other. Therefore, whether man or woman, the Taurean partner is a home bird you would not have to worry about when it comes to cheating.
Taurus Gemini Compatibility: Negative Traits
On the rough side of the Taurus Gemini love compatibility, you can expect to live with a completely unpredictable individual in your house. The Twins represent the zodiac sign Gemini. This implies that the chances of having two different sides of themselves is high. Today they might like certain foods but tomorrow they would settle for other different diets. This would cause a lot of problems even to those that consider Gemini partners as friends.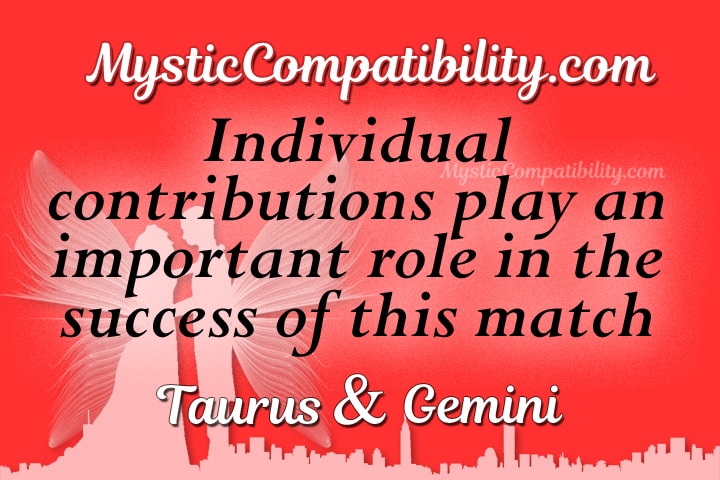 Still on their unpredictable nature, the Taurus lover might end up concluding that their partners are not fit for a long-term Taurus Gemini compatibility. This is because the Gemini partner could find themselves indecisive between two different lovers. As a Taurean lover, you would find yourself heartbroken occasionally.
Sex will also not work in the relationship between Taurus Gemini in bed. While Taurus will tend to focus on building the love based on romance, Gemini will have a different view to this. They will emphasize on intellectualism and would want the Taurus Gemini sexuality to be built on common sense. Consequently, romance is not something that Taurus would be happy about in this match. Test your sexual compatibility.
Boredom is set to kick in the moment Gemini notices that Taurus would rather stay at home and cuddle in Taurus and Gemini compatibility. Similarly, the same negative energy would be felt by Taurus as they would consider their partners as emotionally absent. The only way that things might work well with Taurus Gemini in love is when both lovers compromise the weaknesses portrayed by their respective partners.
What happens when you try to compromise about a certain behavior and yet your partner finds this to be a way of limiting their potential? There is a probability of mistrust arising! This is the kind of feeling that Taurus Gemini soul mates would be bearing when they try to express their feelings to each other in Taurus Gemini compatibility.
On this end, Taurus would want Gemini to be committed to their relationship. On the other end, Gemini will opt for the independent kind of a parasitic relationship. Trust issues will definitely arise as a result. There is no way that a Taurean will trust Gemini while they are out flirting with other people.
Still on Taurus Gemini compatibility, the Taurus man could easily give up on maintaining Gemini within the love circle. Their love for outings is something that Taurus will certainly not be able to keep up with. Yes they might end up trying but once they are out in a restaurant or a bar, it would not help when their counterparts are flirting with other individuals.
The Gemini woman on the other hand would despise the Taurus man for basically loving to engage in all talks without actions. Dealing with such differences could really be a nightmare for both partners and may result in Taurus Gemini break up.
It would not be surprising to hear that money might be another issue to cope with in the Taurus Gemini love compatibility. Saving for future plans is what Taurus believes in. on the contrary, Gemini simply wants to spend what they have. If at all the Gemini partner is a woman then chances are that they would be going out for shopping all the time.
The Taurean man will definitely get angry over such spending habits. Fortunately, this is easily solved as the Gemini woman is considered to be an intellectual in Taurus Gemini marriage. So, they might heed on to some of the valid reasons of savings that their Taurus lovers would inform them.
Taurus Gemini Compatibility: Conclusion
Lastly, Gemini is an air sign and Taurus is an earth sign. The two zodiac signs have more differences than their similarities. This makes this type of Taurus Gemini marriage compatibility difficult to handle. The Gemini will always move in the direction that the world is moving to.
Going out and having fun would be part of their top priorities in the Taurus Gemini sexuality. Sadly, this is what would annoy Taurus from time to time. Taurus on the other hand might be regarded as boring and over sensitive by their Gemini partners. The probability of both lovers meeting in the middle is quite low. A lot of compromising will be required to make Taurus Gemini compatibility work here. Be careful!
Taurus Aries | Taurus Taurus | Taurus Gemini | Taurus Cancer | Taurus Leo | Taurus Virgo | Taurus Libra | Taurus Scorpio | Taurus Sagittarius | Taurus Capricorn | Taurus Aquarius | Taurus Pisces |
See Also: