Aries In Love
How do the Aries in love react in relationships? Find out more from this article.
Aries Personality
Aries is the first star sign in the astrology calendar. The ruling planet of Aries is Mars, and their element- fire. Mars gives a lot of influence to the characteristics of Aries. This planet is responsible for the fiery, energy, passion and determination of Aries.
Aries are competitive and can be quite aggressive. These people face challenges directly and they enjoy competition. Mars is also a ruler of sexuality and is known as their passion sign. Aries in love are very sexual. These people base their decisions on primitive energy that leads them.
Aries Man In Love
Aries man loves company of woman. He is very attentive and caring person. Aries man in love constantly needs excitement and intrigue in relationship. He loves to surprise his partners, but rarely anyone can surprise him. If the Aries male finds someone who is equally as adventurous and creative as he is, he will do anything for this woman.
Drama and intrigue is a big part of the Aries man's life. He enjoys the beginning of relationship when everything is still fresh and unknown. This man has a nature of a predator. Once he gets to know his partners better, the male Aries often loses interest. Also, once the initial excitement has gone, not many women can keep things going in this man's pace.
Aries men love long conversations and discussions. He is overly worried about his sexual capabilities with no apparent reason. He likes to discuss any problems that his partner is facing, because it makes him feel better. Aries zodiac sign is an excellent conversationalist. Talking is usually a part of his foreplay, because he can turn on his partner just with words. Aries likes when woman is not secure about her sexuality. Seeing his partner overcome her insecurities turns Aries on.
[adsforwp id="18080"]
The Aries  guy is attracted to women who are insecure and don't believe in their power. He can help them to overcome these issues. Aries is well mannered and kind person. But, he never has bad intentions. This man is very social and people enjoy his company. It is also very important for the Aries in love to show off his greatness and power. Also, deep feelings and emotionalism is not a concept he understands. This man often has more than one partner. It is hard for him to commit to someone. And, even if he does, Aries will probably continue seeing other people.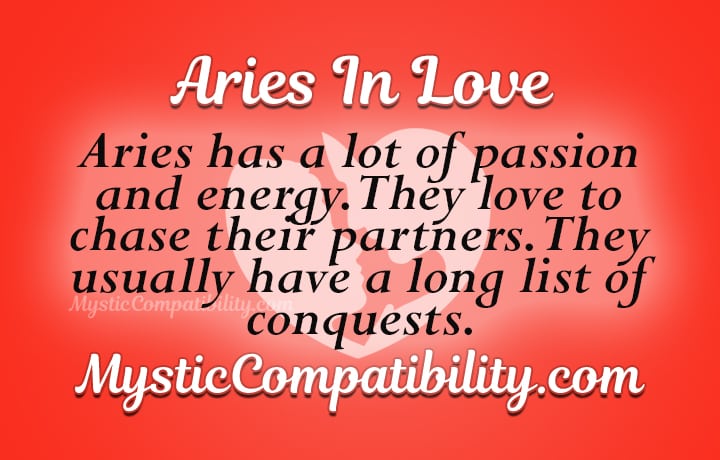 Aries Woman In Love
Aries woman is a very artistic personality. She can play many roles, but this woman is never untruthful. Honesty in relationships is very important for the Aries woman in love. This woman seems to be very emotionally intelligent, but it is not always the case. Also, she never hides her emotions, but they are very superficial. Aries female trusts her intelligent mind, not her heart.
Foremost, this Aries woman is able to believe in anything she wants. For this reason Aries lady doesn't trust herself in relationships. She can fall in love with the wrong person for the completely wrong reasons. For example, she might not have any emotional or intellectual contact with the partner. But, he perhaps can help her in advancing career. Aries will play the role she needs and live with the consequences. The Aries woman in bed never hides her true emotions. This woman is looking for emotions rather than feelings.
Aries women never try to change their partner. This woman can easily adjust to any circumstances. This woman often meets her partner from a company of friends.  Her partner can later be disappointed when it turns out she is completely different when alone.
Aries women in love can´t be seduced by romance, sweet-talking or other gestures that most women love. She relies on her primitive instincts and desires rough sex. Mostly this woman attracts very sensitive men, who attend to her with a lot of caution. For this reason the female Aries in love rarely is absolutely satisfied in her relationship.
Best Match For Aries
The best compatibility match for Aries is with Gemini, Leo, Sagittarius and Aquarius. Aquarius and Gemini are both air signs and they share the same love for new experiences as Aries. Together with Gemini, Aries will gain a new outlook on life. Gemini will be able to follow Aries lead and enjoy all the excitement they have to offer.
Aquarius is one of the rare people who can completely shock Aries sun sign. Aquarius has a very unconventional thinking and Aries will enjoy being surprised. Sagittarius and Leo are both fire signs, as well as Aries. Together with Leo, Aries will definitely advance his career. They will constantly compete with each other, but both of them enjoy this process.
This zodiac compatibility is going to be filled with a lot of laughter and love. Aries and Sagittarius share the same speed of life. They both are driven and social personalities. Although they have certain differences, their basic values remain the same. And, there is a lot of positivity in this relationship.
Worst Match For Aries
Astrologically, Aries has a very low love compatibility match with Cancer and Capricorn. As a water sign Cancer often puts out the fire of Aries. Cancer is very emotional and manipulative person. Aries will most likely step all over their feelings and leave Cancer sun sign broken without even realizing.
It is not likely that Aries will ever be in a relationship with Capricorn star sign. If they meet each other, they will have to make a lot of compromises. Mostly, Capricorn is very private person and doesn't like the spotlight. Aries is the complete opposite – their life is open to everyone. And, constant compromising and fighting will lead to a quick breakup of this Aries relationship.
For Aries, sexuality is sometimes like a battle field. They are very stubborn, commanding and they want to win. It is not really clear what winning means for them, but Aries feels better if they can dominate in bed. Their partners will often have to agree to all their needs. But sexually Aries people are usually very creative and masterful lovers. They are very passionate, for some people even too passionate. The best sex with Aries is usually after a fight. Primitive emotions, roughness and anger are a big turn on for them. The most sensitive parts of Aries body are face and ears.
The Aries sexual personality loves to have new experiences and they are sexually very open. They can offer their partner a variety of ideas. Their partner should not be surprised if one day he brings someone else to join them in the bedroom. Deep down, the Aries in love is a jealous person. He keeps a close eye on his partner and sees that no one oversteps their boundaries.
Conclusion
Aries zodiac sign has a lot of passion and energy. They are a true sign of fire – hot and unstoppable. Aries loves to chase their partners and they usually have a long list of love conquests. These people show a great appreciation of their partner and are very nice and polite. Even if it is just a one night stand, Aries will attend to their partner with care.
Aries lovers are very stubborn and they do as they please. They will definitely dominate over their partner. Aries needs someone in their life who lets them have their personal freedom but remains close and loyal. Aries will only consider serious relationship when they get older. At a younger age, Aries wants to experience everything life has to offer. Once they reach everything they wanted, Aries in love will find someone to care for.
See Also:
Aries In Love | Taurus In Love | Gemini In Love | Cancer In Love | Leo In Love | Virgo In Love | Libra In Love | Scorpio In Love | Sagittarius In Love | Capricorn In Love | Aquarius In Love | Pisces In Love | Love By Zodiac Sign | Love Sign |
Check Out: