Dating Cancer
The Cancer zodiac sign are individuals born between June 19 and July 22. They ooze a sense of belonging, family and maternal tendencies. Deeply entrenched to their roots is an insatiable feeling to fit that they derive from great comforts of the family and belonging. The larger the family, the merrier they are. They make perfect life-long partners and are accommodating to family dynamics. Dating Cancer zodiac sign is always fun.
Additionally, they are intensely patriotic and have low emotional thresholds; they are first to laugh and first to cry. The crab is the Cancer's luck. It has a tendency to withdraw from the unfamiliar environment; naturally reserved. Dating a Cancer, one should exercise patience and fortitude, especially when expecting emotional changes. It may be a daunting task to understand what a Cancer in love really wants.
However, with time they are tenacious, headstrong and full of maternal vigor, noble to protect their family or loved ones. Falling in love with the Cancer star sign is the best way to feel treasured and protected. They have a big heart. Let's see what they have in store for us when it comes to dating Cancer man and dating Cancer woman along with Cancer compatibility.
Tips On How To Date Cancer
To have a successful first date with Cancer male or female, you should avoid pressuring them constantly. They can be clingy and susceptible to feelings but holding them in a bubble would be a wrong move. The family values are fully intact in within their souls; family means availability through hard and good times.
Besides, the complexity of their mood changes makes them hard to be understood. When dating Cancer man or dating Cancer woman, with time it gets hard to clearly manage their emotional state. It also gets more difficult to control their feelings. But with true love and deep affection for your side, both of you are destined to conquer all.
[adsforwp id="18080"]
So, Why Date A Cancer?
Cancer males and females express a high sense of possessiveness when dating. They hold on to their partners, a possessive tendency. However, this characteristic can be helpful when in a relationship with previously hurt or abused individuals. It not only offers security but also expresses deeper affection. Their close association with the moon is also a plus to them. The moon is a symbol of fertility with a touch of smothering emotions. They are good when it comes to budgeting. They are also winners planning their future goals.
*You should expect the Cancer star sign to have a high emotional perception of their partner's actions and words. These feelings play into their sense of security. They are also quick to help and tend to solve confrontations before they escalate.*
For the Cancer zodiac sign, the family is their code of honor. Their family is not only blood relatives but also friends. They are protective of their own. Dating a Cancer, you should love their family and friends, which is halfway winning their hearts.
These familial attachments go down to their lineage and people in their lives. They are power players. This trait is adorable in men. Cancer men are active quarterbacks that never sit on the sidelines of action; they are the action.
*The water associated with the Cancer sun sign is an indication of how deeply they love their partners. They say still waters run deep, they show deep affection. When they find the right partner, it is blissful; the Romeo – Juliet kind of love, at least with no tragedy*
Pros Of Dating Cancer
Big-Minded Cancer
Cancer are attached to family and career. One should however not break under pressure given their partner's alignment to the household. Deep down Cancer are emphatic lovers that value their friends and life. You should always be available to lend a helping hand when they need you.
Cancer Love Life
Be ready to introduce him or her to the family. Cancer value friends and social life. The introduction assures them not only of security but also the level of your commitment. Another thing, give them freedom to have fun and visit new places. You will mesmerized at how far the relation will go.
Cons Of Dating Cancer
The Fiery Crabs
Cancer are stubborn and power players. They take part in the action and never take a back seat. Appreciation of the virtue of perseverance can be a wow factor. Immense gratitude coupled with hard work would impress him or her. But, that is not to mention a knight and shining armor.
The Egoistic Beings
Emphasizing with a Cancer goes a long way to winning them over. Through regular communication and care. Also, being secure will help them get over feelings of being domineering. This state can be achieved by wowing them into a candlelit dinner or leaving a love note on their windshield. The power of a grand gesture should not be underestimated especially when it comes to sexual activities in bed.
Impressing A Cancer On A Date
In the search for a lifelong relationship or marriage to a Cancer, wooing them is a secretive key. Cancer are 'keepers' in a relationship hence they value trust and honesty. These two traits go a long way in cementing the bond. Additionally, one should observe a lot of patience as they tend to crawl back to their shells early in the relationship. Read along to understand more about how to date a Cancer.
Don't Be Too Serious
Cancer men and women have a tendency to lock up and withdraw to solitude. In the event your partner is to pull such a stunt, fortitude is the key. Understanding and time are all you need to give in return, with time they will agree to your proposal.
Be A Good Listener
Engaging Cancerians in physical activity is typically a fun thing to explore when together. Team sports usually generate a community vibe, which is an environment that they are accustomed to. In the event they open up, listening to them attentively goes a long way to winning their trust. They are sentimental and emotionally vulnerable. Not interrupting them as they talk is a good move. Cancer partners are remarkably good listeners, embracing the trait would be an added advantage while dating a Cancer.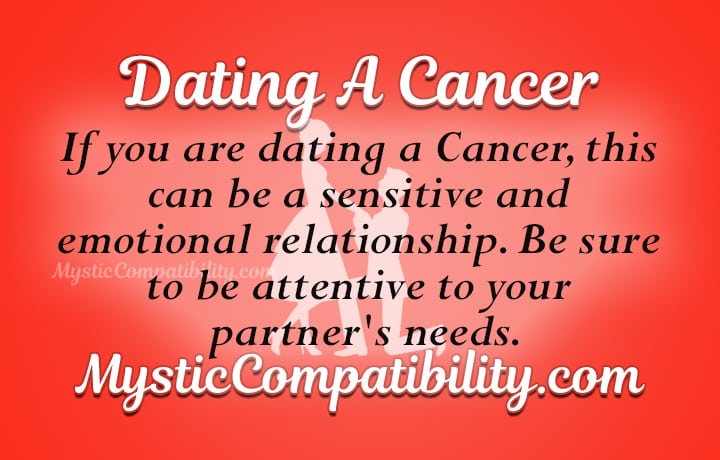 Don't Get Obsessed
In pursuit of Cancer's love and affection rejection is a mere outcome. If you are not lucky, it's better to move on. From the start, Cancer are emotional introverts, earning their trust first is relevant before hoping for something serious.
Understand Them Emotionally
Cancer men are frightened by the thought of rejection whereas women value security. Cancer lovers, therefore, value stability in their relationships. The women are also intuitive, informing one's intention is important because they eventually unearth a suitor's motive. Needless to say, a Cancer woman expects honesty and trust in a relationship; constant reassurance is necessary.
Little Things Matter to Them
Cancer in love have a low emotional threshold. They have a heightened and insatiable need to pick feelings. They are often moody and tender-hearted so that the little mistakes can cause a sudden break-up. Moreover, they crave for attention and compassion from their partner. Taking them out to dinners, movies or exciting events can do magic in making them feel loved. Thus, one should also refrain from bad mouthing a close friend or family to the Cancer. The outcome is often unbearable.
Never Underestimate A Cancer
When dating Cancer zodiac, avoid bring up past relationships. Given their overly sensitive mannerism, they might get emotionally hurt. Such conversation might stir feelings of mistrust. They are hardworking, power players, peace loving and family centered, and they make the perfect lifelong spouses. They are problem solvers and prefer peace over confrontations and fights. They are warm and maternal; they care for the needs of the family. Therefore, you should always respect their values.
Dating Aries | Dating Taurus | Dating Gemini | Dating Cancer | Dating Leo | Dating Virgo | Dating Libra | Dating Scorpio | Dating Sagittarius | Dating Capricorn | Dating Aquarius | Dating Pisces
Check Out: