Sagittarius Woman Scorpio Man Compatibility – Overview
The ruling planets of Sagittarius and Scorpio are very compatible, that´s why they have an amazing first connection. Together they have great dreams, and they both can put their heads together to fulfill them. Sagittarius woman Scorpio man compatibility signs are attracted towards each other. Sagittarius is fun, charming and makes an impression on Scorpio man. She feels that Scorpio man is a strong and successful man that could take her on many adventures. There is still quite a lot of effort to put in this relationship.
Sagittarius Woman Scorpio Man Compatibility: Positive Traits
Sagittarius woman Scorpio man in love have powerful characters. They are passionate about everything they do. Sagittarius woman brings a lot of positive energy in Scorpios life. This man tends to be more on the negative side. Sagittarius woman will help him to bring out his hidden qualities. Scorpio will help Sagittarius to view things deeper than she is used to. He can teach her to pay attention to details. This woman has a wide knowledge about everything, and for some people, she might seem like the smartest person. Scorpio man sees through her and knows that her knowledge is sometimes very superficial.
[adsforwp id="18080"]
Still, Sagittarius woman Scorpio man dating are very intellectual, and they can share a lot of interesting conversations. Scorpio man has a few fresh ideas, and Sagittarius woman will help to polish them up and direct this man towards success. As a team, they are very well organized and capable.
Sagittarius loves all new experiences. The reason why Scorpio man attracts her so much is that his approach to life is always very unusual. He sees things from different perspective, and he is not ashamed to express his opinion. Scorpio man can teach Sagittarius how to see the world through his eyes, and for her, it is a new adventure.
Everyone who meets Scorpio man for the first time has the impression of him being very serious. But this man has a lighter side to him; it just takes time to get to know him. Scorpio man will have Sagittarius woman´s attention long enough for her to get to know him. Once he opens up to her, Scorpio man can become joyful and relaxed. With Sagittarius woman, Scorpio will enjoy himself as never before.
In the Sagittarius woman Scorpio man marriage, lovers value their freedom. For Sagittarius, woman freedom means the ability to do whatever she wants to all the time. Scorpio sometimes enjoys his alone time, and he hates to be controlled. In this relationship, Scorpio will have the upper hand, because Sagittarius woman is not looking to be the dominant one. She will still expect to have her freedom. If Sagittarius woman Scorpio man sun signs learn to accept each other´s needs, there is no reason why they couldn't have a lasting relationship. In most cases, the problem is that it is hard for both of them to accept these needs.
Sagittarius woman Scorpio man zodiac match have a good intimate connection. Sagittarius is very creative and confident, but Scorpio brings emotions for this union. Sagittarius will have a lot of new experiences with Scorpio because he is very passionate and intense. She might be a little intimidated by the dark emotional side of this man, but that is all part of the new experience. Sagittarius has enough positivity in her to make things lighter. The sex life will never get boring between these two people because they both have quite a lot of experience. They are both always ready for new adventures. Sex is a huge part of their lives, and it makes them connect even better.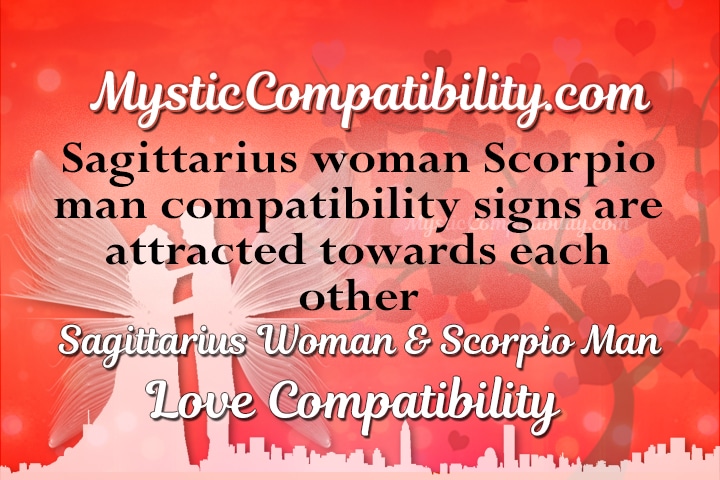 Sagittarius Woman Scorpio Man Compatibility: Negative Traits
Sagittarius woman doesn´t mind that Scorpio takes the lead in this relationship. What she minds is that he gets very possessive and jealous. Sagittarius woman is never quick to commit to someone. Even if they have dated for a while, she might not consider that they are in a Sagittarius woman Scorpio man relationship. Scorpio will not understand this attitude because if he likes someone, he has no trouble committing to them. Scorpio will quickly become possessive and try to make Sagittarius more connected to him. This will only push her further away because she hates to lose her sense of freedom.
If she wants to keep having a relationship with Scorpio man, she will have to prove to him that she is trustworthy. The first step is to go steady with him and ensure him of her feelings towards him. If Scorpio wants to be with her, he has to learn to give her some personal space. She loves going out more than Scorpio will ever want to, so he has to let her. One of the biggest problems with trust for Scorpio man is that if he has any suspicion or a reason to be jealous, he might forgive, but he will never forget it. That´s why if Sagittarius woman ever betrays him, there will always be mistrust.
In this Sagittarius woman Scorpio man union, Scorpio man will get hurt at some point. It is not the intention of Sagittarius woman to do so intentionally. She simply has a different lifestyle that Scorpio man has a hard time accepting. Sagittarius woman says whatever is in her head, without thinking of consequences. Scorpio man will never show his true emotions about things but always remember them. He has excellent instincts, and he can sense if there is something wrong with the other person. Sagittarius woman lacks these instincts, and for her, the true thoughts of Scorpio man will mostly remain hidden.
Sagittarius woman will also have a lot of trouble coping with Scorpio's jealous nature. Although he is an interesting man to be together with, she wants more excitement. Scorpio man loves the comfort of his home, and that´s a place for him to relax. Sagittarius woman needs that sense of home and security only from time to time, but mostly she would rather do something more fun.
As a water element, Scorpio tends to put out the fire of Sagittarius. She has a lot of excellent qualities, but they are not acceptable to him. They both have very high expectations from their partners. In the Sagittarius woman Scorpio man love compatibility relationship they can only satisfy each other's superficial needs and desires. In fact, the more they get to know each other, the less likely it is for them to stay together.
Sagittarius Woman Scorpio Man Compatibility: Conclusion
Unfortunately, Sagittarius woman Scorpio man love affair is not likely to last very long. At first, they will have a lot of fun with each other. They are both intrigued by each other, and at the beginning of the relationship, they will do whatever it takes to keep things interesting. After a while, they will realize, that this relationship might not be worth the effort.
Sagittarius woman Scorpio man compatibility signs have to change a lot for them to have a successful relationship. Sagittarius needs to be more diplomatic and value Scorpio. If she doesn´t want to hurt his feelings, she will have to keep the partying to a minimum. Scorpio man needs to let go of his jealous and controlling nature. He simply has to trust this woman, especially if she has proven her love to him. They can learn a few good things from one another- Scorpio man will become more positive together with this woman. Sagittarius will learn to see things deeper. Even though this relationship is not likely to last long, there is no reason why they shouldn´t try it.
Sagittarius Woman Aries Man | Sagittarius Woman Taurus Man | Sagittarius Woman Gemini Man | Sagittarius Woman Cancer Man | Sagittarius Woman Leo Man | Sagittarius Woman Virgo Man | Sagittarius Woman Libra Man | Sagittarius Woman Scorpio Man | Sagittarius Woman Sagittarius Man | Sagittarius Woman Capricorn Man | Sagittarius Woman Aquarius Man | Sagittarius Woman Pisces Man |
See Also: