Sagittarius Woman Cancer Man Compatibility – Overview
The relationship in the Sagittarius woman Cancer man compatibility union has a lot to offer to both of them. Sagittarius can teach Cancer to take more from life. At first, for Sagittarius woman Cancer can seem as overly emotional and commitment seeking man, but later on, she will learn that it is nice to have someone willing to commit and give emotional support. Cancer man will be impressed by this woman and her charming personality. He will want to follow her everywhere because he enjoys having someone as passionate and active next to him. This Sagittarius woman Cancer man relationship might take a lot of energy from you both. How lasting they will depend on how much time and effort both of these people are willing to put in.
Sagittarius Woman Cancer Man Compatibility: Positive Traits
The sensitive Cancer will see Sagittarius woman as a challenge. Her life is full of so much excitement, and Cancer wants to be a part of it. The ruling planets of this couple- Jupiter for Sagittarius and Moon for Cancer are quite compatible and work very well together. They represent both male and female energies, and when combined, they can make a great effect. Since Cancer is a water sign and Sagittarius- fire, they have quite different views on life. But despite these differences, they have a deep connection with each other, and with enough time and effort, they can resolve all their issues.
[adsforwp id="18080"]
Sagittarius woman is very intellectual, and her views are based on rational observations. She is a romantic and sees only the good things in people and environment around her. Cancer bases all his decisions on his emotions. He always seeks deeper meaning about everything in life. Cancer man believes that there is more to Sagittarius as she presents, and that is true. He will dig deep to understand this woman, and once he does, it might be easier for him to be flexible towards her needs. Sagittarius will appreciate his deep insight and constant support.
Sagittarius woman Cancer man love compatibility can have a good sex life if they find enough emotional support between them. Cancer will connect with Sagittarius and make her experience truly romantic. She, on the other hand, will make things lighter and easier with her amazing sense of humor. Cancer man will not have enough emotional contact with this woman, but the passion she brings into their sex life can make up for it.
The Sagittarius woman Cancer man couple has a powerful intellectual bond. They always have things to talk about, especially if they both work together. Intellect is the thing that they value the most and what makes this relationship work. They each have a different perspective on life. Combined, they can learn from each other's point of view and make adjustments to their beliefs.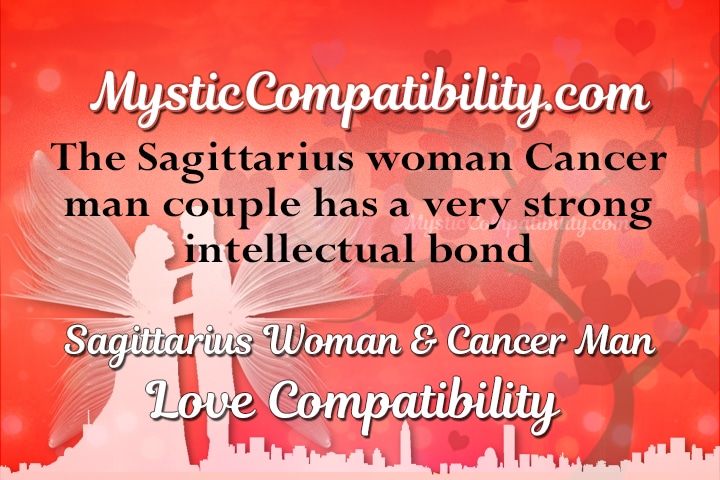 Sagittarius Woman Cancer Man Compatibility: Negative Traits
Sagittarius woman is sincere when it comes to flaws of other people. Sometimes she might even seem unfeeling and cold. Cancer can appreciate her honesty and the way she treats everyone equally, but he is not quite happy about what she has to say. He is compassionate towards criticism and Sagittarius can sometimes deliver it cruelly. Cancer will do everything to hide his feelings, and he will succeed, but Sagittarius cannot sense that his feelings have been hurt.
After a while, Cancer man will feel that he is constantly criticized and that can lead to an ugly fight. Sagittarius woman needs to learn to be more diplomatic, although that is not an easy task for her. Cancer man needs to grow a thicker skin and not get offended by all the things she says. Sagittarius mostly has good intentions, and she is not hurting him on purpose.
Although Sagittarius woman Cancer man dating are very romantic, they have a different approach to romance. Sagittarius woman falls in love quickly, and she needs things to keep being interesting and fun. She appreciates when her partner reminds her of his love all the time. Cancer is cautious and it takes time for him to establish a deep emotional contact. At first, he might ignore all the flaws of Sagittarius and idealize her. When he doesn´t receive the same amount of emotions back, he will start to obsess about their differences.
Sagittarius changes her mind constantly about everything, and Cancer will soon realize that together with this woman he will not have enough stability. She will also understand, that Cancer is not so capable of change and he doesn´t enjoy the same lifestyle as she does. Although she might like to have a person who brings stability and emotionality in her world, she most likely will get bored with Cancers home-loving nature.
Because of Sagittarius woman Cancer man partner's lack of emotional connection, it is tough for them to have trust in this relationship. Sagittarius woman needs appreciation not only from her partner but also from complete strangers. She wants to be loved and admired, and she seeks these feelings everywhere she goes. Flirting is just a natural part of her, and since her personality is so sparkling, she attracts a lot of attention. Cancer gets very jealous of it, and he doesn't understand her need for this kind of freedom. When in a Sagittarius woman Cancer man relationship, Cancer expects devotion and mutual loyalty. Sagittarius woman feels affection towards someone until she gets bored.
Sagittarius woman needs someone in her life that can keep up with her speed and take as many chances as life has to offer. She wants to see the world and have endless adventures. Cancer doesn´t share this passion towards new experiences. He wants to find a person to share his life with and build a family and a home. These cardinal differences between them will not make this relationship last. Sagittarius woman Cancer man horoscope signs just don't understand each other. These differences also appear in their sex life.
Cancer will have trouble following the changing nature of Sagittarius and her constant need for new experiences. She will not be able to provide him with enough emotional connection; rather his emotionality might annoy her. If they want to have good Sagittarius woman Cancer man sex life, Cancer has to let go of his prejudice and just go with what Sagittarius has to offer. Sagittarius will have to be ok with the fact that Cancer is not very creative when it comes to sex, and he enjoys traditional values.
Sagittarius Woman Cancer Man Compatibility: Conclusion
It is not likely that Sagittarius woman Cancer man sun signs will be even attracted to each other. If they have a close connection on an everyday basis, for example, at work, there might be a spark between them. Intelligence is what mostly connects this couple.
If this Sagittarius woman Cancer man pair wants to stay together, they will have to make a lot of changes in their personality. Sometimes even change things that are the best of them. But if they do, they might succeed in having a great relationship. They have to consider if the sacrifices are worth staying together.
Even if things don´t work out with them, Sagittarius woman Cancer man compatibility match will learn a lot from this relationship. They will remember each other with positive emotions because this relationship will be full of romantic and adventurous experiences for both of them.
Sagittarius Woman Aries Man | Sagittarius Woman Taurus Man | Sagittarius Woman Gemini Man | Sagittarius Woman Cancer Man | Sagittarius Woman Leo Man | Sagittarius Woman Virgo Man | Sagittarius Woman Libra Man | Sagittarius Woman Scorpio Man | Sagittarius Woman Sagittarius Man | Sagittarius Woman Capricorn Man | Sagittarius Woman Aquarius Man | Sagittarius Woman Pisces Man |
See Also: