Virgo Woman Capricorn Man Compatibility – Overview
The Virgo woman Capricorn man compatibility lovers are well matched. Equally, there are few defects for this couple. They connect in every way and have many opportunities to succeed as a couple. Overall, they should be incredibly happy together, as they know just how to satisfy one another.
The Virgo woman is often known by other zodiac signs for her significant talent when it comes to analyzing. She tends to be strangely introverted and enjoys her own company. Thinking is her forte, and she can wear herself out in minutes without moving a muscle. She is incredibly mentally active and tends to analyze everything going on in her life. Whether it's surroundings, situations, people or anything else, she has a knack for excessively ripping every detail of things apart.
[adsforwp id="18080"]
An extension of this means that the Virgo woman is usually an extremely tidy and well-organized person. Everything in her home is in a specific place for a reason, almost down to the millimeter. It is rare that her house is messy, and she is always very organized. To put things in perspective, she is the type of woman to run a blog dedicated to organizing one's life. Everything she does is planned to the finest detail, and she hates straying from the path that she has set.
The Virgo woman is a kind and friendly person and has no issues with making friends. However, she can be quite emotionally distant, as she hates unusual emotional outbursts. She would much rather analyze her emotions and be rational about them than allow herself to feel them. Another point to mull over is that the Virgo woman tends to be critical. She is a perfectionist by nature, and she may frequently find herself pointing out flaws in friends, family and partners. This is because she wants things to be the best they can be, and she believes that she is helping these people. It is not meant to be malicious or cruel in the slightest.
Many men who have been in a relationship with a Virgo woman have said the same thing. She will organize her partner's life in a very subtle way, tying up loose ends and making everything easier. This is usually greatly appreciated, as it is never in an invasive or intrusive way.
The Capricorn man is remarkably ambitious and works hard to achieve his goals. He is a very patient man and believes in perfection. No matter what, he will do his best to achieve his goals, no matter how long it may take him. His patience knows no boundaries, and he will spend years working towards a goal, as long as it means that things will turn out perfectly. In his mind, there is only one chance for perfection, and it is crucial that it is achieved.
Change is not something that the Capricorn man loves, and he will take a long time to integrate it into his life. It must be approached with caution and examined before he lets anything sway the direction of his life. He is worried that change will affect his goals, and ruin his opportunity for perfection. He likes to be in control of his life and does not let anybody else rule him.
The Capricorn man is not emotional in any way. He keeps his true feelings suppressed deep down, and doesn't release them often. Trust does not come easily to him, and he may struggle to have faith in other people, preventing him from letting them see his true self. He secretly yearns for love, and a healthy relationship would be one of his primary goals in life.
The Capricorn man is faithful, perhaps the most reliable of all the zodiac signs, There is no worry of infidelity or lies with this man because he has solid morals and principles which prevent him from doing this. When in a relationship, he will be incredibly loving and caring, never failing to love and adore his partner. He has a romantic streak and is a very sensual person. Patience is all the Capricorn man needs from a partner, and he will offer her a fantastic, passionate relationship that will be emulated by all.
The Virgo woman Capricorn man compatibility is a natural couple, and they have a lot of things in common. They both value intelligence, which allows them to communicate well and have many enriching experiences together.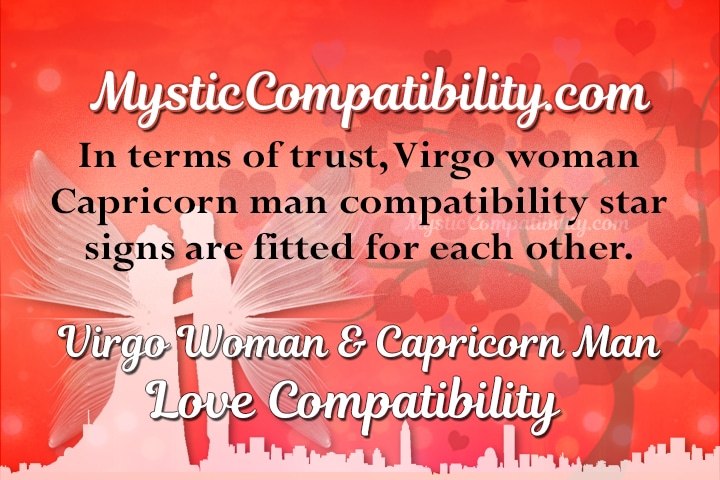 Virgo Woman Capricorn Man Compatibility: Positive Traits
This Virgo woman Capricorn man compatibility relationship has its ups and downs, but it has many significant things that make it a success. The Capricorn man and the Virgo woman have the potential to be very good together, and they could have many happy years in a loving and passionate relationship.
When it comes to Virgo woman Capricorn man compatibility sex, this couple should share loving moments together. They are both looking for somebody to deeply connect with, someone who does not take sex lightly. This allows them both to be incredibly passionate about one another, and they can find that deep love that they are looking for. They know how to satisfy one another, and meet each other's needs. This means that the pair should have incredibly passionate, loving and satisfying sex that they can both enjoy, and will feel fulfilled.
Regarding trust, Virgo woman Capricorn man compatibility star signs are fitted for each other. Neither the Capricorn man or the Virgo woman have any reason to mistrust one another, as they are both dedicated and loyal to one another. They can trust one another to the ends of the earth, and they will always have each other's back. Never again will these signs have to worry about their partner cheating on them, or to lie to them, because both of them are incredibly principled and loyal when it comes to a relationship. This will add a positive dynamic to the Virgo woman Capricorn man compatibility dating, and allow them to have very healthy levels of trust.
Virgo woman Capricorn man in love pay great attention to detail, so their communication should be smooth and productive. They can have in-depth conversations about any subject, and share their vast knowledge with one another. Rarely will they hit a communication barrier, as they both completely understand one another on a deeper level. They fit together like gears and work in perfect harmony.
The Virgo woman Capricorn man compatibility zodiac match also share many values, and this means that they can work towards a mutual goal. Having a plan for the future is essential for any relationship, as it means that the couple can work and grow together. Similar values make a couple more likely to get along, as they do not have too much to fight about.
The Virgo woman Capricorn man compatibility soulmates are also able to find many things in common, and this lets them share activities together without conflict. They can go many places with one another, bonding and enjoy life experiences. Shared memories and experiences are important to this couple, as they bring intelligence with them so that they will adore doing things together.
Virgo Woman Capricorn Man Compatibility: Negative Traits
The main thing that is missing in this Virgo woman Capricorn man compatibility love compatibility is emotion. Neither the Virgo woman nor the Capricorn man depicts emotional natures, which could create a lack of emotion through all aspects of the relationship. Passion is important for any couple because it drives them to be together and stay together, opening up more opportunities for any pair. If a pair is missing this connection, then things will become increasingly harder for them. The Capricorn man is debatably the more emotional of the pair, so he should do his best to inject a bit of emotion into the relationship. Consequently, this prevents things from getting ugly.
Virgo Woman Capricorn Man Compatibility: Conclusion
Virgo woman Capricorn man compatibility affair should be a happy one. Most couples of these signs have long and happy lives together. Additionally, they can communicate well. Almost nothing will be wrong with this relationship, apart from maybe a slight issue with developing an emotional bond.
Virgo Woman Aries Man | Virgo Woman Taurus Man | Virgo Woman Gemini Man | Virgo Woman Cancer Man | Virgo Woman Leo Man | Virgo Woman Virgo Man | Virgo Woman Libra Man | Virgo Woman Scorpio Man | Virgo Woman Sagittarius Man | Virgo Woman Capricorn Man | Virgo Woman Aquarius Man | Virgo Woman Pisces Man |
See Also: