Taurus Man Cancer Woman Compatibility: Overview
Both the Taurus man Cancer woman in a relationship is naturally romantic at heart. Each of them is looking for emotional security within a relationship. They can be a really cute couple. In a Taurus man Cancer woman compatibility, the Taurus man and Cancer woman not only understand each other intimately, but are also connected on an emotional and physical level.
The Taurus man will find the Cancer woman's cautious nature to be very refreshing. She is very gentle and nurturing, which is exactly what the Taurus man is looking for in a relationship.
Once these two commit, their excellent compatibility will keep them together. They will move heaven and earth to ensure that their relationship is successful.
[adsforwp id="18080"]
The Taurus man Cancer woman combination will make a fabulously loving home together. There will be times that both the Taurus man and Cancer woman will need to compromise as to who takes the lead. This is because they both are very clear as to what they want out of life.
The Taurus man dating Cancer woman is wise, humble and patient. This will come in handy when the Cancer woman runs hot and cold. She can be very emotional at times, and he will seem to balance her inconsistent feelings.
Although the Taurus man doesn't always seem to understand the moods of his Cancer woman, he does seem to be able to take in the worst of it. She in turn will put some life into his mundane or otherwise boring lifestyle.
A safe and secure home is something that the Taurus man will happily provide for his Cancer woman. He is very responsible, and this is evident in his finances. The Cancer woman also likes to save. She is thus very appreciative of the stable, secure environment he will create for her.
The Taurus man is the one who will help out wherever he can. He won't rush into a relationship, but rather evaluates the situation. He does this to ensure that she is the right one for him. This makes for a long and lasting relationship.
The Cancer woman is very sensitive and loving. She is also very independent and strong-willed. The Cancer woman has an influential way of guiding her career to ensure financial stability. She is looking for a man that will nurture and care for her.
The Cancer woman can understand what motivates and be supportive of her ambitious and stable Taurus man. When they hurt each other, as long as it is not deliberate, they will be able to work through it. This can only help to ensure the survival of their relationship.
Both the Taurus man Cancer woman in love will base their relationship on how their partner feels. When they connect, they are in total sync with each other. If this couple makes it to marriage, it will make for a very healthy, determined and honest family environment.
Money and love are definitely part of the bigger picture for them. When dating, they both want the same environment to get to know each other better. They both enjoy luxury and fine dining. Their life goals are all about the love for each other, their immediate family and the home that they make together.
The Taurus man Cancer woman couple are very sexually compatible. There is no lack of romance in a Taurus man and Cancer woman relationship. This couple will want to spoil each other on every opportunity that they can. They will both revel in giving and taking from each other.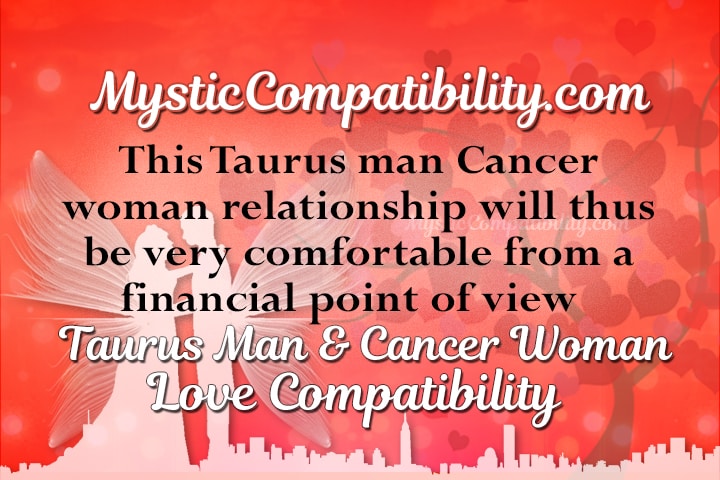 The Taurus man is all about the physical love making, and the Cancer woman brings in the emotional side. There is no rushing them in their obviously sensual and captivating engagements. The Cancer woman is very intuitive, which ensure that all the Taurus man's desires are fulfilled. He is grounded which results in the Cancer woman being able to lose herself in their love making. Together they will take each other to new heights.
Taurus Man Cancer Woman Compatibility: Positive Traits
Both the Taurus man Cancer woman soulmates are very careful with their money. This relationship will thus be very comfortable from a financial point of view. The Taurus man and Cancer woman are very methodical.
The fact that she is very thorough and careful appeals to the Taurus man straight away. They are both extremely loyal and looking for a long term relationship.
The Taurus man Cancer woman like to take things slow. They will want to be friends before they become lovers.
In a Taurus man Cancer woman marriage, their direct family is very important. They will probably want to have quite a few children. This will be a very faithful relationship.
The Taurus man will make the Cancer woman feel secure in their relationship. The Cancer woman's caring and nurturing personality is adored by the smitten Taurus man.
The Taurus man is secure in his career and thus able to provide for the Cancer woman. She, in turn, is a very accomplished home maker. Together this brings balance into their relationship.
Taurus Man Cancer Woman  Compatibility: Negative Traits
The Taurus man Cancer woman relationship is not a very social one. They will become so wrapped up in each other that they won't make time for family and friends. The Taurus man can be very possessive. The Cancer woman could take this as a lack of trust between them.
She will feel that she isn't doing anything for him to distrust, and this will cause conflict between them. When either of them are hurt in a Taurus man Cancer Woman love compatibility, they will retract into themselves, and won't address the issues easily. This can be a festering that will inevitably end the relationship.
The Cancer woman can be very emotional and the Taurus man might not see the relevance of her concerns. When the Cancer woman's emotions are all over the place, the stubbornness of the Taurus man might result in his vicious temper coming to the fore.
The Taurus man is able to cut the Cancer woman down to shreds, with his malicious words. Even worse he would possibly withdraw from her and there will be a complete disconnect in their relationship.
Taurus Man Cancer Woman Compatibility: Conclusion
When a Taurus man wants to attract a Cancer woman, he needs to be tolerant and see through her emotions. He needs to make her feel protected and safe. He should let her know that he takes care of his mother, and be sure to ask her about hers. The Cancer woman should see that he takes finances seriously, and doesn't spend frivolously.
When a Cancer woman wants to get the attention of a Taurus man, she needs to show him her nurturing and caring side. The Taurus man wants a supportive and reliable soulmate and will open up to her when he sees that side of her. She needs to fuss over him and keep the conversation on a personal level. Making sure he knows that he is most important to her.
A Taurus man Cancer woman compatibility relationship is over when the trust between them is gone. The Taurus man's temper flares once too often due to the emotional rollercoaster of the Cancer woman. The scars from the numerous outbursts will be too much for the Cancer woman, and the relationship will be over. For the Taurus man, the Cancer woman breaking all his rules will be unforgivable for him.
Taurus Man Aries Woman | Taurus Man Taurus Woman | Taurus Man Gemini Woman | Taurus Man Cancer Woman | Taurus Man Leo Woman | Taurus Man Virgo Woman | Taurus Man Libra Woman | Taurus Man Scorpio Woman | Taurus Man Sagittarius Woman | Taurus Man Capricorn Woman | Taurus Man Aquarius Woman | Taurus Man Pisces Woman |
See Also: