Libra Woman Cancer Man Compatibility – Overview
The Libra woman and Cancer man do not make a good match at all. In fact, most of the time things can only end in tears. There is no emotional connection, no shared values, no trust, and no sexual attraction between this pair. Things for this Libra woman Cancer man compatibility will rarely get better.
The Libra woman is a social butterfly, as she has many qualities that make her a brilliant friend. The most notable one is her incredible sense of empathy, and talent for listening to others. Many people tend to gather around the Libra woman, as she is so incredibly good at offering a brilliant friendship. No matter what, she can always relate and offer brilliant advice, making her a sort of agony aunt among her friends. She always does her best to offer relevant and helpful advice, as she is able to empathize with anybody.
[adsforwp id="18080"]
The Libra woman needs to be loved and admired, which is why her brilliant social skills play to her advantage. In order to feel satisfied, she needs to be looked up to and appreciated by others. It is not necessarily an ego problem, but she does need validation and compliments. In order to win over a Libra woman, one should offer her a lot of compliments on all aspects of her life.
She is an incredibly creative person and often pursues careers in the creative arts. Her high levels of intelligence shine through in creative ways, and this is usually praised by all of the people around her. She has a taste for luxurious living, and will frequently splash out in order to have the highest quality of life. Her appearance is very important, and she is usually very well groomed. The Libra woman wants to feel well put together, and if she doesn't look her best she will suffer mentally.
Additionally, she is a sexy and seductive person. But, she is definitely in it for the long run. Short term Libra woman Cancer man flings are not what she is looking for. In fact, she will almost always choose a steady relationship. However, she may struggle with craving attention from other people, and this could mean that her partner feels that she is disloyal. The Libra woman needs validation from a few scattered sources, and will not feel comfortable limiting this to one source. A partner should not worry about this, unless she gives him a genuine reason to.
The Cancer man is one of the most emotional of the zodiac signs. He has a personality a lot like his zodiac animal, the crab. His outward self is strong and harsh, seemingly very masculine. This is somewhat of a defensive shell, which he uses to guard his true self against the outside world. It is rare that anybody will be allowed to see past this shell, as he is incredibly tender on the inside. The Cancer man is highly emotional and takes everything to heart. It is rare that he will let this side of himself show, however, as it may make him appear as "weak".
In a Libra woman Cancer man date, trust will be a huge issue for the Cancer man. This is another reason that he possesses his defensive outer shell. It is not uncommon for him to stick with the same friendship circle throughout his entire life. It is, in fact, a frequently found trait in Cancer man. This is because he would much rather be stuck in a rut than venture out and meet new people. Placing his trust in new people is an almost impossible task for him, and once his trust has been broken he will never forgive.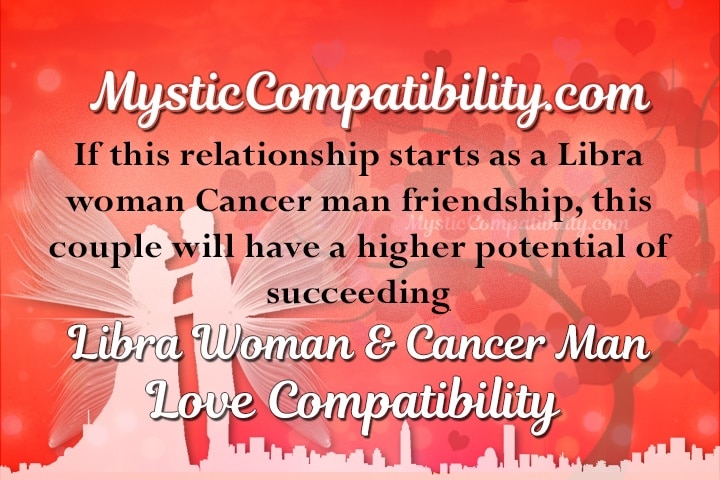 To add to those, he is one of the most loving and caring zodiac signs and would do anything for his loved ones. The Cancer man has a nurturing nature. therefore, he will take care of his partner well. When trying to pursue a Libra woman Cancer man relationship, he will not be very direct. He approaches a potential partner cautiously and is incredibly careful of what he does and says. His gentle nature means that he will partake in some light flirting and attempt to romance his potential partner. When he has finally captured her heart, he is incredibly caring and would do anything for her.
The relationship between these signs will be incredibly rocky. Also, there is very little chance for success. Generally, they have very little Libra woman Cancer man love compatibility. They tend to bring out the worst in each other.
Libra Woman Cancer Man Compatibility: Positive Traits
If this relationship starts as a Libra woman Cancer man friendship, this couple will have a higher potential of succeeding. The opportunity to create a bond and learn to communicate with one another before involving romance is the key way of getting this couple to work. In almost all instances of these signs being friends before sparking a romance, things will have a better chance to be successful. A strong friendly foundation will solve many of the issues that this relationship faces.
Libra Woman Cancer Man Compatibility: Negative Traits
This relationship does not have the greatest potential for success. There are a few differences and instances that will affect Libra woman Cancer man in love. Hence making them incompatible for one another.
Sexually, this couple will have their struggles. Neither the Libra woman or the Cancer man is particularity forward in the bedroom. The Libra woman Cancer man sexual relationship could become stagnant and dull. This is because they both struggle to inject that emotions and passion required to have a healthy sex life. The Libra woman and Cancer man cannot fully satisfy one another. Eventually, they will both be left with a sour taste in their mouths.
Sadly their Libra woman Cancer man sex life will be virtually non-existent. Therefore, friction will emerge between the pair. The Libra woman desires a physical connection with her partner and wants to feel like their bodies are in complete harmony. On the contrary, the Cancer man needs a sexual experience that is incredibly emotionally charged. Besides that, he will not feel satisfied. This difference in requirements makes things complicated.
The Cancer man is one of the least trusting zodiac signs. On the other hand, the Libra woman can appear to be incredibly disloyal. Her need for attention from different sources will make him feel incredibly insecure. As a result, it causes a lot of problems in their relationship. Trust is one of the key things for any couple, and without it, things are sure to have a nasty ending.
Communication is also an issue, as they have very different ideas and opinions. Their ability to communicate will suffer as time goes on. After that, they both realize how different they are emotional. This will be a perfect sign that there is almost no Libra woman Cancer man compatibility between them. They are both waiting for their true love, and they are not fit for one another.
Libra Woman Cancer Man Compatibility: Conclusion
In conclusion, the Libra woman Cancer man compatibility has zero potential for success. It is sad to say, but true. They will hate one another's company, and find each other incredibly irritating. It is better for both of these signs if they do not strike up a relationship in the first place. This is because this match will only end in tears. It is incredibly unhealthy for this couple to be together, and both will suffer.
Libra Woman Aries Man | Libra Woman Taurus Man | Libra Woman Gemini Man | Libra Woman Cancer Man | Libra Woman Leo Man | Libra Woman Virgo Man | Libra Woman Libra Man | Libra Woman Scorpio Man | Libra Woman Sagittarius Man | Libra Woman Capricorn Man | Libra Woman Aquarius Man | Libra Woman Pisces Man |
See Also: