Libra Man Cancer Woman Compatibility – Overview
In the Libra man Cancer woman compatibility, they might just have found their soul mates in each other. They are both looking for a secure and committed partner and with each other, they may just have found it. The gentleness and idealistic outlook of the Libra man will appeal to the Cancer woman. Her sensitive nature coupled with a mutual idealism results in good compatibility from day one.
The shared respect and gentle understanding for each other will bring about a proper old-fashioned type courtship for this Libra man Cancer woman couple. They will not rush into intimacy before they are sure about each other. The commitment between them will be assured, and understanding that they are together over the long haul. There is the possibility of much loving affection between the Libra man Cancer woman pair. From an outsider's perspective, it will be easy to see that they are deeply in love.
[adsforwp id="18080"]
The Libra man will have to pull out all the stops on the romance side of their relationship. The Cancer woman will never forgive him if he does not put all his effort into pursuing, enticing and spoiling her. She is the perfect little homemaker to entertain his friends and business associates. When he expects her to relentlessly entertain his friends and family, she will make sure that she is thanked very well with something really expensive.
This couple are fortunate to have the best of temperaments between them. Emotional and physically they are aligned. The Libra man has the intellect, whilst the Cancer woman is ardently shrewd. Libra man Cancer woman zodiac match could possibly end up focussing solely on themselves. Their friends and family might not be able to provide any advice or guidance for them when they facing troubled times.
Libra man Cancer woman compatibility can be narrow-minded towards her side. The possessive Cancer woman can easily sway the sociable Libra man. He will abandon everything that stands in the way of a successful relationship to please her. She has no ill intentions. Instead, she contemplates that he only needs her to be happy. He will not disagree, but if that is what is in his heart, or his mind is the question.
Libra man Cancer woman in love lack passion in their relationship. However, this does not mean they are not able to have a lot of fun having sex. The confident Cancer woman is more aggressive in the bedroom than the passive Libra man. This works well for them as he is very happy to let her be at the forefront of things.
Similarly, Libra man Cancer woman sex is about her keeping score and him planning the next move. She will expect payment for services rendered, i.e favors for favors. Not that he minds, he in fact happily feeds her needs and reaps the rewards. Sex is not what keeps them together.
Surprisingly, Libra man Cancer woman marriage is magical. They create truly loving parents. Furthermore, they provide a safe and warm environment to raise their children. His career will continue to remain important to both of them. The homely Cancer woman will happily stay at home and raise the children, if he buys her all the pretty sparkly things to decorate her house with. He will be happy to do so as long as she agrees to support him and continue to be the homemaker.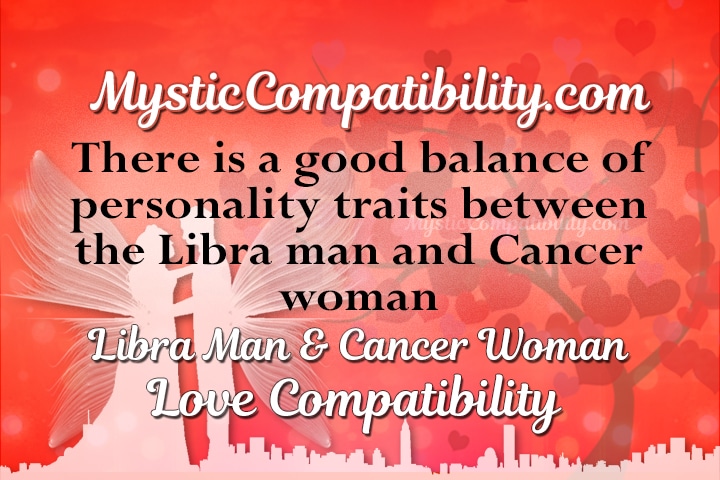 Libra Man Cancer Woman Compatibility: Positive Traits
There is a good balance of personality traits in the Libra man Cancer woman soulmates. When she is having a horrid day, he knows exactly what needs to be said and done to appease her bad mood. When he, in turn, is feeling a bit out of sorts, she is able to provide some direction and get him back on track. They work extremely well together to support and enable each other. Always putting the other above themselves.
The critical thinking and intelligence of the Libra man Cancer woman love match will either draw them together or rip them apart. She has a determination that he might never have witnessed before. He becomes like a moth to a flame and is destined to only focus on her. He will be wholly devoted to and fixated on her. They will create many fond memories during their time together.
The Cancer woman is sensual and the Libra man, romantic. He has the ability to make her feel sheltered and cherished. He is the stable partner that she is searching for. She, in turn, will give him the attention that he always wanted. The Cancer woman is a deep philosopher. This enables her to understand the indecisiveness of the Libra man. Her intuition will guide her to quick decision-making.
Libra Man Cancer Woman Compatibility: Negative Traits
When the emotional Cancer woman has an emotional outburst, the balance in their Libra man Cancer woman relationship will be compromised. The Libra man will struggle to preserve a sense of serenity. When he finds it difficult in making a decision, she will become frustrated by his indecisiveness.
The Cancer woman will create the expectation that he needs to do whatever is in his power to make her happy. The Libra man will put his all into it. Whenever he thinks that he is getting a handle on her needs and desires, she may change her mind. He will think that he is starting to understand and that is when she will change the rules and he will need to start all over again.
Although their home life will be comfortable, the Cancer woman will grow tired of being assigned all the trivial housework. His selfish outlook will result in him not providing her assistance for any of the mundane responsibilities. She prefers order, and although he needs balance, he will rely on her to take care of things.
Don't be mistaken, the Libra man Cancer woman dating each other are not without their problems. Both of them will want to control each and every situation that they find themselves in. There will be times that he will bring out the worst in her. He will need to succumb to her need for control, and give her a project to focus on. She will need to work on her imperiousness and need for perfection. When they are able to meet half way, they will be able to create a wonderful union.
Libra Man Cancer Woman Compatibility: Conclusion
To make things work in the Libra man Cancer woman love compatibility, he can show her his financial security. She will perceive his stability and be drawn to the thought of a secure life. She has mapped out her future, and he will need to loudly interject to get her attention. He needs to keep in mind that she can be bossy, so if he lets her take the lead, he might never be able to get it back.
When the Cancer woman wants to attract a Libra man, she can show an interest in his career aspirations. When he is able to see how she can help him to further his business ventures, he will be drawn to her. She should with confidence engage in financial discussions.
The relationship is over when her bossiness leads to many volatile disagreements. It could also be when his indecisiveness continuously becomes an irritation for her. She would wish that he would just man up. Their break up will be bitter and cut throat.
Libra Man Aries Woman | Libra Man Taurus Woman | Libra Man Gemini Woman | Libra Man Cancer Woman | Libra Man Leo Woman | Libra Man Virgo Woman | Libra Man Libra Woman | Libra Man Scorpio Woman | Libra Man Sagittarius Woman | Libra Man Capricorn Woman | Libra Man Aquarius Woman | Libra Man Pisces Woman |
See Also: