Scorpio Woman Aries Man Compatibility – Overview
Scorpios are one of the most intense signs in the entire zodiac calendar. The Scorpio women are self-confident, active, mysterious and charming. They are caring and loyal partners, but they expect the same attitude towards them too. Relationship with a Scorpio woman can be a lasting adventure if her partner understands her complicated character and is loyal. Aries man is fun loving, enthusiastic, friendly and determined. As partners, Aries are truly impressive to be together with, because of their friendly personality and aura of power. The Scorpio woman Aries man compatibility is quite possible in some ways. They both possess a tremendous energy potential. Therefore this union is going to be forceful.
Scorpio Woman Aries Man Compatibility: Positive Traits
The water element of Scorpio together with the fire of Aries combined results in a lot of energy. The way this Scorpio woman Aries man marriage is going to use this energy will show how happy they both can be together. There is a lot of heat in this union because both are attracted to each other's sensuality. The main thing that connects this couple is sex. They are both very active and enjoy variety.
[adsforwp id="18080"]
The Scorpio woman is attracted by the boldness of Aries man, but he loves her fierce nature. There is always an immediate spark between these two Scorpio woman Aries man in love. They both enjoy this witty encounter. Aries man sees the mystery of this woman as a challenge- he is interested and wants to find out more about what she´s hiding.
The Scorpio woman is smitten by the emotional nature of Aries man. Furthermore, she sees him as a worthy competitor for her heart. The Scorpio woman Aries man soulmates enjoy the game between them. Although there are a lot of disagreements between them, they love to challenge each other to see their limits. They enjoy each other's cunning nature, and as long as this game between them is kept in civil boundaries, they will have a lot of fun.
Scorpio and Aries see other things as secondary if they have a great sex life. In their sex life, Scorpios as water sign tend to be very deeply connected to emotions. To have fulfilling Scorpio woman Aries man sex life, they need to have feelings towards the other person. On the other hand, Aries man is simple when it comes to sex- for him; it´s a need.
They don´t have any prejudice against anything in sex, that´s why sex life between these two are great- Scorpio will not be judged for her "weird" tastes, as more traditional zodiac signs might say. This man builds emotions through sex. Therefore, if they both learn to be gentle with each other and compromise, this relationship can be a wonderful journey. Sex is also a way for them to get through their Scorpio woman Aries man differences. Scorpio and Aries fight a lot. However, as long as they continue to have sex, they will get past all the differences.
Scorpio woman shares the same attitude towards trust as the Aries man. In a Scorpio woman Aries man love compatibility, both are not forgiving. Therefore, if they are both honest with each other, this relationship can be lasting. Aries wants to feel like the best man in the world. On the other hand, Scorpio wants to be the only woman in her partners' life. If they both can provide each other with these feelings, this relationship will be positively explosive.
If this Scorpio woman Aries man couple works out all of their issues, they can last forever. Some people might wonder why these two are even together, because of all the fights (sometimes even public ones). Fortunately, neither Scorpio nor Aries man cares about these opinions. Furthermore, as parents, they rarely stick to the parenting norms of society and make their own rules.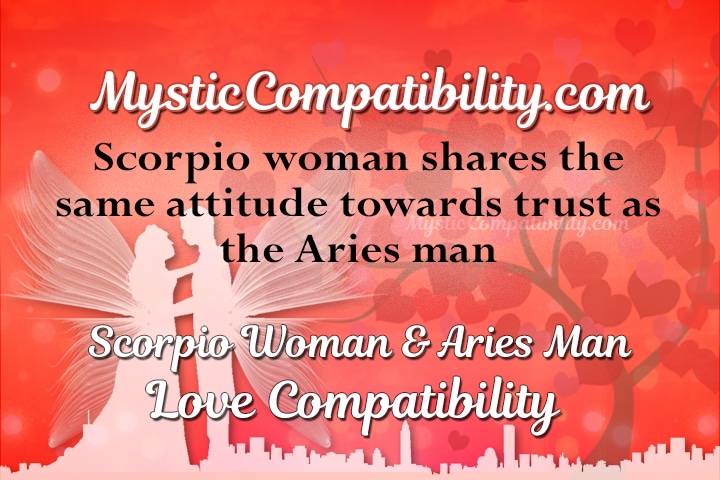 Scorpio Woman Aries Man Compatibility: Negative Traits
The Scorpio woman Aries man emotional compatibility is very low. To begin with, the Aries man strives for acknowledgment and social status. Also, he wants his home to be in the center of attention-there are always people and parties around his place. On the other hand, the Scorpio woman wants her house to be a safe place where to escape the rush of her daily life. Similarly, the Scorpio woman is quite emotional and deep, but Aries man will never notice that because he doesn´t possess the ability to sense her hidden emotions. They will both pretend to be strong and emotionless. Aries, because he sees himself as the most powerful man, and Scorpio, because she is stubborn and doesn´t want to admit weakness.
Scorpio woman Aries man pair tends to fight a lot. This is because of the cardinal differences in their way of thinking. They will fight rough. Although they enjoy this banter between them, it can get out of control. In this case, the Scorpio woman is going to get hurt. Aries man can be mean, and deep down she has a tender soul. There seems to be a reason why Scorpio woman has chosen to be in this relationship. In fact, she bears the constant fighting with Aries might be her way of dealing with something in her life. Scorpios tend to be rough on themselves, and dating an Aries is a way to ensure that. Also, she tends to stay close to drama. Although, it sometimes makes Scorpio women miserable. She can´t live without it.
Aries man loves to be in social situations and meet new people. This can make Scorpio woman crazy because she is a very jealous being. She has to understand, that if Aries man has committed to being with her, he will stay loyal. However, she can eventually wear him down. Sadly, she will always remember every little detail of his wrongdoings, and Aries simply can´t handle listening to that.
Aries man is very practical and quite impatient. He likes to see things as they are, and when it comes to problems. Of course, as long as they are solved, he doesn´t ask why they occurred. On the other hand, Scorpio woman is completely the opposite. Yes, both Scorpio woman Aries man lovebirds agree that certain problems have to be solved. Still, she will not stop analyzing situations and basically, bring more problems to the table. Aries doesn´t understand the deep and difficult nature of Scorpio, but Scorpio sees Aries as a superficial and shallow being.
Additionally, another troubling problem in their relationship is dividing the power. Scorpio woman is capable taking care of herself, and also others. She is used to always being right, and she loves to be the decision maker. Aries man is no better- he is used to being in control and because of his stubborn nature, he doesn´t give up his power. When these two fight about who is in charge, the Aries man is going to let loose his inner fire which can be truly destructive. Since the Scorpio knows Aries so well, she will sting her venom right in his ego. Both of them need to set ground Scorpio woman Aries man rules for their relationship and divide responsibilities.
Scorpio Woman Aries Man Compatibility: Conclusion
In conclusion, there is a lot of energy between Scorpio woman and Aries man. Arguably they each represent the strongest zodiac signs from water and fire elements. Furthermore, this couple can make a powerful Scorpio woman Aries man compatibility. That is if they both learn how to manage their strong characters. Seemingly, both of them have wonderful qualities. However, they tend to show each other the worst ones. Remember, there is a lot that depends on the character of each person.
Scorpio Woman Aries Man | Scorpio Woman Taurus Man | Scorpio Woman Gemini Man | Scorpio Woman Cancer Man | Scorpio Woman Leo Man | Scorpio Woman Virgo Man | Scorpio Woman Libra Man | Scorpio Woman Scorpio Man | Scorpio Woman Sagittarius Man | Scorpio Woman Capricorn Man | Scorpio Woman Aquarius Man | Scorpio Woman Pisces Man |
See Also: