Cancer Man Cancer Woman Compatibility – Overview
The emotional Cancer man and sensitive Cancer woman understand each other on a very deep and sensitive level. When they first meet, it will be like looking at a replica of themselves and they will be able to comprehend each other's temperaments. Encountering and dealing with tough feelings and opinions are not new to Cancer man Cancer woman compatibility. They will have the compassion to understand when either of them needs time apart or just a big fat hug!
The romance between them will be more about trying to ascertain whether their connection will result in future security. When the Cancer man Cancer woman in love meet, they will become instant friends. It won't be long before it develops into something more. The bond between them will be interesting, intimate and intense.
[adsforwp id="18080"]
Outsiders will view Cancer man Cancer woman dating each other as mysterious. However, for the Cancer man and Cancer woman, it is all about assessing how unscrupulous they can be and still be treasured and cherished by the other. Getting their relationship started will take time as they are both methodical in their thinking. They will negotiate until they are both satisfied that they unreservedly are the right people for each other.
Even though they worry about everything, even each other, they will be kind-hearted and provide attention where and when it is needed. When one of them is feeling fragile, the other will be resilient. In this way, they will be supportive of each other when it is needed most. The Cancer man utilizes his energy very in a different way to the Cancer woman, so they are able to strike a good balance.
The Cancer man will ensure that the Cancer woman feels like the most important person in the world. This helps to soothe her and strengthen her need for protection and security. She will reciprocate by guaranteeing him the best sensual love making that he yearns for. Cancer man Cancer woman soulmates are shrewd when it comes to their finances, their home and guarding their sanctuary.
Cancer man Cancer woman love compatibility will suffer if they isolate themselves from the world around them. They will feel suffocated if they do not have other interests besides just spending time with each other. When things are going well, there will be a lot going for them. When life throws a curve ball at them they will need to work hard to ensure they don't sink into a pit of hopelessness. The passion is sadly lacking in the Cancer man Cancer woman in bed.
Therefore, Cancer man Cancer woman sex will be thought out and systematically planned. When they get it right, it can be intense and significant. They want to ensure that everything works well, so they won't rush things, but will rather take their time. Their love making plan will bring stimulation into an otherwise boring relationship. Having sex is not as important to them as compared to all the emotional issues that they will be dealing with on a day to day basis. Sex is not a prerequisite to satisfying their carnal needs. Rather it can be provided by having a lovely meal.
Due to the nurturing nature of the Cancer man Cancer woman relationship, if they decide not to have children, they might consider adoption. Alternatively, they might choose to surround themselves with animals instead and will care for them deeply. The home of the Cancer woman will be run in a business manner. She will attempt to make a sustainable profit wherever she can. She will look for food specials and coupons to be as thrifty as possible. The Cancer man will appreciate the financial vision of the Cancer woman.
Cancer man Cancer woman marriage is abundant with love and compassion. They can easily slip into a co-dependent relationship. There will be a variety of home and work matters that will be negotiated between them. This is to ensure that they arrive at an irrefutable agreement that is mutually beneficial. The Cancer man will take the lead in ensuring their financial stability. They will definitely have children.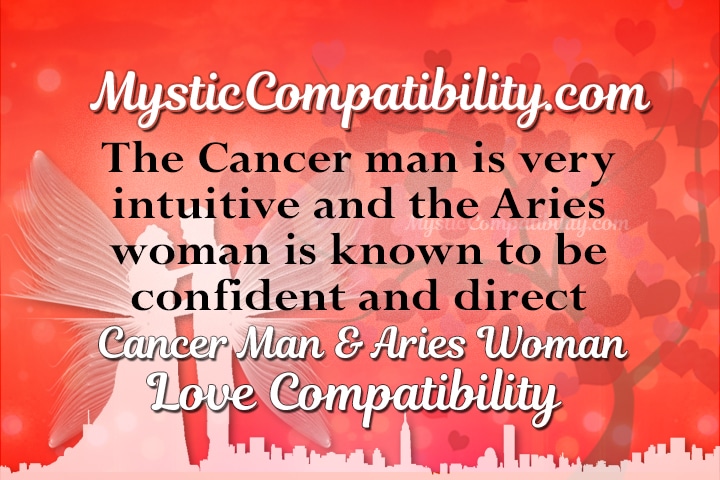 Cancer Man Cancer Woman Compatibility – Positive Traits
Family connections are very important in the Cancer man Cancer woman marriage compatibility. They are both nurturing and cherishing and will continue to do so when they have children. He is an unwavering provider and she is a fabulous homemaker. Together they are a good combination for a secure and fulfilled family life.
The Cancer man Cancer woman lovers are both contented with each other's need for security and comfort within their relationship. He understands her ever changing emotions because he also experiences the same insecurities himself.
The Cancer man understands the Cancer woman's need for security, he will happily provide it for her. They both have hidden stashes of inner strength and together they will make a remarkably resilient and robust team. Once the Cancer man Cancer woman in love agree to commit, they will go to the end of the earth for each other.
Cancer Man Cancer Woman Compatibility: Negative Traits
Although the Cancer man and Cancer woman compatibility partners are empathetic to their mood swings, they might not always approve of the conclusions resulting from them. If both of them are moody or depressed, there isn't a stable partner to help them out of it. This could result in long extended periods of depression in their relationship.
When arguments arise, they might withdraw into themselves and a resolution may not be easily forthcoming. If they feel that they are the injured party, it would be hard for them to give up control to the other. When the Cancer man Cancer woman partners are overwhelmed with the day to day issues, it could result in them dragging each other down into fits of depression.
They are both practical and meticulous, neither will want to just give in and will result in lengthy arguments. A stubborn streak will become evident when neither of them will want to back down.
Cancer Man Cancer Woman Compatibility: Conclusion
To ensure Cancer man Cancer woman relationship succeeds, Cancer man should let her see his protectiveness. He should talk about his ability to provide a secure future for her and their children. His romantic side should be at the forefront when taking her out on dates. He needs to open doors, carry the parcels in after shopping, and ensure that the house is all secure before going to bed.
When the Cancer woman wants to get the attention of the Cancer man, she should be sure not to talk about finances on their first date. Definitely don't ask him how much money he makes when you first get together. She can try and impress him with her home making and cooking skills. Showing her feelings around him will draw him to her. If she gets him to rent a romantic movie, she should let him see her cry in the love scenes.
Cancer man Cancer woman compatibility is over when the emotional issues pile up. This will result in them distancing themselves from each other and inevitably separating completely. Neither of them will want to accept responsibility but will try and play the victim card. Their mothers will be there for them to help pick the pieces and fight for what they think they are worth.
Cancer Man Aries Woman | Cancer Man Taurus Woman | Cancer Man Gemini Woman | Cancer Man Cancer Woman | Cancer Man Leo Woman | Cancer Man Virgo Woman | Cancer Man Libra Woman | Cancer Man Scorpio Woman | Cancer Man Sagittarius Woman | Cancer Man Capricorn Woman | Cancer Man Aquarius Woman | Cancer Man Pisces Woman |
See Also: