Gemini Man Capricorn Woman Compatibility – Overview
The Gemini man Capricorn woman Compatibility views life very differently. Their shortcomings will either charm or irritate each other completely. They will make good business partners. The Capricorn woman is helpful by nature, and this can result in them being excellent friends.
The Capricorn woman is mature and responsible, and she is sometimes confused by the Gemini man's actions. The Gemini man is talkative and sociable and doesn't understand why she doesn't want to party with him and his friends every night. Any relationship between Gemini man Capricorn woman love compatibility could be short due to them being different on all the fundamental levels.
[adsforwp id="18080"]
Should the Capricorn woman have the patience to put up with the Gemini man, then she will find that behind all his charm, there is a vulnerability. When the Gemini man can stay interested long enough, he will find that the Capricorn woman has a fabulous sense of humor and can be quite entertaining. She is unpretentious and devoted to her family and work. The Gemini man prefers to be a free spirit who loves adventure and on a quest to gain more knowledge.
The Capricorn woman will find the Gemini man to be childish, and she won't enjoy his behavior at all. He, in turn, will find view her wisdom as suffocating and her responsibility as old fashioned. She can bring stability and purpose to his nomadic ways. He will bring the pleasure and laughter to her sometimes somber character.
Gemini man Capricorn woman soulmates will delight in stimulating conversations on serious matters. She is a big picture woman and likes an overview of what is going on around her. He on the other hand, although being shallow, can share her big picture view because of his interests. Should the Gemini man choose to make any impulsive choices as to their relationship, the Capricorn woman will spurn him. Equally, she will be frigid and withdrawn until he repairs the damage he has caused. She might be waiting long for this ever to happen, as he is not really concerned about the minor details.
When the Gemini man needs to go off and do his own thing, the Capricorn woman won't want to know all about what he was up to. Fortunately for the Gemini man Capricorn woman, she is not Inquiring by nature. The Gemini man can share his schemes with her, and she will break them down into manageable packages to help him accomplish them. Prioritizing is not his strong point, and she will have him eating out of her hand.
The Gemini man can be a scatter brain at times, which results in the Capricorn woman having to be the strength behind him. He will be focused on going to an interesting place instead of one that impresses his lady love. He will have to guard his movements and be willing to take on a more mature role in her life if he wants her to stay.
Gemini man and Capricorn woman compatibility will be in trouble at their first disagreement. They will have to be willing to create compatibility if they want to stay together. Trying to generate compatibility might turn into a survival test for them.
Romance is sadly lacking in this Gemini man Capricorn woman relationship. The Gemini man is keen to try anything once, but the Capricorn woman is not really interested in romantic gestures. If he wants to show that he loves her, he will have to find a different way of showing it.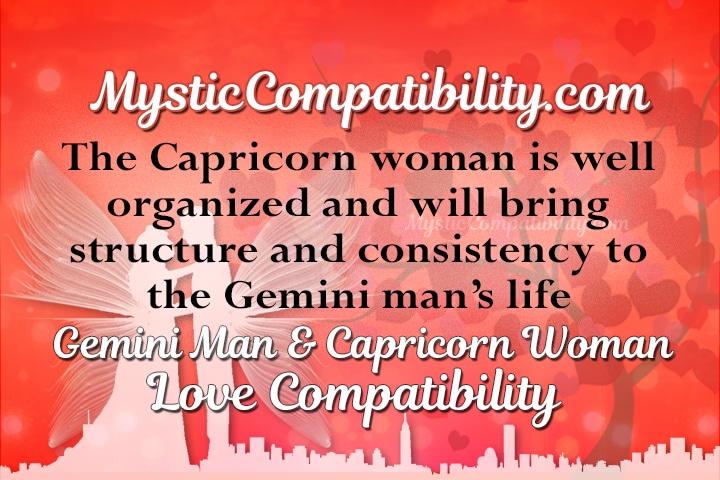 Passion will follow the same path as the romance, in that the Capricorn woman is looking for something more stable. The Gemini man can fake it if she ever needs it.However, that might never happen in this Gemini man Capricorn woman compatibility.
Sex with a Capricorn woman will be abundant for the Gemini man. She will never hold back, and he will be able to have copious amounts of sex when he wants it. Gemini man Capricorn woman in bed will be a good bonding influence for them. He will keep coming back for more, and she will never say no. The problems could arise when she wants commitment, and he just wants to play.
A Gemini man Capricorn woman marriage will be a successful one. They will bring out the best in each other. With the plans that he can think up and her ability to map them out, they will become a stable couple and be admired by their neighbors. Problems might be evident when the financially savvy Capricorn woman wants to save and plan for their future, and the extravagant Gemini man just wants to spend money on fun adventures. The day to day responsibilities will fall squarely on the willing Capricorn woman.
Gemini Man Capricorn Woman Compatibility: Positive Traits
Gemini man Capricorn woman in love is a good compliment to each other. The Gemini man can go off and do all the things he is interested in because his Capricorn woman loves to take care of the practical stuff.
The Capricorn woman is well organized and will bring structure and consistency to the Gemini man's life. He can help her see the bigger picture and get out to enjoy life a whole lot more.
The Gemini man Capricorn woman both have an outrageously good sense of humor, and their sarcastic banter will draw them to each other.
Gemini Man Capricorn Woman Compatibility: Negative Traits
Gemini man Capricorn woman soulmates will tire of each other before their relationship has cemented any foundation to make it sustainable. While she is planning the future, he is all about the moment.
He might become bored with their love making if the Capricorn woman does not have an open mind when he suggests they try to spice things up. With her personality, she would prefer to stick to the usual routine, and this will drive him away.
The Gemini man is fickle and unreliable, and the Capricorn woman has only to see him recklessly flirt with someone, and the relationship will be in jeopardy. The Capricorn woman does not forgive or forget very easily.
Gemini Man Capricorn Woman Compatibility: Conclusion
When the Gemini man wants to attract a Capricorn woman, he will need to treat her with respect. She will be impressed by his great conversation. He should try and act as mature as he can muster. He must make sure to plan sensible Gemini man Capricorn woman date. If he can show her that he is someone that can protect and provide for her she will be sold on him.
When the Capricorn woman wants to get the attention of a Gemini man, she should approach him with some intellectual and intelligent questions. She should act like she admires his amusing and witty replies. She will have to be prepared to do a lot of listening, as he does like to talk. The Gemini man is not one who likes to prioritize, so the Capricorn woman will have to patient when dealing with his chaos.
Gemini man Capricorn woman compatibility ends when the Capricorn woman's patience has run out. She will want more out of the relationship than what the Gemini man can give her. Additionally, one mistake with them is one mistake too many. He will have been prepared for the break up some time already, expecting her to throw him out. What he won't be expecting is that she will keep all their stuff and he will have to start over.
Gemini Man Aries Woman | Gemini Man Taurus Woman | Gemini Man Gemini Woman | Gemini Man Cancer Woman | Gemini Man Leo Woman | Gemini Man Virgo Woman | Gemini Man Libra Woman | Gemini Man Scorpio Woman | Gemini Man Sagittarius Woman | Gemini Man Capricorn Woman | Gemini Man Aquarius Woman | Gemini Man Pisces Woman |
See Also: