Gemini Man Leo Woman Compatibility – Overview
The Gemini man Leo woman compatibility is a good-natured one. He will be enamored with her glamour, and she will be delighted by his youthful and carefree spirit. They will enjoy running circles around one another.
The Gemini man will keep the courtship light and superficial, which will eventually irritate the dramatic Leo woman. She will have to read between the lines to know that they are in fact in a relationship.
The Gemini man is always entertaining and almost impossible for the Leo woman to keep up with. He is always on the lookout for intellectual stimulation, and the Leo woman will not disappoint. She too loves to socialize and will totally enjoy showing the Gemini man off to her friends.
The Gemini man will notice her command for attention and will be drawn to her charm and social grace. She, in turn, will be drawn in by his flirtatious banter.
[adsforwp id="18080"]
Romance is something the Gemini man is very good at. He will keep the romance going all through his relationship with the captivating Leo woman.When their Gemini Man Leo Woman relationship goes well, there will be lots of energetic and fun activities and glorious parties. The Leo woman is adventurous and daring, and the Gemini man is creative and energetic.
The Gemini man is easy going and will seldom deliberately go out of his way to hurt the Leo woman. Should she try and control his social life, it will immediately infuriate him. He is adept at what to say to really hurt her if he chooses to.
His words will intensely wound her. This will result in the Leo woman having dramatic tantrums, which he won't pay attention to. If he chooses not to get involved, he will ignore the drama and simply walk away.
The Leo woman is known to be outgoing, popular and friendly. At times she can be rather needy, even though from an outward appearance she may seem poised and confident. The Gemini man will have to remind her that he loves her constantly. He loves to please and will have no objections to oblige. The Leo woman's full attention will be on the charming and smooth talking Gemini man.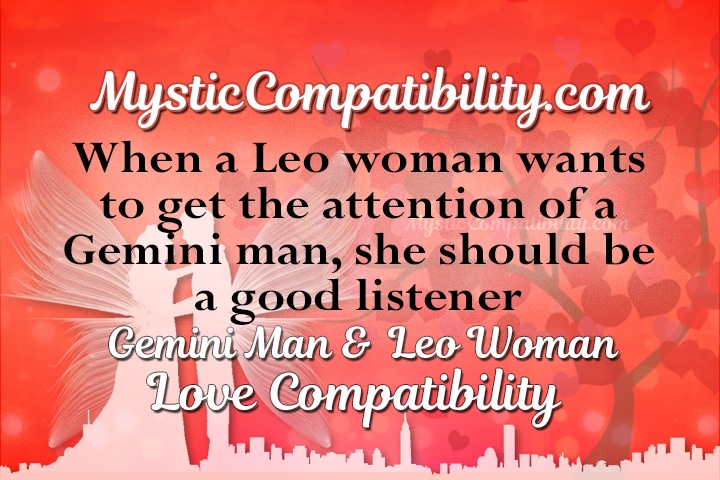 The Gemini man is very engaging and is everyone's friend. He is always looking for the next adventure. This will lead to him flirting with other women. The Leo woman will try to curb his behavior which will most definitely lead to arguments with the Gemini man.
She will not understand that his flirting is just playful. With the right woman, the Gemini man can be faithful. The Leo woman demands commitment, and the Gemini man's actions will bring out her jealous nature.
The compatibility between the Gemini man, Leo woman in love, is robust. They both bring something that the other loves into their relationship. The Gemini man is less hurt when he argues with the Leo woman. Thus he will have the upper hand in their compatibility. If they can accept the other for whom they are, they will be able to have good compatibility between them.
The Gemini man Leo woman sexually will enjoy a playful and animated entanglement. There will be a lot of sex between them. The Leo woman might not be as fulfilled as the Gemini man can sometimes zone out with his active mind.
He is always keen on trying new things and will make an effort to find out what works for his Leo woman lover. He knows that if he gives the Leo woman what she wants and needs. It will open the door for him to get what he wants. The Leo woman enjoys the performance in her sex life and has the passion for backing it up. The Gemini man aims to please.
A Gemini man Leo woman marriage will work if they both can learn to adapt. If he can take life more seriously and she can lighten up and not take his playful observations to heart, this relationship might just work. The Leo woman will need to tolerate the Gemini man's indiscretions, and he will need to tolerate her condescension. They do not make the best combination suited for marriage.
Gemini Man Leo Woman Compatibility: Positive Traits
The mental stimulating conversations between Gemini man Leo woman soulmates will be a big attraction for this couple. He is affectionate and playful, and she will organize his disseminated thoughts. The Gemini man has the speed to help the Leo woman reach her objectives, and she has the follow through to help him to stop wasting his intellectual energy.
The Leo woman's desire and primal cravings will keep the Gemini man coming back for more, and he will defy her incessantly. This will keep the Gemini man Leo woman in love alive.
The Leo woman needs to feel appreciated and adored, and the Gemini man will indulge her with love and attention. He will take her to new heights, and she will help him reach goals he never thought possible. She will bring purpose into his otherwise upside down life. That is if he allows her to.
Gemini Man Leo Woman Compatibility: Negative Traits
The Leo woman likes order, and the Gemini man is volatile with his wandering personality. She will try and tame the Gemini man, and he will not comply. This will bring about many arguments for the Gemini man Leo woman pair.
His irresponsibility in other areas will rely on the romance to keep their  Gemini man Leo woman marriage going. The Leo woman needs more reliability than the Gemini man can give her. Their arguments can be public and messy, which will humiliate both of them.
The Gemini man will lack the depth that the Leo woman is looking for. Sex is not at the top of the list for him. Her demands could start to become tiresome and tedious for him. The Leo woman will take it personally when he doesn't want to perform on command.
Gemini Man Leo Woman Compatibility: Conclusion
When the Gemini man wants to attract a Leo woman, he will have to show her deep seated respect. When Gemini man Leo woman is going out for the evening, he will need to arrive on time to collect her. He will also have to ensure that he is neatly dressed. He should try and intrigue her with his mental ability. The Gemini man must be cautious about saying anything that could offend the Leo woman.
When a Leo woman wants to get the attention of a Gemini man, she should be a good listener. She should let him know that she is smitten with his charm. He is looking for someone to be accountable for all the adult responsibilities.
She should you let him know how patient she can be to tolerate his sudden impulses and change of direction. She needs to keep in mind that although she likes to control everything, the Gemini man will not be something that she can control.
The Gemini man Leo woman compatibility ends when they are worn down by the games they both have been playing. The Leo woman's heart breaks when the Gemini man leaves. He will assume that they can still be friends. However, she will probably never want to see him again.
Gemini Man Aries Woman | Gemini Man Taurus Woman | Gemini Man Gemini Woman | Gemini Man Cancer Woman | Gemini Man Leo Woman | Gemini Man Virgo Woman | Gemini Man Libra Woman | Gemini Man Scorpio Woman | Gemini Man Sagittarius Woman | Gemini Man Capricorn Woman | Gemini Man Aquarius Woman | Gemini Man Pisces Woman |
See Also:
Save