Leo Woman Cancer Man Compatibility – Overview
The Leo woman Cancer man compatibility has a particular dynamic to their relationship which means that things could go either way. They have roughly equal pros to cons, so it all depends on the individuals in the relationship, and whether they are both willing to learn and change in a way that will positively affect their relationship prospects.
The Leo woman is known for her charismatic personality and ability to charm people. Her outward appearance towards the public eye is incredibly important to her. She always wants to present her best self. Other people's opinions of her are extremely valued, so she spends a lot of time trying to win people over and befriend them. The Leo woman wants everybody to appreciate her existence, so she develops a charming and energetic personality to gain acceptance and make others like her.
[adsforwp id="18080"]
She may struggle with a rather inflated ego, which could present a slight problem every so often. Her ego is very fragile, so she needs constant compliments from those around her, as it makes her feel as if she has some self-worth. Self-confidence is only obtained by the Leo woman when she feels validated by others, so if she feels neglected, then she will have a very negative view of herself. The Leo woman does see herself as important and enjoys it when other people take care of her needs.
She lives a life of luxury and is no stranger to buying expensive things to feel satisfied. Whether it is clothes, experiences, food or objects, she will always prefer to splash out on something more expensive, as she sees this as higher quality. Her potential partner will also be a recipient of expensive gifts. She likes everything in her life to be of high quality, and if she provides her partner with fancy things, then it will make him of a higher class.
Anybody looking to have a relationship with a Leo woman should be able to provide a sense of adventure. She hates feeling bored and needs constant excitement alongside her partner. This is also crucial because if she is bored of her partner, she will have no qualms about leaving him, no matter how long they have been together. In the Leo woman Cancer man relationship, she is a very passionate person and will have incredibly strong feelings towards her partner. She is very much an"all or nothing" kind of guy, so if she truly has feelings for somebody, she will not leave their side.
The Cancer man is perhaps the most emotional of the zodiac signs. He has a lot of similarities to his zodiac animal- the crab- perhaps more so than any other of the signs. His exterior image to the world is very much like that of a shell, and he tends to appear very cool and collected to anybody he meets. Underneath the surface, he is a highly sensitive and emotional man, and he is easily hurt.
This means that he may struggle to open up to people. He prefers people to see his calm and stern exterior to his very feminine interior.
When it comes to trust, this is not the Cancer man's strongest point. He has a horrible problem with trust. Additionally, he rarely has enough faith in somebody to allow them to see the real him. A trait often found in Cancer men and women, is a tendency to avoid making new friends, and staying within the same friendship circle without branching out. This is seen as a method of avoiding placing their trust in new people at all costs.
When a Cancer man gets into a Leo woman Cancer man love, he is a very loving and kind man. He holds his partner close to his heart and will do anything in his power to keep her happy. He needs lots of love and attention to open up to a woman, but once that obstacle has been hurdled he is brilliant for anybody who needs a lot of love and care.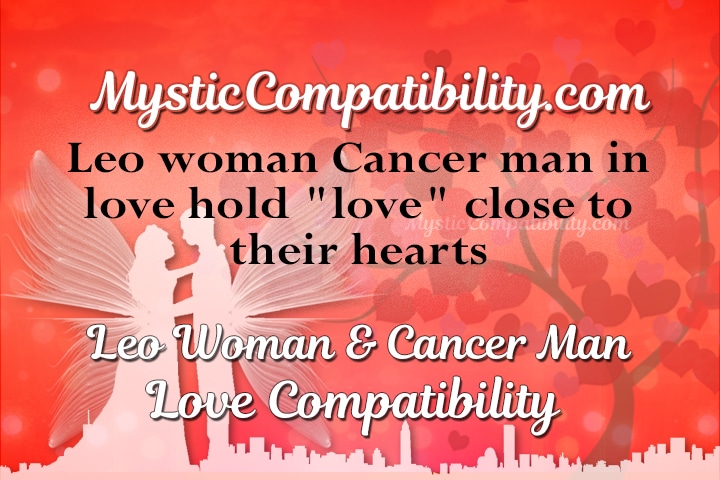 Leo woman Cancer man dating is usually a very difficult one, although it does have the potential to be highly successful. The two have some distinct differences that could affect their happiness in a romantic relationship.
Leo Woman Cancer Man Compatibility: Positive Traits
The Leo woman Cancer man couple may have their struggles, but they do have their positive aspects too. The Cancer man may have a problem trusting his Leo woman, but this fixed easily if he feels loved. Love is one of the most important things to him. So if he feels that he is receiving enough attention and reassurance from his Leo woman, he will become incredibly trusting of her. This creates a good foundation for the rest of their Leo woman Cancer man love compatibility relationship and could solve a lot of their potential problems.
Although this couple does have some issues with seeing emotion from the same point of view, there is one thing that both of these signs value deeply; love. Leo woman Cancer man in love hold "love" close to their hearts. So this could save their relationship and give them much better chances of staying together. If they can show each other how much they love one another, then this pair will become inseparable. Love is crucial to every single relationship. Thus, this emotionally-charged Leo woman Cancer man lovers should have success in this field.
The Cancer man is completely willing to cater to his Leo woman, almost waiting on her hand and foot. He sees actions and words of affirmation as the ultimate way to show love, while she enjoys being pampered and shown lots of affection. This will create positive energy around the Leo woman Cancer man love match, and they will be able to see each other in a much better light.
Leo Woman Cancer Man Compatibility: Negative Traits
Leo woman Cancer man sex could be worrying because they are both emotionally charged in different ways. The Leo woman is incredibly passionate, and she likes to bring that to every aspect of a relationship. Her idea of passion in the bedroom is fast, rough and loud. The Cancer man values emotion more than anything else. He likes things to be soft, quiet and tender.
This mix will not prove to be very successful, as the Cancer man will be incredibly intimidated by the Leo woman, and he may be too scared to open up fully. Sex is all about lovers sharing an intimate encounter where they can feel satisfied and completely comfortable. This will rarely happen in Leo woman Cancer man in bed. The Leo woman will become easily bored with sex with a Cancer man because she sees his quiet, calm ways as dull and uneventful. They could struggle with a divide between them sexually, and will not be able to satisfy each other to their fullest potential.
The Leo woman's constant need for attention could also be a problem for this couple, as the Cancer man may find this irritating. She is a loud personality, and she needs to receive a lot of compliments to feel loved. The Cancer man feels the love from the safety of his relationship. The Leo woman may not find all of the attention she needs from this Leo woman Cancer man union, so may end up pursuing other people. This will cause a lack of trust in this relationship, considering Cancer's issues with trust in the first place.
Leo Woman Cancer Man Compatibility: Conclusion
The Leo woman Cancer man marriage sees things in very different ways. It could cause a few issues when it comes to communication. While they see things in a similar light, they will have very contrasting views and opinions on these things. They could end up in arguments about their difference in opinions, and unless they learn to see each other's standpoint, this could be the determining factor when it comes to the future of this couple.
Leo woman Cancer man compatibility pair has many struggles that they need to overcome to work. They have things to change and compromise. Hence, if they are willing to do this, then they should be successful. The Leo woman Cancer man union has the potential to make each other very happy. Undeniably, they should try to work on their cons very consciously.
Leo Woman Aries Man | Leo Woman Taurus Man | Leo Woman Gemini Man | Leo Woman Cancer Man | Leo Woman Leo Man | Leo Woman Virgo Man | Leo Woman Libra Man | Leo Woman Scorpio Man | Leo Woman Sagittarius Man | Leo Woman Capricorn Man | Leo Woman Aquarius Man | Leo Woman Pisces Man |
See Also: