Leo Woman Aries Man Compatibility – Overview
The Leo woman Aries man compatibility is an incredible match, and the two will compliment each other well. They radiate energy and passion, so this pair will succeed in the long run. The Leo woman holds a lot of pride for herself in her heart and very much dominates her friends' circles. She is charismatic, talkative, and confident. Speaking to people is no issue for the Leo woman, and she adores social environments. Public image is everything to the Leo woman. Thus, she strives to keep up a good appearance to the outside world.
This can sometimes lead her to have a slight ego. Flattery and compliments are the keys to a Leo woman's heart, as she may be very self-absorbed and value her own opinions more than other people's. This does not mean that she is a bad person, however. She is definitely conscious of others and their emotions and is a very generous person. Thinking highly of herself is just a typical trait of a Leo woman, and she may reflect this around other people.
[adsforwp id="18080"]
She lives a life of luxury and likes to surround herself with fancy things. Whether it's clothing, objects, or experiences, the Leo woman is always prepared to spend money on something if she believes that it is the highest quality.
Adventure and challenge are also key to a Leo woman, and she hates staying in one place, She is always looking for the next best thing, which could mean her Leo woman Aries man relationship could take a turn for the worse. The thrill of the chase is the most exciting part of a relation to the Leo woman, and she could easily change her mind about a partner in favor of somebody who seems better.
However, if the person she is with can offer her lots of adventure and fun, she will give him her undying affection, and she will become incredibly loving. She will value her Leo woman Aries man bond, and provide her partner with many amazing experiences and new challenges every day.
The Aries man is obsessed with adventure. He always wants to follow a new path, and he constantly wants to find himself new challenges and obstacles to overcome. Hurdles mean nothing to him, as he sets his sights high. Details do not usually occur to him, and he prefers to imagine the bigger picture.
Leadership is one of his most prominent qualities. He has a lot of charisma and drive, which makes him perfect for leading a group of people. His passions make him very determined, and he is definitely a natural born leader. When it comes to relationships, he isn't always the most committed zodiac sign. He enjoys the thrill of the chase, and it excites him far more than a long-term relationship. As stated before, he loves a challenge, so if a woman is throwing herself at him and being loyal to him, he may see it as boring. Any woman wanting to get into a relationship with an Aries man should play hard to get, as this will draw him to her.
When he is in a committed Leo woman Aries man union, he will become astonishingly possessive and loving. Despite his initial struggle to commit to a relationship, the right woman will make him happy in every way, and he will rarely have problems staying with her. He loves to make her feel pampered and appreciated and will become easily jealous if he feels he has competition. Overall, the Aries man is a good potential partner, as nothing will ever be boring for anybody dating him.
Overall, the Leo woman Aries man couple have a very strong potential for success. The Leo woman Aries man lovers share a passion and energy that will be rivaled by others. Additionally, they are able to keep up with each other's paces.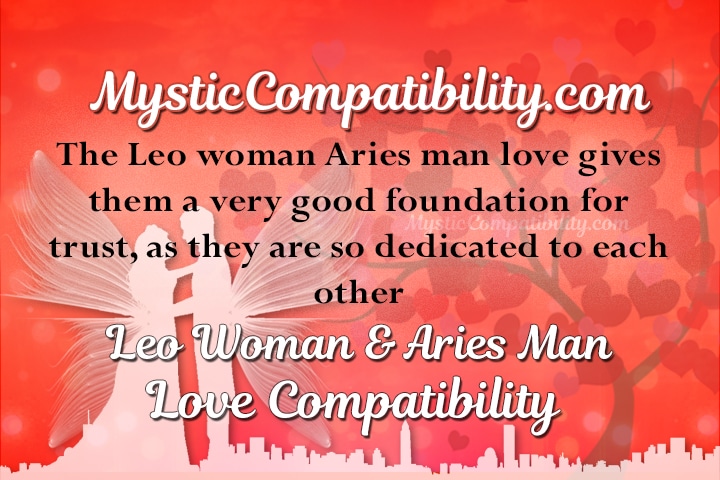 Leo Woman Aries Man Compatibility: Positive Traits
Leo woman Aries man soulmates have a certain level of energy and charisma, that when combined, makes for an amazing relationship full of passion and excitement. Boredom is never acceptable for this couple, and they will always do whatever it takes to make each other happy.
In the Leo woman Aries man love compatibility, their sexual experiences will be admired by all. They both share an unbreakable bond, and there is no separating this pair. Their sex will be filled with love and energy. Neither will ever feel unsatisfied. On the contrary, they fulfill each other's needs, often going even further and teaching them new things that evolve their sex life.
The Leo woman Aries man sun signs are quite determined, so they are very much a power couple. They share a drive and thirst for adventure which makes them both able to partake in many activities together. This couple will never have a shortage of things to do together since they both want to be constantly on the move. They are incredibly strong people, so they tend to bring out the best in each other.
Their Leo woman Aries man love gives them a very good foundation for trust, as they are so dedicated to each other. They get everything they could possibly need from each other, so they rarely feel the need to betray one another or leave.
Leo woman Aries man dating will have an intense admiration for each other, and hang off every word the other says. The Leo woman loves to feel loved, so will give back an attention from the Aries man tenfold. They will never run out of a conversation as they make big plans for their lives together. Truly, they have a world of things in common.
The Leo woman Aries man in love will have a strong emotional connection. This is because they have endless amounts of love for each other. They understand each other on a deeper level, and emotions should rarely present a problem. The shared passion between this couple is immense, and they definitely adore each other a great deal.
They share many values, such as adventure, and this gives them the potential to have a long life together. Shared values are important because it gives the couple room to grow and evolve together. They are both independent, concise, and have many aspirations so they will respect these things in each other.
Leo Woman Aries Man Compatibility: Negative Traits
When it comes to Leo woman Aries man marriage, their main problem could be the power struggle. Both signs are self-governing people, both natural born leaders, and both like to be at the forefront. They both have pretty big egos, which could be a huge problem. For example, trust could potentially be an issue. The Aries man sees himself as the most important thing in a Leo woman's life. Consequently, if he sees any sort of competition he will tighten the reigns and become possessive. This will anger the Leo woman, as she hates to feel like somebody's belongings. Arguments and power struggles could happen should this occur. Therefore, Leo woman Aries man zodiac match should definitely be sure to avoid it.
Leo Woman Aries Man Compatibility: Conclusion
Leo woman Aries man compatibility duo has a lot of promise. If they are able to work out their jealousy issues, they will have a long and prosperous relationship. They genuinely bring out the best in each other, and they complement each other's personalities amazingly. They are passionate and loving towards each other, more so than they are to anybody else. The Leo woman Aries man lovers match each other's energy. Hence, they have the strength to last a very long time. Overall, this relationship has the potential to be a long-lasting success. This couple will definitely have many happy years together.
Leo Woman Aries Man | Leo Woman Taurus Man | Leo Woman Gemini Man | Leo Woman Cancer Man | Leo Woman Leo Man | Leo Woman Virgo Man | Leo Woman Libra Man | Leo Woman Scorpio Man | Leo Woman Sagittarius Man | Leo Woman Capricorn Man | Leo Woman Aquarius Man | Leo Woman Pisces Man |
See Also: