Leo Woman Virgo Man Compatibility – Overview
The Leo woman Virgo man compatibility lovers are not a likely match. There are a lot of potential struggles for this pair. They will almost always have too many differences to work successfully as a couple. The Leo woman bears a striking resemblance to her zodiac sign when it comes to pride. The lion is an animal typically noticed for its pride. Therefore, he needs to be the best, which is exactly how a Leo woman feels.
She strongly values her outward appearance, and her people perceive her to be. Her public image is everything, and she hates feeling disliked by anybody. She will do anything to make herself liked, although it isn't hard at all due to her charismatic personality. The Leo woman has a certain charm and zest for life that attracts people around her and makes them desire her friendship.
[adsforwp id="18080"]
Her ego is something that she is often noted for, as it is a significant part of her personality. She likes to be constantly complimented and given affection by those that surround her. Her self-worth often depends on this. If a Leo woman feels as if she isn't receiving adequate attention, she may start to doubt herself, and have negative feelings towards those who are closest to her. Compliments will always warm a Leo woman's heart, and it may come as no surprise that she basks in the positive attention. The Leo woman can truly flourish when she feels adored by people, and her ego could end up inflating slightly.
Overall, she sees herself as very important and needs others to recognize that. It may not always be exactly everybody's cup of tea, but this isn't something that a Leo woman can change in most cases.
Another significant trait of the Leo woman is her frequent need to invest in expensive things. She lives her life in luxury and is no stranger to spending large amounts of money on just about anything one can think of. Whether its clothes, objects or experiences, the Leo woman is always ready to splash the cash. She thinks it will improve her overall quality of life. This is an extension of her need to make herself look important. Moreover, she believes that it will make her more worthy of other people's affection.
Any man looking for a relationship with a Leo woman should be able to provide her with lots of excitement, ads she may become easily bored. She desperately needs affection and hates to feel as if she is not good enough. A partner should be unpredictable, and provide her with a certain level of adventure and excitement that she requires.
The Virgo man tends to appear very quiet to the outside world, yet the inside of his mind is a continuous monologue. He analyses everything, from his surroundings to his worries, to the people he knows. The Virgo man will constantly be thinking about anything and everything, and how to improve things. He is a perfectionist. Thinking causes him to feel a deeper urge to ensure things are running at their best. Thoughtful is a word often used to describe a Virgo man, especially due to this common thinking he partakes in.
He is a very level-headed man, and will not be extremely changeable. Stability and security are important to him, and he will choose sensibility over ignorance. He would always rather choose the safest path, and meticulously plan it's destination.
The Virgo man is very safe, and deep down quite sensitive. This needs to be awoken in him by his partner. This is because he may appear slightly closed off upon first meeting him. This is due to his deep thought. Moreover, he enjoys being in his own company more than partaking in social interaction. He needs a woman who can provoke his darker, more sensitive side, and help to get in touch with his emotions. The Virgo man possesses these in abundance, but he struggles with analyzing his feelings. He will choose brains over looks when it comes to a relationship, and a woman who stimulates him intellectually will win his heart any day.
Leo woman Virgo man soulmates will fight to understand each other, which could cause a lot of problems in their relationship. Overall, there is not a very positive outlook for this couple. They have a distinct lack of similar values, and this will cause them many problems in the long run.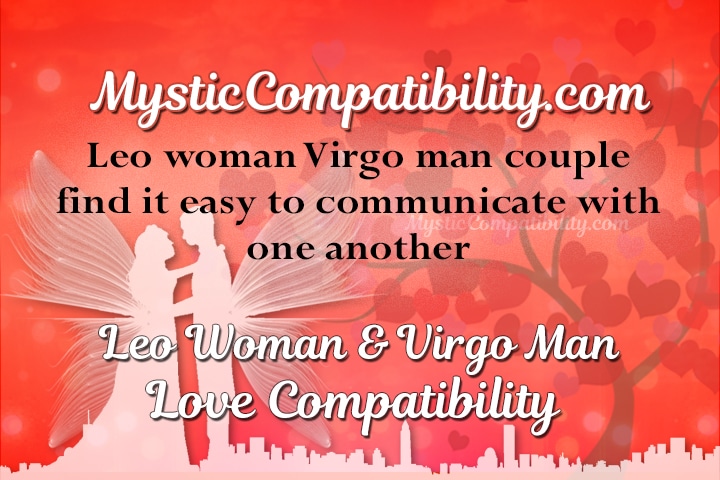 Leo Woman Virgo Man Compatibility: Positive Traits
Overall, the Leo woman Virgo man zodiac match should have few struggles when it comes to trust. Both the Leo woman Virgo man is stable people and don't tend to go out looking for love elsewhere. Neither feels the need to have a problem trusting their partner unless they have been given a reason to. As most people will know, trust is essential in a relationship. Additionally, it can be the foundation for a promising future. The Leo woman Virgo man union will have enough faith in each other to know that there will be very few instances where either of them is untrustworthy. Consequently, none of them will jeopardize the relationship.
Leo woman Virgo man couple find it easy to communicate with one another. This is because they share value of rationality and intellect. The Leo woman Virgo man sun signs need a conversational partner to be rivaled, and they can provide each other with this. Constant mental stimulation is important to both of these signs. Therefore, when they get together, it will be hard to shut them up. They are also able to find many activities to take part in together because the Leo woman is a natural born leader. Her Virgo man is typically a follower. This allows the pair to decide on things to do together with very little squabbling. Thus they can have an enjoyable time in each other's company.
Leo Woman Virgo Man Compatibility: Negative Traits
The Leo woman Virgo man relationship could be challenging because of the differences in needs that these two signs possess. The Leo woman needs constant validation and affection. Equally, she needs her partner to adore her with all of his heart. The Virgo man is not one to outwardly show his emotions and feelings toward his partner, and he prefers more subtle ways of showing his affections. This contrast will make the Leo woman feel unloved and unappreciated. It also makes the Virgo man feel uncomfortable and easily irritable.
On the contrary, the Virgo man will usually possess a particular, planned out an image of what the relationship will be. If this is not adhered to, he will begin to feel very insecure and uncomfortable. The Leo woman enjoys change and hates anybody to set a specific path for her. So again, this relationship could have some obvious troubles.
When it comes to Leo woman Virgo man sex, this couple could struggle to give each other the correct things to satisfy one another fully. The Leo woman needs somebody to give her constant approval and use verbal stimulation to make her feel confident and sexy, while her Virgo partner will find this embarrassing, and won't find it sexy at all. This is just one example of how disastrously sex between the Leo woman Virgo man dating could go.
The Leo woman Virgo man marriage will almost certainly battle when it comes to developing an emotional connection. It's rare that they will see each other in a positive enough light to want to have a deeper connection with each other. Without this, they could struggle.
Leo Woman Virgo Man Compatibility: Conclusion
The Leo woman Virgo man compatibility affair does not go very well together, and things could become a huge burden when trying to overcome differences. They are not able to fulfill each other's needs adequately. Thus they will have a general struggle for total satisfaction within each other. They don't tend to bring out the best in each other, and they don't complement each other well either. This match is not a good one, and anybody wanting to be a part of it should be weary.
Leo Woman Aries Man | Leo Woman Taurus Man | Leo Woman Gemini Man | Leo Woman Cancer Man | Leo Woman Leo Man | Leo Woman Virgo Man | Leo Woman Libra Man | Leo Woman Scorpio Man | Leo Woman Sagittarius Man | Leo Woman Capricorn Man | Leo Woman Aquarius Man | Leo Woman Pisces Man |
See Also: