How To Plan A Romantic Picnic
Transform a picnic into a sweet rendezvous you and your partner will never forget using one of these eight romantic ideas. From hot and sexy summer to beautiful chilly winter to any time of year. You can choose from these romantic picnic ideas to make sweet, fun, romantic memories you and your partner will cherish for a lifetime. Here are some creative options that are guaranteed to give you major points with a new lover or give your relationship a needed spark. Read on if you are looking for thoughtful heart winning ideas or daring, even irresistibly naughty ventures, but all absolutely creative and unforgettable choices.
Romantic Picnic Ideas For Couples
1. Picnic Caught on Camera
This is great for great for long distance relationships. Highlight the making of cherished memories. It is a particularly great option for long-distance relationships, where you don't get to spend enough time together, but those moments you do have, you want them to be memorable and packed with several weeks'- months'worth of loving!
What can better keepsakes be used to capture precious moments than photos and videos? Go old-fashioned and get a real picnic basket loaded with decadent treats. Bring a luxurious blanket to lie on. Delicious Muffuletta style sandwiches, strawberries to feed each other, chocolate and red wine are some items to think about including in your basket.
[adsforwp id="18080"]
Take selfies, take candid photos of each other, and record snippets of your romantic adventure. That way you'll remember exactly how beautiful she looked in that spring/summer dress, or you'll forever remember the look in his eyes as he enjoyed you enjoying the picnic. Be careful though for you might be so enchanted that things get highly affectionate, so you want to put your effort into finding a secluded area away from the watchful eyes of onlookers especially families with small children.
PDA makes other people uncomfortable, and being affectionate while others may be watching may make your boyfriend or girlfriend uncomfortable and take the romance right out of your picnic. Particularly for long distance lovers, it would be awesome to identify a"secret spot" in a meadow or wooded area that is not easily discovered by others, that can be all yours to come back to whenever your loved one is in town.
2. Early Morning Hike off the Beaten Track
There's something about hiking up the mountains that put people in the mood for love to blossom. Maybe it's the smells and sounds in nature in her wildest, most free and pristine form. Add to that the awesome views you get on the way or at the top. Hikes just relax you and make you want to get close to your lover.
Combine that with the endorphin release from uphill exercise, the potential for physical contact as you help keep each other going without lagging behind or tripping and that feeling of accomplishment at the top for a great date adventure already. Add all this to a picnic, and your date gets 10/10 for romance. It's raw and rustic; it's natural. Since it's a hike you want to pack light but calorie dense. Nuts and dried fruit, olives, artisan bread, cheeses and cured meats, grapes to pop into each other mouths and of course lots of hydration.
Bonus; exercise like hiking engages the core muscles and sends blood flow to the nether regions especially for women (look up "core-gasm"), so you may be able to capitalize on that for some active outdoor adventures. Ladies can make it, even more, risk and surprise him by going all natural instead of undies and wear a skirt instead of shorts if you're at that comfort level with each other.
Where privacy is concerned, you may be thinking others will have the same idea as you. Not to worry though – the odds are much lower if you go before dawn early and pick a hike that is off the beaten track. Of course, be safe about your surroundings and make sure you both like outdoors and your fitness level is enough to make the trip.
3. Snow Cave Picnic on The Slopes
Ski up or snowshoe across the mountains to dream up your very own winter wonderland. When you find a perfect snow bank, build your love shack-fort-snow cave together – no one will discover you there. You could even spend the night. Who said picnics were for summer? This will allow you to get super close and cuddly with your love buddy.
Snow caves are surprisingly warm and cozy inside if built right. Nonetheless, bring lots of warm gear. You do not want to be freezing and don't want anyone to get sick. This little adventure comes with some risk so that it could make for some interesting stories and trust building. It takes careful preparation beforehand like checking the weather, and fun stuff like preparing a thermos of hot chocolate or cider, homemade baked goodies, and sandwiches.
For snow adventure veterans this will be an awesome opportunity to get close to your special someone whether it's a blossoming romance or you've been together for ages. If you are relatively new to winter outdoor activities, you might want to use this picnic as an adventure trip with a long-term partner, not to try to impress your new beau. Bundle up!
4. Gourmet picnic on a Rooftop (waiter optional)
This fabulous picnic idea was Inspired by Think Like A Man* where Michael Ealy surprised Taraji P. Henson with that hot rooftop date with Kevin Hart waiting on them. Now, this is not the most original idea, but damn that scene was hot!! Trust me; every woman would like to experience something like this.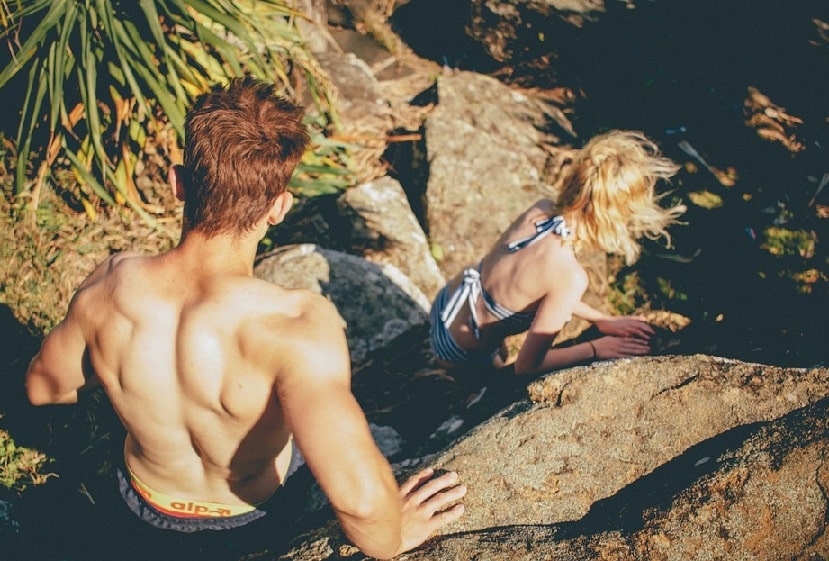 If you can cook (or cater, no problem), do it! Major points will be scored. Prepare a gourmet full course picnic, serve wine, play mood music, overlook a beautiful city, and get dressed up like you're about to go on the red carpet. Probably skip the waiter for more private time with your guy or girl. Make yourselves feel like rich, hot, sexy movie stars for a night. I assure you, pulling out all the stops seamlessly makes a lasting impression that can make someone fall in love, and even say yes.
5. Camping Picnic By The Fire
This idea is great for fall but can be awesome any time of year. Take in the breathtaking scenes together as you drive to a campground within a beautiful national park such as Bryce Canyon National Park and the Escalante Staircase in Utah, or the Sequoia National Park in California.
Bring a large chair for both of you to fit in and have an incredibly comfy blanket to snuggle in by the fire while you look up at the stars. Guys, if you are good on a guitar, bring it and sing her some ballads by the fire. Relax with a few beers and tell each other deep secrets while you roast marshmallows for making smores. It will feel like just the two of you alone in the beautiful desert/forest without a care in the world.
6. Picnic At Or Overlooking A Monumental Spot
A picnic is great to make any date special, but especially newly-wed dates special. You can add magnitude to the romance and make a lasting memory by picking an impressive venue. You get to tell stories like we had our first honeymoon picnic overlooking the Grand Canyon. It's nice to take in these scenes on the world famous spots you visit, but even better if you stop to savor both the breathtaking beauty of nature and the breathtaking beauty by your side. You'll never forget it. Have some lobster on the Negril beach in Jamaica?
It's nice to take in these scenes on the world famous spots you visit, but even better if you stop to savor both the breathtaking beauty of nature and the breathtaking beauty by your side. You'll never forget it. Have some lobster on the Negril beach in Jamaica? Yes, please. Champagne and strawberries while gazing out at the Eiffel Tower in France? Oh yes! Tandoori chicken sandwiches while taking in the beauty of the Taj Mahal in India? I'm in love. There are so many options you can choose to make it your own.
7. Surprise Picnic Of Favorites!
Just warm their heart with this one. Steal your beau away for a quick lunch one day at work, or just say you're going for a drive or take out one evening. Have your venue all picked out, and when they realize it's a surprise picnic, you make it even more charming by opening the basket and popping out as much of his/her favorite foods as much as you could muster! They will love you for it.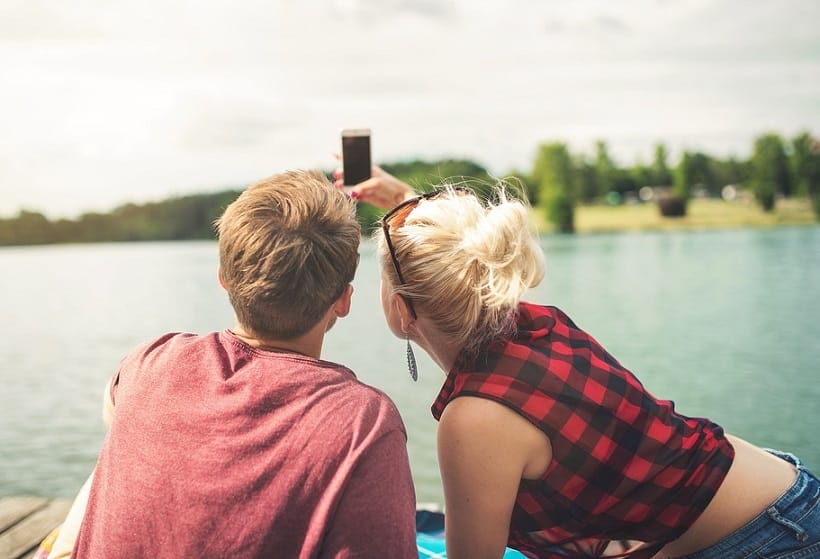 8. Sexy Picnic On A Boat
Rent a boat for a day or take your boat out on the water for some quality time with your significant other. Find a quiet spot on a placid lake for a small boat or out on the ocean for a larger or mid-sized boat. You want to be safe and undistracted by choppy waves so you can focus on charming your partner.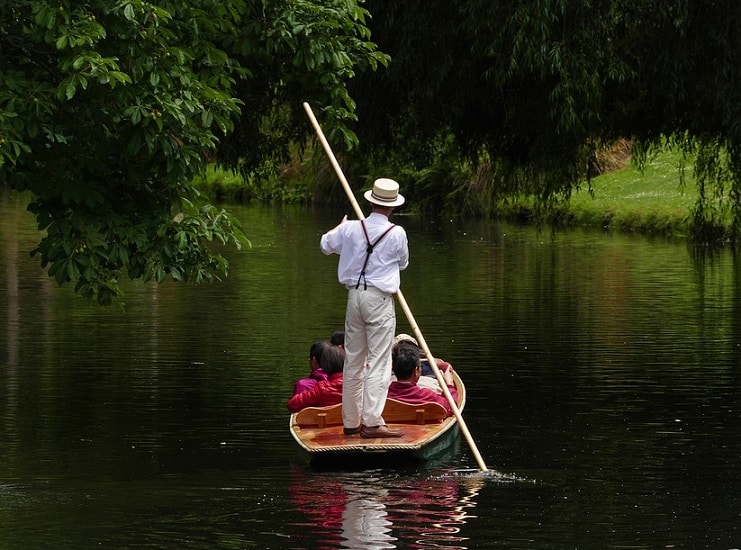 While you go through the courses of a gourmet picnic and are getting to dessert, you could spice it up by playing a sexy card game to strip off the clothing and surprise surprise– lingerie in the basket! Make her put it on before you break out the dessert wine and smooth chocolate. Or it could be fun to see who gets to put the lingerie on if they lose the card game!
These ideas are timeless and, when done with the right balance of planning and spontaneity, can be a great romantic boost to your relationship. What's also great about these ideas is you can combine them in your creative way to fit the mood, preference or the season. Cheers to you and your love!
See Also: