Libra Man Sagittarius Woman Compatibility – Overview
The Libra man Sagittarius woman compatibility union is a good match. They are equally sociable and content with life in general. He is looking for the love of his life, a perfect love. She, on the other hand, is just seeking the next exhilarating adventure. When they meet for the first time, they will immediately be drawn to each other. They will be surprised to find that what they have been looking for is found with each other. The Sagittarius woman is vivacious and adaptable to any situation she finds herself in. When meeting up with the Libra man, she will realize that there is no ill intent in his eyes.
Deep down, the Libra man and Sagittarius woman are just two fun-loving academics who have a comprehensive, generous indulgence of human nature. They only have the best intentions for each other. Neither expects too much from the next person, only wanting what people are capable of giving in return. When it comes down to making a success of their Libra man Sagittarius woman relationship, they are not averse to compromise. Mutually it comes rather easy to them.
[adsforwp id="18080"]
The restless Sagittarius woman has a strong personality and yearns for independence. Being mutable, she will happily allow the Libra man to direct their Libra man Sagittarius woman bond. He will never enforce her to comply with his wishes, as he knows that is the quickest way to lose her. When he kindly asks things from her, she surprises herself by complying with his kind wishes. They love each other to the extent of not feeling that they are giving up on their natural desires to please the other. There will be times that the blunt Sagittarius woman will hurt the sensitive Libra man when his indecisiveness wears down her patience.
Libra man Sagittarius woman in love will actively use every opportunity to be outdoors. The homely Libra man willingly engages in some adventure with his Sagittarius woman. In return, she will suffer from his snobbish friends and their festivities with graciousness. Neither of them will get bored very easily. They have a mutual regard for values and intellect. The anxious Libra man does not seem like a good fit for the unrestricted Sagittarius woman, but their relationship will surprise most people.
Neither of them generally sees the bad in others. Nonetheless, they would rather excuse any disagreeable behavior. The Libra man will want to treat people equally, especially when they make improvements in his life. The Sagittarius woman's inner strength is what keeps him captivated. The energy found in Libra man Sagittarius woman in bed will keep them coming back for more.
The Libra man will find that the daring Sagittarius woman will try anything once. Previously he might have been reserved in his ideas and fantasies, he will find himself pushing the boundaries in trying new things with her. None of them will sit back and wait for things to happen. Libra man Sagittarius woman soulmates prefer to get involved ensuring that whatever they involve themselves in, will come to fruition. There will be plenty of friends that they are able to call upon when needed.
Romance is not high on the agenda for the Sagittarius woman. However, she still knows how to have fun. When the Libra man showers her with romantic gestures, she will find it humorous. She will not hesitate to show her laughter. With the comfortable rapport existing in the Libra man Sagittarius woman sun signs, they are able to be the best of friends. Their love of life and the people in it, make them connect on levels others only dream of.
Libra man Sagittarius woman love compatibility on a mutual pursuit of finding fulfillment. Compromise will come easily for this couple as they realize that their partners are worth loving. None of them will deliberately go out of their way to hurt the other. Playfully competitive but secure in their love of each other, they will find a confident and tender partner in each other. They truly appreciate each other and will not hesitate to communicate this within their relationship.
Passion for the Libra man Sagittarius woman love match can last a lifetime. Various forms of communication will be used between them, which will fuel their desire for each other. They are not the jealous kind. When running into other friends, there are no moments of resistance and insecurity from either of them. There will be plenty of lust between this couple. They will not hold back when things move into the bedroom.
Furthermore, Libra man Sagittarius woman sexuality indicate that they are on the same wavelength. His active imagination and romantic fantasies will be fuelled by her passion and lustful nature. She knows how to relax and enjoy the moment. He is quite willing to please to make sure that his partner is completely satisfied. Together they create an amazing connection.
Libra man Sagittarius woman marriage will be bliss for the couple. They will never want to be apart, in their comfortable and secure home they have created together. If they decide to have children, they will be raised by very caring and loving parents. They will want to provide everything that they can for their children, providing the best education and surrounded by good friends.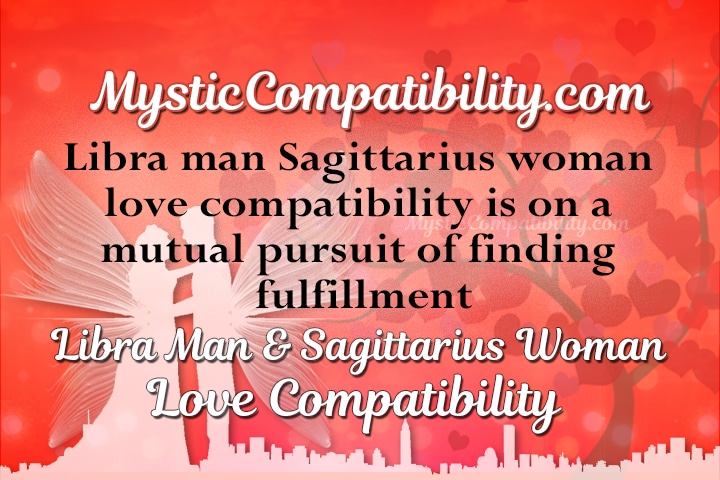 Libra Man Sagittarius Woman Compatibility: Positive Traits
The equally energetic Libra man and Sagittarius woman are both optimistic and insatiable in their need for knowledge. She is always looking for opportunities to learn something new and he is always full of new ideas. Both are equally willing to bring their relationship to new heights. Libra man Sagittarius woman love compatibility couple will grow mentally in what they surround themselves with.
Libra man Sagittarius woman zodiac match are sociable by nature. The Libra man enjoys their enthusiastic banter and her awe for his intelligence. The Sagittarius woman is lively and will be taken in by his flirtatious and fun personality. They will be extremely comfortable with each other and enjoy lots of fun times together.
Conversations between the Libra man Sagittarius woman partners will go on for hours. They will thoroughly relish in getting to know each other better. Her adventurous stories and his ability to debate will keep them animated in each other's company for quite some time.
Libra Man Sagittarius Woman Compatibility: Negative Traits
The Libra man's sensitive nature will be hurt when the tactless Sagittarius woman expresses her feelings without thinking about him. He will be very hurt even though she might not have realized the extent of her comments. Libra man Sagittarius woman lovers are dreadful with their finances. This will be problematic when they both don't keep tabs on their spending.
Libra Man Sagittarius Woman Compatibility: Conclusion
When a Libra man wants to get the attention of a Sagittarius woman, he will have to find out all he can about her. Then he can ensure that they cross paths at some intersection of their lives. If they have friends in common, he can ask some of them to introduce them. They will be able to fall into step together very easily.
When a Sagittarius woman wants to attract a Libra man, she should remain positive in his company. She can investigate what his interests are and start a conversation around something that he is passionate about. They will have a lot in common and she won't have to try very hard.
Libra man Sagittarius woman compatibility is over when the Libra man feels that his opinions are no longer important in their relationship.
Libra Man Aries Woman | Libra Man Taurus Woman | Libra Man Gemini Woman | Libra Man Cancer Woman | Libra Man Leo Woman | Libra Man Virgo Woman | Libra Man Libra Woman | Libra Man Scorpio Woman | Libra Man Sagittarius Woman | Libra Man Capricorn Woman | Libra Man Aquarius Woman | Libra Man Pisces Woman |
See Also: